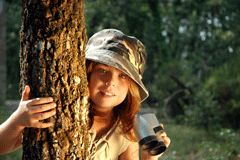 It's just before noon on Friday at Ferris Elementary in Richmond, where a group of students have turned one of the school's courtyards into a mini waste management operation.
Food scraps get dumped in one of two big black composting bins and plastic, glass and paper from 24 classrooms are sorted accordingly.
A couple of boys spray leftover liquid out of tetra juice packs with gleeful stomps. Recycling can be fun.
When some of these students sit down later to discuss the environment and sustainable living tips, they show a more serious side. Thinking about what the planet might look like 20 or 50 years from now makes them feel scared, depressed and angry, they say.
"If people do what they're still doing things are only going to get worse," points out one boy.
"Maybe in 100 years the human race will be extinct," says another.
Perhaps these kids' attitudes aren't typical. After all, their teacher Kevin Lyseng is a self-confessed "eco-holic."
The environment permeates all aspects of his curriculum, an attempt, he says, to show kids how human behaviour impacts the earth and what changes are within their reach.
Green all day
That's why Lyseng volunteered his Grade 4/5 class to run the recycling program for the entire school. Twice a week during class time they collect the school's recycling and compost bins.
Lyseng considers the recycling program a success because there are visible results. Last month 16.5 kilograms of biodegradable refuse was diverted from garbage bins and the class has earned $250 so far this year on bottle and can returns.
Students practice arithmetic, reading and writing when they collect, sort and record the waste twice a week, says Lyseng.
"This is hands-on, experiential learning," he says. "You have to make meaningful connections within the curriculum."
More and more teachers see their role as leaders in the classroom as vital in shaping the next generation of environmentally conscious citizens.
Deeply immersed
The "hands-on" approach is essential, according to Peter Koci, executive director of the Environmental Educators of British Columbia.
He studied an experiential learning program at Centennial High School in Coquitlam as part of his PhD work at Simon Fraser University.
Students in the program stay with one teacher for one semester and spend most of that time of field trips. They cover various subjects, but not in the traditionally segregated way.
Koci described one trip, a bike ride along the Kettle Valley Railway. Students learned about the history and ecology of the area, as well as the geology of the coal rich area and the chemistry of mining it.
"The key thing is that when they do science work or research-oriented stuff, 90 per cent of it has a real value to it," says Koci
"For example, they do beach studies near Ganges on Saltspring, and the students collect data for a professor at UVic."
Outdoor classroom
The Saturna Ecological Education Centre offers a similar learning experience.
Teacher Stephen Dunsmuir and a colleague founded the program, now in its second semester, in order to save the island's only school from closing due to low enrollment (all seven of the program's high school students come from off the island, and students from other districts can take part in one- to four-day programs there.)
Dunsmuir also wanted to educate kids while getting them outside; students spend 85 per cent of the day outdoors, integrating the local environment into nearly every area of study.
"The message we're sending our kids is that they are the future, and the future that's been handed to them is wildly uncertain in the face of climate change," says Dunsmuir.
"How can we ask them to care about saving the environment unless they feel like they're a part of it?"
'Embedded' ecology
There are a lot of non-profit groups and programs out there attempting to green the school system with gardens, trees, outdoor education funding and classroom materials.
Rosalind Poon, the science and environmental consultant for Richmond school district, says part of her job is to help teachers find these resources.
She also runs workshops to encourage teachers to network with one another and share lesson plans or program ideas.
"Environmental education can be embedded into any piece of curriculum," says Poon.
'Re-imagining' the curriculum
That's not good enough, says Jolie Mayer-Smith, a professor of science education at UBC.
While she admires teachers who try to fit the environment into their classrooms any way they can, Mayer-Smith suggests another approach: "re-imagining" the curriculum itself.
"We could start all over and think about having a curriculum that has environment and sustainability and sustainable living practices as a theme that's running throughout the whole thing," she says.
"That's the other side of the coin and would require a real change in curriculum development."
'I would need a lot of resources'
The Ministry of Education has one course specifically addressing sustainability, a senior level program called Sustainable Resources 11/12. A draft version is currently up for public review on the Ministry website.
The Grade 11 section asks teachers to examine ecosystems management, production and technology aspects of five major B.C. resource-based industries: fisheries, forestry, mining, energy and agriculture -- all in about 120 hours of instructional time. "I'm an environmentalist," says Mayer-Smith. "And this is intimidating to me, I would need a lot of resources."
Koci says there also needs to be a shift in how this material is taught.
He says the segregated high school schedule -- where one subject is covered in an allotted amount of time -- isn't conducive to environmental education.
"[Segregation] is a fairly new phenomenon in education theory, it goes back to the industrial revolution timeframe," says Koci.
"Yes, you can learn about social sciences specifically or math specifically, but you lose touch with the environment because, again, it's about making connections."
Related Tyee stories: