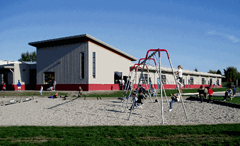 Today's test question is sure to give some public school administrators a headache. How do you run a warm, well-lit school while making it "carbon neutral"?
The provincial government has mandated that the entire public sector -- including school districts in B.C. -- become carbon neutral. This means, for every tonne of carbon emitted, one tonne must be eliminated.
As school officials scramble to find the answer, they'd do well to study up on the Richmond school district, which has been honing its energy efficiency before the words "carbon footprint" were part of everyday vernacular.
Eric Thorliefson, the district manager of facilities, had been vocal about the need for more efficient school buildings for years, and after natural gas prices spiked in 1999, senior management decided to follow his lead.
$1 million saved, recycled
In fall of 2000, the district signed a $5.4 million contract with B.C. Hydro for boiler control system upgrades in 50 of its 54 schools.
The system upgrades meant boilers could better respond to occupancy needs instead of running at full tilt all the time, says Thorliefson, reducing the amount of energy needed.
"We completed the project in '03, in two years it was fully paid for, and now the savings are accruing," he says.
In fact, savings started to accrue almost immediately, which allowed the district to take on more extensive lighting and water efficiency upgrades.
Today, Richmond school district saves about $1 million a year in utility costs, money that is funnelled back into the classroom. The savings have funded a district-wide network that promotes sustainability projects and education for students, teachers and parents.
"I do hear people say that you can't do much without more money... you do need money, but we did everything here in Richmond with nothing from the Ministry of Education," says Thorliefson.
"We did not need somebody to tell us what to do here."
Schools buying carbon offsets?
Thorliefson detailed this success story at a recent symposium on schools and climate change.
The symposium, organized by the Columbia Institute's Centre for Civic Governance, was a day of workshops for education leaders across the province that addressed the huge challenge of creating "carbon neutral" schools to satisfy the government's decree.
The two questions from most teachers and administrators at the symposium were "What are we supposed to do?" and "How can we afford it?" There are few details so far from the government.
However, if schools districts can't internally offset carbon they can't avoid emitting (from bussing students, for example), they are required to purchase carbon credits -- essentially shares in a carbon trust which funds projects that do reduce carbon.
"If you can't bring emissions down, you have to purchase offsets. That really worries me," says Susan Barr, a Comox Valley district trustee.
Bus emissions a challenge
Barr estimates two-thirds of the students in that district are bussed in, some of them for an hour each way. Northern schools face similar problems.
"There's no way around it -- we have to bus our students," said Gordon Anderson, board chair for Peace River North school district.
Anderson and Ida Campbell, a trustee in the same district, wanted to attend the symposium to get "whatever information we could" on reducing carbon emissions.
However, both wondered if this kind of travel would be feasible in the future.
"One of the challenges that is always going to be from the north is the fact of travel to come to a program like this," said Campbell.
"If we want the same [professional development], we have to travel, so it's going to be at a huge cost to us," said Anderson.
How to measure a footprint?
The details around calculating the carbon cost of such travel, and everything else that contributes to a school's carbon footprint, are unclear at this point.
The Ministry of Labour and Citizens' Services is responsible for helping the public sector achieve the carbon-neutral mandate.
It is currently developing software, called SMARTTool, which will calculate emissions associated with buildings, vehicles, business travel and paper consumption.
Orest Maslany, the ministry's director of corporate initiatives, says it has not been determined whether school districts will be responsible for gathering and reporting this information, or whether the ministry will. He says a decision is also pending on whether school districts will be required to use this government tool at all.
Provincial ministry buildings must report baseline carbon emissions by 2010, but school districts are on a different timeline.
"They, along with crown corporations, health authorities and post-secondary institutions, all have to submit their first report by June of 2011," says Maslany.
Graded on saving energy
He says it's "fairly easy" to determine how a school can reduce carbon emissions.
"Anything that reduces energy consumption... use of electricity or natural gas, water conservation," says Maslany.
He adds that recycling and composting programs, or initiatives like anti-idling or carpool campaigns, do reduce carbon emissions in a "broader sense," but says these sources won't be incorporated in baseline reports right away.
The ministry has identified energy conservation in buildings as the number one way to reduce emissions.
In November, the provincial government promised to invest in capital energy efficiency projects with its public sector energy conservation agreement, in partnership with B.C. Hydro's Power Smart program.
The program provides cash incentives for energy efficiency upgrades, and is already available to schools -- that was partially how Richmond district paid for its first upgrade project.
The Ministry of Education couldn't say how much government funding would be available to schools as part of this partnership, or what criteria schools must meet to obtain it.
A spokesperson for the ministry said more details would be available in three weeks when the next budget is announced, and added the forthcoming announcement would build on what Richmond school district has already done.
Keeping up momentum
Patrick Robertson, a West Vancouver teacher and director of the Environmental Educators of British Columbia, describes what's happening in Richmond and other districts across the province as a "champion's model" of sustainable progress.
These initiatives are ad hoc, he says, and based on the enthusiasm and willingness of individuals in the school system.
"And there's a danger there that when people move on or retire, or in the case of students, graduate, that you can sometimes lose the momentum behind an initiative, and it fades away," says Robertson.
Robertson believes climate change and sustainability should be written into district policies, so programs like recycling, composting and energy efficient upgrades happen in schools district-wide, regardless of whether there is a "champion" behind it.
"Some districts may not have that luxury where they can find a few dollars, and the question to me then is, will the ministry step up?"
Related Tyee stories: