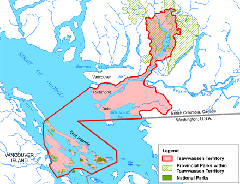 First Nations calling themselves "salt water people" want the B.C. Supreme Court to stall the Tsawwassen final agreement, which they say violates their "exclusive rights to Pender, Mayne, Saturna, and Boundary Bay."
The Sencot'en C'A,I,Newel, which includes four First Nations in Victoria and White Rock, say their rights have been trampled under the B.C. treaty process.
They own land and harvesting rights in Boundary Bay and Pender, Mayne and Saturna Islands under the 1852 Douglas Treaty.
The Tsawwassen agreement unfairly trumps this existing treaty, says Sencot'en spokesman Eric Pelkey.
In court Monday
The high-profile deal has been $1.5 billion and 15 years in the making. It is the province's first urban treaty, and means more than 400 hectares of land north of Vancouver and a share of the Fraser River salmon catch for members of the Tsawwassen Nation.
Under the agreement, Tsawwassen are also granted hunting and fishing rights on the Southern Gulf Islands and in surrounding waters -- rights that the Sencot'en say are theirs alone.
On Monday, the Sencot'en will appear before a B.C. Supreme Court judge to request an order preventing Aborginal Relations and Reconciliation Minster Michael de Jong from signing the agreement.
The deal is likened to "title fraud" in a press release issued by the Sencot'en C'A,I,Newel. "First Nations that used southern Gulf Islands in the past did so with our permission. We find it odd that the Crown is willing to implement a Treaty with Tsawwassen that includes harvesting rights in the Gulf Islands when the Crown must first negotiate with us. Sort of having someone make a deal to sell your house and then tell you about it afterwards -- in real estate law this is called title fraud."
'Ask us for permission'
The Sencot'en say they aren't opposed to the agreement itself, but want a guarantee from the minister that it will minimize infringements on their hunting and fishing rights.
Liberal MLA Dennis MacKay said he might vote against the agreement -- which comes before legislature next month -- in a Globe and Mail report September 15. MacKay expressed concerns about granting hunting rights in northern Nisga'a territory.
NDP leader Carole James suspended MLA Michael Sather earlier this week for stating his opposition to the deal.
Pelkey says his people are concerned about a depletion of resources and loss of jurisdiction in their territory.
"We've never stopped sharing resources in our territory," says Pelkey. "We've never said we would not allow anyone else to come and access resources, we ask only that they come and ask us for permission."
'Salt water people'
The Sencot'en harvesting rights under the 1852 treaty have been upheld in court, but the Sencot'en are not part of the B.C. treaty process. First Nations that are involved in this process aren't required to consult with neighboring nations.
"We've been banging on the door now for probably up to three years because of our dissatisfaction with the B.C. treaty process and how we see numerous First Nations laying claim to our lands," says Pelkey.
The Sencot'en nations, which total about 1,200 people, have reserves on Pender, Mayne, Saturna, Saltspring and Bare Islands.
"This is a very valuable area for us," says Pelkey. "Historically our people here have been known as salt water people. We have no major rivers in our territory. We actually live out there on the water and that's why we have those reserves and also fishing stations."
Tsawwassen chief Kim Baird and a spokesperson for Minister de Jong both said they will not comment due to the pending legal proceedings.
Related Tyee stories: