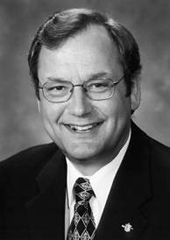 In the early 1980s, Clifford Olson murdered at least 11 children in the Lower Mainland. Because his murders crossed jurisdictions, police were slow to share the information that would eventually lead to his capture.
Although there is more co-ordination today among the many police departments in the region, the situation as a whole hasn't improved substantially, says Robert Gordon, director of the Simon Fraser University school of criminology.
Gordon told The Tyee the only way to fix the current patchwork system of Lower Mainland police jurisdictions is to create a regional police force.
Last November, in a report to the B.C. Progress Board, Gordon and co-author Bryan Kinney, a fellow SFU criminologist, called for the amalgamation of police forces in Greater Vancouver, Greater Victoria and the Fraser Valley.
"The current situation is, to put it mildly, bizarre," the report states.
'Balkanized'
However, the man in charge of B.C. policing, Solicitor-General John Les, says the current system is working just fine.
The province is interested in integrating functions such as homicide investigation across jurisdictions, but is not pursuing regionalization, Les told The Tyee.
Les pointed to programs such as PRIME, a computerized information system that will link B.C. police forces.
He described PRIME and integrated police units such as the integrated gang task force as "regionalization...in a virtual sense" as opposed to the physical amalgamation of forces.
Criminologists, however, say such initiatives don't go far enough. And they blame parochial interests and a lack of political will for the problem.
"Policing in the Lower Mainland is balkanized," said Kim Rossmo, the former Vancouver cop known for his work on geographic profiling of murder cases. "And that leads to some inefficiencies and communication problems."
Cases into 'an abyss'
As for the integrated units, "that's good, but is it enough?" asked Rossmo, currently a research professor in the Department of Criminal Justice at Texas State University.
"I don't know," he said. "You start amalgamating enough units, it just leaves the question of why don't you amalgamate the whole force."
Rossmo told The Tyee that during his days as a Vancouver cop, a serial killer would not just fall through the cracks -- he would fall "into an abyss."
Currently in the Lower Mainland, there are independent municipal forces in Vancouver, West Vancouver, Port Moody, New Westminster and Delta. Other municipalities are policed by the RCMP.
That system leads to "significant inefficiencies," Gordon said.
"If people think they're getting efficient police services as a result of that, then I'm not sure what they're sticking up their noses, but it's certainly good stuff.
"It just simply isn't tenable."
'Getting rid of chiefs'
Greater Vancouver and Greater Victoria are the only large metropolitan areas left in Canada that are not policed by a single force, Gordon said.
"The taxpayers of both those regional areas are not getting appropriate police services for the dollars they have spent," Gordon said. "Economies of scale are not being achieved. There are still significant rivalries between the RCMP and the municipal police services, despite the attempts that are made to create more harmonious relationships."
A regional force would be much more cost efficient in the long run, Gordon said.
"Straight off the bat you begin to see savings by getting rid of a bunch of police chiefs, by rationalizing a lot of operations."
Gordon, who served as a police officer in Australia, Hong Kong and London, England before becoming an academic, said proponents have been arguing for a metropolitan police force in the Lower Mainland for decades.
Some jokingly describe the issue as "the whale," he said.
"It surfaces about once every five to 10 years, spouts vigorously and then disappears. And nothing ever seems to happen."
Control issues
Over the years, some powerful figures have mused about the creation of a regional force.
Almost 20 years ago, Vancouver city councillors were saying that amalgamation was inevitable and would probably take place within a decade.
More than 10 years ago, the attorney general of the day, Ujjal Dosanjh, said he favoured amalgamation, but chose to leave the issue up to the municipalities.
A number of factors have always managed to block the creation of regional police forces.
"You have a number of competing interests," said Rossmo. "People are not willing to give up their control.
"If you're a police chief in a small jurisdiction, wouldn't you rather stay a police chief rather than become a deputy chief or a superintendent" in a regional force, he asked.
Municipal politicians, especially those in the suburbs, have been reluctant to give up their local forces, some of which -- West Vancouver for example -- are seen as giving better service than Vancouver's force.
Some municipalities see the RCMP, which is non-union and partially subsidized by the federal government, as a better deal financially.
The suburbs are also reluctant to enter into a deal that they fear will force them to pay for policing in Vancouver's high-crime areas. (Vancouver politicians respond that many of the criminals who commit crimes in Vancouver live in the suburbs.)
The RCMP has also been slow to go along with regionalization.
"They favour regionalization if everything is handed over to the RCMP," said Gordon. "They are clearly contemptuous of the capacities of the municipal police forces.
"And that just breeds hostility between the municipal forces and the RCMP. Which results in poor policing, quite frankly."
AG Oppal: political will 'lacking'
The current attorney general, Wally Oppal, has been quoted as favouring regionalization in the past.
But, in a wide-ranging report on the state of policing in B.C. released in 1994, Oppal -- then a B.C. Appeal Court judge -- tiptoed around the issue.
Although he wrote that "on the surface it would appear that the amalgamation of police forces is necessary in several regions of the province," Oppal concluded that, "with few exceptions, there is no public interest in amalgamating police forces."
Wrote Oppal: "Locally based policing is clearly supported by local politicians, who see it as effective and cost-efficient. There cannot be any amalgamation of police departments unless there is a clear political will, which is lacking in this province."
Oppal instead called for greater co-operation among forces and increased integration of functions such as communications.
Rossmo and Gordon both said that the only way regionalization will take place is if the province forces the issue.
"It's clearly the responsibility of the provincial government to step into the fray here and to create regional police services," Gordon said. "It's the most sensible thing to do. It's sound social policy."
However, he said, there are few votes to be had from creating regional police forces.
"Sound social policy and politics are distant cousins at best. With respect to regional policing, they're very much not on speaking terms."
Related Tyee stories: