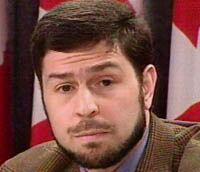 [Editor's note: What were the top five stories of 2006 for B.C. and beyond? Every day this week The Tyee publishes its picks. Yesterday, homelessness, today, the RCMP's disastrous year]
"I believe some aspects of my prior testimony could have been more precise and more clearly stated. A number of misconceptions have resulted," RCMP Commissioner Guiliano Zaccardelli.
2006 was a PR nightmare for the Royal Canadian Mounted Police. From January to December, the Mounties lurched from scandal to disaster to national disgrace. By the time Commissioner Zaccardelli resigned on Dec. 6, after admitting he misled a Commons committee, the organization's enduring funk had earned its place among the year's top stories.
In fact, if you plunked 'RCMP' into Google News any time in the last 12 months, odds were better than even you'd find something embarrassing for the men in red. From an accusation they deliberately interfered in last January's federal election, to the revelation they spied on Tommy Douglas, it was a year of bad to worse for the most recognizable symbol of Canadiana.
But while most of the bad news stories had a similar theme -- an accusation of misconduct, a tight-lipped closed-door investigation and public unsatisfying result -- nothing about them was especially new. As far back as the FLQ crisis, attacks on RCMP credibility have been par for the course. Toss in the Airbus investigation and the APEC protests, and most of what went down over the past twelve months looks likes business as usual. But this year was different. By the end of 2006 the chorus calling for real reform had grown deafening. The reason: Maher Arar.
Arar is the Syrian born Canadian engineer who, in 2003, was en route to Canada when he was detained in New York and deported to the country of his birth. Arar spent nearly a year in the horror story conditions of a Syrian jail cell, tortured, accused of terrorism and largely abandoned by his own government.
On Sept. 18, former Ontario Supreme Court Justice Dennis O'Connor released the first half of his report on the role Canadian agents and agencies played in the debacle. No one, other that Arar, came out looking good. The former Liberal government, along with many of the reporters who covered the story were cast as self serving and not suitably skeptical. But it was the RCMP that bore the brunt of O'Connor's scorn.
O'Connor found that RCMP investigators passed faulty evidence to U.S. officials; evidence that led them to believe Arar was a legitimate terrorist suspect. The investigators involved, O'Connor found, were under-supervised and ill-trained for the national security role that had been thrust on them after Sept. 11. What's more, once they knew the evidence was bad, they did nothing to correct the error. Just the opposite. According to O'Connor RCMP officials did everything they could to hide their mistake. As yet un-named Mounties even leaked outright lies about Arar to journalists to muddy his reputation after the Syrians released him.
The report dealt a seismic blow to the RCMP's credibility. After it was made public, journalists from left to right attacked the organization's role in the affair. Globe and Mail columnist John Ibbitson wrote that "no one… should have any confidence in the ability or integrity of the national police force," while the Post's Andrew Coyne called the situation "Canada's Dreyfus Affair."
But if the Arar boondoggle had been the only piece of bad news for the Mounties in 2006, those blows may well have been glancing; a little more oversight here, a new commissioner there and it's business as usual for 2007. But such was the torrent of scandal in 2006 that real reform may now be unstoppable.
I have written before about the catalogue of missteps. But the two worth mentioning here -- for B.C. at least -- are both high profile internal investigations. In one, a man arrested for having a beer open in public ended up dead in RCMP custody. While in the other, an officer accused of paying teens for sex was let off after his superiors failed to launch their investigation in a timely manner. Taken together, the two prompted a serious question: who exactly do the Mounties answer to? The answer, at this point, is probably best summed up by B.C. Const. John Ward. He told the Globe and Mail's Gary Mason that as it stands, "the public doesn't have a right to know anything."
So it was not surprising that when O'Connor called, in his second report, for a tough new body to oversee all RCMP activities, the debate among newspaper editorialists was not over whether it was justified, but whether it went far enough. Writing in the Ottawa Citizen, journalist Paul Palango called for a radical downsizing of the force's duties. Provincial policing should be handed back to the province's, he argued, and the "RCMP should be converted into a highly skilled FBI-type force."<
For now, the report rests with the Prime Minister and his Minister of Public Safety, B.C.'s own Stockwell Day. What they do with it is a story for another year.