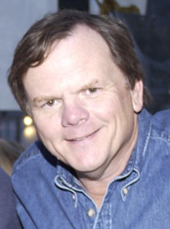 When Premier Gordon Campbell called on Arnold Schwarzenegger for help in terminating B.C.'s greenhouse gas emissions, the Governator sent him Terry Tamminen.
Tamminen is California Gov. Schwarzenegger's environmental advisor, a former head of the California Environmental Protection Agency, former state cabinet secretary and a man who has called petroleum "the enemy" and has likened Big Oil to the tobacco industry.
His resume reads like a Hollywood character -- or maybe several characters: actor, sheep rancher, ship's captain, swimming pool cleaner, Florida condo salesman, environmental activist, author of books on pool maintenance, Shakespeare and America's addiction to oil.
Late last year, back when Campbell's new-found environmental enthusiasm was still a well-kept secret, the premier called Schwarzenegger for advice on how to tackle climate change.
Schwarzenegger had recently been re-elected, in large part for his role in bringing about the toughest emissions reductions standards in North America.
Arnold volunteered to send Campbell his friend and advisor, Tamminen.
Accompanied by two senior California government officials, Tamminen flew to B.C. in January, had lunch with Campbell and talked about climate change with the premier's staff.
In an interview with The Tyee, Tamminen said that his message to Campbell and his staff was simple:
Set targets.
Be aggressive.
Know that there will be plenty of technical and political support from Schwarzenegger and his people.
Campbell 'certainly gets it'
Since stepping down as Schwarzenegger's cabinet secretary, a job that made him chief liaison between the governor and the major California state agencies, Tamminen has been doing what he calls "Johnny Appleseeding" -- travelling around North America spreading strategies for cutting greenhouse gas emissions.
While there are no one-size-fits-all prescriptions, jurisdictions can learn from each other, he said.
Tamminen is an enthusiastic supporter of Campbell's throne speech pledge to fight global warming.
"In the throne speech, I'd say your premier has knocked it out of the ballpark," he said. "He certainly gets it. He understands the level of work that needs to be done and the creativity and collaboration."
Oil, gas and pointed fingers
Despite his strong opposition to the products and tactics of the oil companies, Tamminen refuses to criticize the new B.C. energy plan's pledge to support the development of the oil and gas industry and to push for an end to the moratorium on offshore drilling.
Asked if those policies are consistent with rolling back greenhouse gas emissions, Tamminen replied:
"I think that question is more appropriate for the premier. I and certainly Gov. Schwarzenegger and the rest of us are there to sort of provide advice and help for achieving those greenhouse gas reductions.
"Obviously, California also has an oil and gas industry, so we're hardly in a position to point a finger. We have strongly opposed efforts by our federal government to extend drilling offshore...
"But obviously we have to respect what other people do, their economies and the way they approach environmental issues."
Tamminen has written that if it were up to him, he would spend $20 billion a year to "replace every diesel mass-transit and school bus in the [U.S.] that emits more pollution than the cleanest engines on the market today. Then tackle the oldest, dirtiest trucks and locomotives."
He would replace these vehicles with ones running on the cleanest fuels available.
Is he recommending a similar strategy for B.C.?
"I can't prescribe specific strategies or expenditures," he said. "You guys know where your money comes from. But I think you do have to stop and say, 'Where are the cheapest tonnes [of emissions] if we were to just sort of start buying up tonnes and getting them off the road?'"
Practical, fast solutions
Dirty buses would be a "great place to start," he said, because removing them from the road would not only cut greenhouse gases, but would also remove harmful particulates from the air, while stimulating an alternative fuel industry.
"You guys have some great bus makers up there and I'm sure there's potential for that if there's a pot of money," he said. "But there may be other things.
"There may be incentives to industries to more rapidly convert over to different fuels and become more energy efficient. Maybe it's a program to put a compact fluorescent [light bulb] in everybody's home.
"There was an article in the L.A. Times here the other day that shows that a typical 100-watt incandescent bulb costs about $10 a year to operate when you factor in all the costs. A compact fluorescent costs about $3.50 a year.
"And in fact, Wal-Mart, which is not exactly the most progressive retailer in the United States, they calculated that if all 100 million of their customers purchased just one compact fluorescent each, that their customers would collectively save $3 billion a year."
Some other thoughts from the Governator's Johnny Appleseed:
On the argument that cutting greenhouse gases will destroy the economy:
"That's just totally untrue.
"If you look at example after example of large companies that have reduced their greenhouse gases...in just about every case you would save energy...
"That puts money in people's pockets. So it's exactly the opposite.
"And it creates local jobs. If you're putting a wind farm in British Columbia to provide electricity, that's a local job.
"If you're putting a solar panel on a roof, that's a local job.
"If you're making your own business more energy efficient by changing your lighting fixtures, those are local jobs.
"So it's all essentially an economic stimulus that's the byproduct of all of this. It's almost as if solving global warming is the cherry on the sundae."
On getting big business to buy into reducing emissions:
"The first part is to see the economic benefits. If you look at British Petroleum and Shell, not to mention Dow and DuPont and IBM and lots of other very big companies that have made efforts to reduce their greenhouse gases, in every case they've found that it saves them money.
"So it's good for the bottom line.
"While oil and gas exploration may always have a certain amount of greenhouse gas emissions -- and certainly burning the stuff does -- there are a lot of processes -- refining and transportation and so forth -- where you can seriously decrease the emissions.
"And of course it's those energy industries that we're counting on to develop cleaner alternatives for the future. Even in my book [Lives Per Gallon: The True Cost of Our Oil Addiction] I talk about the fact that I'm not trying to put oil and auto companies out of business.
"I'm trying to civilize them.
"No matter whose science you believe, we all agree we're going to run out of the stuff sooner or later and/or it's just going to become increasingly expensive and difficult to get.
"So it's in the economic self-interest and self-survival interest of oil and auto companies to be planning and more aggressively implementing alternative fuels and vehicles to operate on them.
"So I think the advice that you'd want to give to those industries is, 'Help us reduce your emissions from your current operations and help us achieve future reductions by helping us develop renewable energy as fast as we can.'
"You then will be making the same money in the future, but you'll be doing it on a cleaner, renewable resource."
His message for British Columbians:
"I think I would just say I'm very impressed by your leadership and its focus on climate change and environmental issues.
"But it won't be solved by government alone. It really will take every one of us on either side of the border getting involved in these issues and doing our part to reduce our use of fossil fuel and enjoy a much cleaner future as a result."
Related Tyee stories: