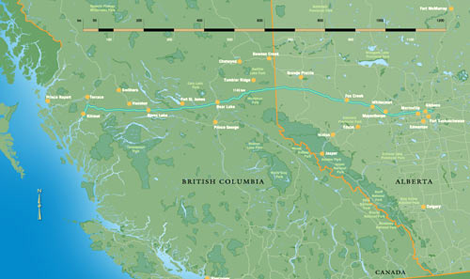 Whenever Jim Culp thinks about the proposed Enbridge pipeline, his thoughts return to the night the mountain fell from of the sky.
"It was like somebody whacked off a quarter of the mountaintop with a butcher knife," recalls Culp of the 2003 natural slide just outside Terrace, B.C. "It came down a ravine, corkscrewing all the way down the valley...the Pacific Northern Gas (PNG) pipeline broke and exploded. The next morning, the river was dammed, the pipeline and road were ripped up and the forest was burning."
The PNG pipeline is today the only pipeline in the area, supplying Northwest B.C. with natural gas from its source in the Peace country of Alberta. But the world's growing thirst for Alberta oil sands crude -- and the eagerness of Canadian and American companies to deliver it to them -- could change that in short order.
With oil sands production projected to triple to three million barrels by 2015, Calgary-based Enbridge Gateway Pipelines Inc. (a subsidiary of Enbridge Inc.) has plans to build an 1150-kilometre dual underground pipeline connecting Alberta's Athabaska Basin to a deep sea port at Kitimat, B.C.
If the plan goes ahead, the Gateway pipeline will be the largest petroleum pipeline project undertaken in North America in more than 50 years; at a cost of over $4 billion, it will be among the largest private infrastructure investments in B.C. history. Planned to begin construction in 2008, Enbridge says that pipeline will employ 5000 full-time workers for two years, generating $25 million in taxes each year between B.C. and Alberta. In B.C. alone, the underground pipeline will be engineered to cross at least 1000 streams, rivers and lakes, each necessitating a separate file by Transport Canada.
Environmental and legal risks
Culp, who has worked as a fishing guide in the Terrace area since the late 1970s, is concerned that a pipeline running between Burns Lake and Kitimat will inevitably trash pristine areas with irreplaceable wildlife values.
"The Clore River Valley is near impossible to put a pipeline through, it's just a series of cataracts," says Culp, who notes the area is prone to violent floods and 20-foot winter snowfalls. "If there's a major pipeline break in the upper [Clore] watershed, the oil is down the Copper River and into the Skeena, and let's be honest, nobody can dispute that it would be out of control by that point. It couldn't be cleaned up in the short term."
The overland pipeline route is fraught with political risk as well. The pipeline must cross the traditional territories of over 40 First Nations; not one of the B.C. First Nations along the route have surrendered title to their traditional territories through treaties.
"The most significant risk facing the project is the aboriginal legal risk," says Will Horter, executive director of the Dogwood Initiative, a Victoria-based environmental group. "This project and series of other similar proposals go through the territories of legally-sophisticated First Nations who have won important court cases in the past. This raises the question of whether the [Enbridge] business plan is viable."
The Gateway project will consist of two separate buried pipelines along the same 80-metre right of way. One pipe will move crude from Alberta to the B.C. coast for export by tanker to California and Asia. A second pipeline will import a petroleum-based dilutant known as "condensate" from Kitimat to the oil sands.
In November of 2005, Enbridge Pipelines Inc. submitted a Preliminary Information Package (PIP) to the National Energy Board (NEB), an initial step in the process of gaining regulatory approval. (The process will be overseen federally by the NEB because the pipeline crosses provincial jurisdictions.)
The Gateway pipeline is an ambitious plan, and it is not the only one. Although it is the most advanced pipeline project to date, Kinder Morgan Canada Inc. has proposed to connect its Trans Mountain pipeline to the B.C. coast, and a condensate-importing pipeline from Kitimat to Prince George is in the works by the Pembina Pipeline Corporation.
All three proposals depend on oil tankers to export and import petroleum products through northern B.C. ports; the Gateway pipeline alone will move an estimated 400,000 barrels of Alberta oil a day for export, and 150,000 barrels of condensate in the opposite direction.
Tough negotiations
The Gateway pipeline cannot move forward without the participation of First Nations, and to that end, Enbridge spokesman Glenn Herchak says discussions with northern B.C. First Nations have been ongoing since 2002.
"We've been having one-on-one discussions, [with the goal] to reach memorandums of understandings (MOU) with individual groups within a corridor on either side of the route," says Herchak. "We will talk with the First Nations on the [tanker] sea route as well."
In July Enbridge announced it had signed its first MOU with the Yekooche First Nation, which is situated 85 km northwest of Fort St. James. Yekooche Councillor and Treaty Consultation Coordinator Dean Joseph says the MOU will provide funds for environmental studies and for sending band members to future meetings.
"There's no OK for the pipeline to go through," says Joseph, whose band was forced to back-pedal after the Prince George Citizen ran an erroneous July 2006 headline announcing "First Nation Backs Pipeline." "Our first concern before we make any commitment is the environmental safety of our territory, and that's what comes first."
That said, Joseph confirms he has asked Enbridge to provide information on potential job opportunities, and that they will be "negotiating employment opportunities for band members" in future talks with the company.
Progress with the Carrier Sekani Tribal Council (CSTC), which represents 5700 members across 76,000 square kilometres of B.C.'s Interior Plateau (comprising one-third of the B.C. pipeline route), will likely be more difficult.
In July the CSTC released a scathing 118-page report detailing concerns about potential impacts to important salmon-bearing waterways, such as the Stuart and Morice rivers. The report includes a list of eight Enbridge pipeline ruptures that have occurred since 1992, including a January 2001 spill of nearly four million litres of crude oil near Hardisty, Alberta.
"Pipelines like the one proposed by Enbridge have serious problems with leakages and ruptures," says Patrick Mitchell, chief of the Stellat'en First Nation based in Fraser Lake. "We thought [the risk of spills] would happen mostly at the coast where the pipeline meets the tanker ships, but we now know that it will happen along the entire line, and it has potential to seriously impact our ability to maintain an aboriginal livelihood."
'Duty to consult'
Mitchell is blunt about what government and industry can expect if his First Nation is not adequately consulted and accommodated in advance of construction.
"I only speak for my own First Nation here, but we would look to negotiate a settlement to any dispute first, but failing that, we would look to physically stop any work being done, and at the same time, pursue litigation."
Building the Gateway pipeline will likely hinge on how effectively Enbridge and the federal government consult and accommodate First Nations. So what must they do to get the pipeline built?
"When you consult [First Nations], it can't just be an opportunity to let them blow off steam before the minister does what they intended to do all along...there's got to be something real to it," says Murray Browne, a lawyer with Woodward and Company, which is currently involved in the Xeni Gwet'in/Tsilhqot'in aboriginal title case. "Government has a duty to consult, but a company can't just bulldoze their way through, invest money without ensuring consultation and expect the court to bail them out with injunctions if First Nations are driven to blockade."
Browne says a company like Enbridge should provide funding capacity, initiate detailed discussions and make sure government fully involves First Nations in joint decision-making about the proposed project.
"The company should also offer equity shares or real benefits if the project goes ahead, and it should support revenue-sharing between the governments and First Nations."
A letter to the NEB from the Carrier Sekani in January 2006 set an ominous tone for future pipeline negotiations.
"The member bands of the CSTC have un-ceded aboriginal rights and title along a substantial portion of the pipeline's right of way, and the pipeline will either require our consent, or require a significant consultation and accommodation process with the Crown," wrote then-tribal chief Harry Pierre. "That process has not yet begun."
Unsigned deals and project delays
A serious barrier to effective future engagement of First Nations by the federal Crown is the apparent inability of the NEB -- a federal body with dual judicial and regulatory roles -- to consult.
"Clearly, you can't consult and be a judge at the same time," says Dogwood's Will Horter. "The NEB have done no consultation about the pipeline, no Crown representatives have shown up to talk about the pipeline, it's only been Enbridge, and the Crown cannot delegate its duty to consult and accommodate. That's why [I predict] the NEB will face lawsuits around the Enbridge process."
Delays are already dogging the Gateway pipeline, jeopardizing Enbridge's advantage as the leading proponent seeking to connect the oil sands with B.C.'s north coast.
In early August, Enbridge Inc. President and CEO Pat D. Daniel told reporters the Gateway Pipeline would be delayed at least a year (to 2011) because a deal with Beijing-based PetroChina (to reserve 50 per cent of Gateway's capacity) fell through.
"I'm convinced that this line will get built, it's just going to take some time to get the parties comfortable with doing business with one another," said Daniel.
This bad news followed a June 27 report by CIBC World Markets analyst Matthew Akman, who warned investors that the Enbridge pipeline would also be delayed by tough First Nations negotiations.
"Our view has been that Gateway could be delayed," wrote Akman, noting that at least seven First Nations along the Gateway route had issues with the federal approval process. "In this context, we believe Enbridge may find it more financially rewarding to expand its existing system instead," concluded Akman, alluding to a slate of Enbridge plans to expand its existing pipeline network within North America.
Offshore moratorium a factor
The question of whether the federal offshore oil and gas moratorium applies to tanker traffic in northern B.C. waters presents another potential problem for the Gateway pipeline.
Environmentalists and most northern coastal First Nations maintain the moratorium applies to tankers plying the 400-kilometre stretch of water between the northern tip of Vancouver Island and the Queen Charlotte Islands. Government and companies like Enbridge say it refers only to exploration and drilling.
"The moratorium was never designed to eliminate business into our ports on the West Coast," Rich Neufeld, B.C.'s minister of Energy, Mines and Petroleum Resources told the Globe and Mail in July. "B.C. has been shipping crude oil out of our ports for years. It's been happening before, it's picking up now and there's no doubt about it, there will be more."
This year, 10 coastal First Nations with territory spanning from Rivers Inlet to Kitimat came to a consensus supporting the federal moratorium, including a prohibition on oil tankers.
"We're not opposed to economic development, but at this point we don't see any value in tankers coming through here," says Haida Nation President Guujaw. "Enbridge wants the NEB to just talk about the pipeline and not the tankers, even though they are both integral to the project. Then they will build the pipeline, and watch us try to stop the tankers."
Christopher Pollon is a Vancouver freelance writer. Read his previous articles for The Tyee here.
Related Tyee stories: