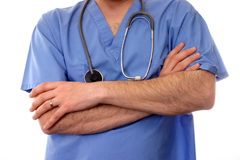 A lot of small towns in B.C. rely on the care of visiting family doctors and specialists. It's the only alternative to flying or busing people miles to medical centres. But this year the B.C. government has lowered the number of approved doctor visits to rural and isolated communities, according to a Health Ministry report obtained by The Tyee.
The move has angered small-town officials. But B.C. Health Minister George Abbott says the numbers are being misinterpreted, and merely reflect a more realistic picture of the actual health needs in those towns.
The Northern Isolation Travel Assistance Outreach Program (NITAOP) compensates visiting specialists and family doctors for travel time and travel-related costs.
Although the funding for this program has increased to $2.05 million for 2006/07, up from $1.95 million in 2005/06, of the 664 requested doctor and specialist visits, 385 have been approved, according to the NITAOP status report.
"I think saying you're spending more money and giving less service does not best serve the community," said Adrian Dix, NDP health critic and MLA for Vancouver-Kingsway.
"It means rather than having someone come to your community, you go on a wait-list for Vancouver, Burnaby or Surrey," he said. "Obviously, the more people on waiting lists, the worse it is for everybody."
'We're in bad shape'
According to B.C. Health Minister George Abbott, the changes in approved doctor visits were made because more visits have been requested in the past than the amount that have been used.
"What the planning allocation is based on is the number of actual visits that were made year after year," Abbott said.
"If community X had utilized 50 in 2004, 50 in 2005, it is probably not a bad planning assumption to think they will use about 50 in 2006 as well," Abbott said, adding that the number of actual visits has increased from 2044 to 2369.
According to the status report, dated June 1 of this year, Hazelton, Smithers and Terrace will see the biggest gaps between requested and approved visits.
In Hazelton, of the 103 doctor visits requested, 52 have been approved. That is an overall gap of 49.5 per cent and includes a shortfall of $38,390.
"We're in bad shape," said Alice Maitland, mayor of Hazelton.
"Even if (patients) don't have to fly to the Lower Mainland, they have to travel to Smithers, 50 miles, or Terrace, 100 miles," Maitland said. "Those are the two airports, so you're going to have to go there first."
Maitland said that her community is very poor and has yet to recover from when the Repap Corporation closed its mill in Hazelton. Over 100 workers lost their jobs.
Many other companies went under after the mill closed. As a result, people in the community cannot afford to fly to the Lower Mainland for health care, she said.
According to Maitland, Gordon Campbell's government almost closed down Hazelton's hospital last year, leaving the hospital with only two beds for a community of approximately 6,000 people.
'We're back to travelling'
For Smithers, of the 108 doctor visits requested, 70 have been approved. That is an overall gap of 35 per cent and includes a shortfall $49,945, according to the status report.
"We're one of 14 communities that have been hit," said Marilyn Stewart, a councillor in Smithers and chair of the Smithers Health Watch.
Stewart said that when an obstetrician visited Smithers six times last year, the doctor saw upwards of 100 people per visit, for a total of 600.
"We're back to where we were before, back to travelling," said Stewart.
"If they are putting more money into the program, then why does Smithers have a shortfall?" she said. "It doesn't make any sense to me.
"The reason we're so disturbed by it is because it wasn't a well thought-out plan," Stewart said. "It was done across the board."
Abbott said that the changes were made based on the changes in medical resources in the north, noting that specialists have increased from 89 to 96, and general practitioners have increased from 219 to 257.
"The allocation is not made in a static environment," Abbott said, adding that a new program has been introduced that takes patients to hospitals on buses.
Stewart, however, said the buses are not the best solution.
"The bus comes once a week and once a week might not be enough," Stewart said. "Not everybody gets paid sick leave. It does cause some hardship for the people."
Thousands of trips
Stewart and Maitland both voiced their concerns about patients from their communities who have been discharged from the hospital without a way home.
"People have been flown in hospital clothes, with no day clothes, money or credit cards," Maitland said. "And then they have to pay their own way home again."
Meanwhile, having surgery away from home might not be the best option, Stewart said, adding that she is worried about patients driving in the winter.
"If you're having surgery, you're having it in a strange place, not in your own community," she said. "It's that other part of healing...people can't come and visit."
According to Tracy Morton, chief of staff for the Queen Charlotte Islands General Hospital, 3,000 trips leave the island each year for medical care, out of population of 5,000.
For the Queen Charlottes, of the 40 doctor visits requested, 27 have been approved. That is an overall gap of 32.5 per cent. Morton said this means 600 more off-island trips will occur for patients.
"This isn't a good choice because it is affecting the people most vulnerable," Morton said, adding that it costs $600 to fly to Vancouver, plus the cost of transportation and hotels once there.
"We haven't been able to recruit an ear, nose and throat specialist for five years," he said.
Meanwhile, Margaret MacDiarmid, president of the B.C. Medical Association, said that patient care cannot be comprised.
"People need to know that they have some access (to health care)," MacDiarmid said. "I'm sure the government would share that concern."
Ethan Ribalkin is a freelance journalist in Vancouver.
Related Tyee stories: