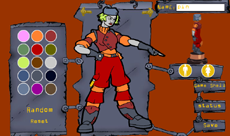 For kids and the rest of us, are computer games a boon, or our ruin?
The debate over the effects of digital games is running hot in academic circles and beyond at the moment. A recent Maclean's cover headline blared: "How computers make our kids stupid". Meanwhile Steven Johnson, author of a new book called Everything Bad Is Good for You, argues that games and other interactive media sharpen our brains.
The debate arrives with full force in Vancouver today, as several hundred digital game creators and theorists assemble for the second annual Digital Games Research Association (DIGRA) conference.
"Digital games are not really taken seriously or well understood," says Suzanne de Castell, a professor of Education at Simon Fraser University and one the organizers of the DIGRA conference. "But digital games are a powerful cultural force right now."
How powerful? Well, computer and video games sales topped $10 billion in the U.S. in 2004. Children spend more and more time working and playing with them. And some social theorists say society is gripped by a 'moral panic' over the effects of computer games, a backlash amplified by media reports like the Maclean's cover story.
Fueling the concern is the recent publication of a study by Thomas Fuchs and Ludger Woessmann of Munich University. In it, they suggest that "holding the other family-background characteristics constant, students perform significantly worse if they have computers at home."
"These games can be fun, but they can also be all consuming," says David Forsey, who recently finished designing a Hulk video game to be released in a few months. "So you have to sit on one side of the fence or the other," he says, "either games have no effect and we should rip them out of schools, or they have an effect and we really should think about it."
Forsey, who works for Radical Entertainment in Vancouver, has a 16 year-old boy and 10 year-old girl. And he believes parents should place firm boundaries around computer game use by children and teens. "I restrict my kids from playing them [games] too much, and lucky for me, my kids are quite athletic," Forsey told The Tyee.
"They do have an influence and you have to strike a balance with them," he adds.
Started with 'Spacewar'
Computers weren't always fun. They used to be room sized machines that could do math. Then in the early 1960s, Steve Russell of MIT invented the video game Spacewar and the field blasted off.
"Back in the seventies when I started making games, I could spend all my day drawing a line," says Forsey. "Now a line is done in a split second, things really have advanced by orders of magnitude."
And ever more complex games like Warcraft and Everquest boast virtual worlds where thousands of people can play together simultaneously. These games come with their own set of cultural rules and are quickly becoming one of the most popular activities among adolescents, according to the DIGRA website.
"For people under 30, they [digital games] are almost an indigenous cultural form," says Jim Gee, Professor of Educational Psychology at the University of Wisconsin and a leading researcher on the role video games can play in learning.
"We are just beginning to understand that digital mediums are bringing us expressive forms comparable to the movies and the novel," says Janet Murray, a Professor of Digital Media at Georgia Tech and author of Hamlet on the Holodeck.
Rich and dumb?
So the medium can be rich, and mesmerizing. But do digital games sap intelligence, or promote it?
It depends, says David Kaufman, director of SFU's Simulations and Advanced Gaming Environments (SAGE), which landed a $3 million grant to study digital games in 2004.
"Well, if you look at the nature of media, movie and video games today, you realize that 90 percent is definitely going to dumb down people," says Kaufman, who is a professor of education at SFU. "But if you look at complex games…like Rise of Nations and SimCity, research is showing that these have educational value and lead to learning."
Gamers get falsely stereotyped as glazed-eyed zombies says T.L. Taylor, an Associate Professor of Computer Games Research at the IT University of Copenhagen and a keynote speaker at the DIGRA conference.
"Gamers are not passive consumers, simply buying something off a shelf, taking it home, and playing it as given," says Taylor, "If you look at massive multi-player games like Everquest, players are creating a rich culture, including third party websites and fan fiction."
Gee, Murray and de Castell all agree, digital games can be beneficial. "But it is important to say, that if you're a sane researcher you're not arguing that a game is good or bad, it depends on how it is used," says Gee.
"It is therefore important that we don't leave it to the commercial game developers to define the content and form of such an important culture expression," adds Murray, on why the debate over digital games needs active research.
Smart play
de Castell hopes questions over the impact of digital games will flourish at the DIGRA conference, which is bringing around 400 academics, students, game developers, and players together for four days of talks. On the agenda are sessions about the future of electronic games, digital game culture, and a "League of Nations" session that hopes to highlight games research from around the world.
de Castell's particular interest falls on the educational potential of digital games. "There is a big move in learning to use computers and games in particular to support learning," says de Castell. In fact, she and her colleagues recently developed a game called 'Contagion', which allows kids from age 9 to 13 to learn about contagious diseases. It is set to freely available online next year.
With digital games being so popular, the potential for them to enhance learning is enticing. As a result, the future impact of digital games on society, for better or for worse, could lay in the young efforts to better understand digital game theory being manifested at DIGRA and SAGE.
It's a spark that comes from looking out for what engages people, says de Castell.
"Because I think, as an educator, that where people pay attention is where their intelligence is at work, and at play," adds de Castell with a chuckle.
But, Forsey warns not to get caught up in computers and digital games as the sole answer.
"Computers and games can be used in education, but we have to watch out that they don't become more important than the things we are trying to teach kids," says Forsey.
"Remember they are just a tool," he says.
David Secko is on staff at The Tyee with a focus on science.