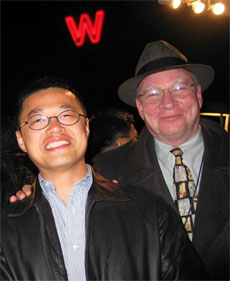 The Tyee.ca

In the words of Yogi Berra, it's déjà vu all over again. Mayor Larry Campbell once again seems poised to leave his divided COPE party, after being targeted by one of his fellow COPE councillors at the party's general monthly meeting Sunday.
Councillor Fred Bass accused the mayor of being unethical, intolerant, and disrespectful in a prepared speech to COPE members.
Bass did temper his remarks by saying the party should be unified under Campbell's leadership. But he went on to compare the mayor, the recently formed Friends of Larry, and the associated independent COPE caucus of councillors Raymond Louie, Tim Stevenson and Jim Green as a "Trojan horse" in the COPE party.
The mayor, who says he won't run on the same slate as Bass in the November civic election, has only two options: leave the party or take it over completely. He is currently consulting with his supporters about his strategy.
"I was elected by COPE. I have to make one thing clear; COPE consists of two groups. There is the vocal minority and the silent majority. Clearly, the vocal minority are not happy with me, but they were probably not happy with me from the start. I believe the silent majority supports me," Campbell said in an interview with the CBC yesterday.
The bridge and the bomb
In December, speculation was rampant that Campbell would leave the party and run as an independent candidate for mayor. Instead, on December 14, he announced he would stay, but he would form an independent, four-member caucus within COPE. He also said his supporters would continue to raise money independent of the party.
Since then, both the COPE executive and regular COPE caucus chair David Cadman have tried to bridge the enormous rift between Campbell's "COPE lite" caucus and the more left-wing "COPE classic" faction of Bass, Cadman, Tim Louis, Anne Roberts and Ellen Woodsworth.
Bass said his comments Sunday were kept secret from the other COPE council members. Roberts corroborated Bass's statement and said she had no idea what he was going to say. But not all COPE members agree that this was just a "Fredism," as the mayor referred to it at his press conference Monday.
Former COPE mayoral candidate Carmela Allevato, interim co-chair of Friends of Larry, said the fact that Bass gave the speech independently is not an excuse for what followed. "Even if they didn't know, no one did anything. [COPE Classic] all sat on their hands. Nobody stood up and took the opportunity to distance themselves from what he was saying. Fred and the absolute silence from the classics; from Tim Louis and Anne Roberts, sends a very divisive message."
To aggravate matters, a resolution was passed at Sunday's meeting forbidding members of COPE from fund-raising outside of the party. And Mebrat Kebede, who was nominated by Tim Louis, was elected to the executive, and gave what insiders called "a very divisive speech" in opposition to the mayor's caucus position on issues ranging from gambling to the Richmond rapid transit line.
Whose money is it?
The mayor dismissed the idea that COPE could control the funds raised outside the party.
"I'm not raising any money at all. It will be up to the Friends of Larry where that money goes. If they decide to pay off the COPE debt with it, that's fine with me. If they decide to put it towards tsunami relief, that's fine with me," Campbell told the CBC.
The mayor said he has raised more than $150,000 to pay off the debt COPE incurred during the 2002 election, which he says is more than his fair share.
"If COPE is serious about it, they better start raising money. I've raised my share. I've raised more than my share, as [have councillors] Louie, Green, and Stevenson," Campbell said.
Cadman laments gas-throwing
Cadman said his mediation efforts between the groups were working out until Bass "threw gas on the fire."
"No one knew what [Bass] was going to say," said Cadman, who urged Bass before giving his speech to consult with the rest of his caucus. "I told him after his speech, 'You've really messed up.' "
Bass, however, was just keeping his New Year's resolution. Last month, he wrote an email to the Vancouver Courier stating "my political New Year's resolution is to speak out my truth." He also declared he would do so at Sunday's meeting, ensuring plenty of media attention.
"This thing is really quite simple," Bass told The Tyee. "Politicians cannot be separate, collect funds separately, and consider themselves part of the same party. It doesn't work."
As for the fallout, Bass is unrepentant. "I'm very happy to say I've never had so many positive phone calls. People are saying 'Thank god you said what you said and were brave enough to do that.'"
Campbell also made a New Year's resolution - to suppress his inner bully. After Bass' remarks, Campbell left the COPE meeting to avoid releasing that bully in a media scrum.
Control and the 'cadaver'
One question that Campbell and his supporters must answer is whether the "silent majority" of COPE members is large and loyal enough to allow them to control the COPE slate at the party's nomination meeting, scheduled for September. Another is whether conflict in the meantime would be too destructive to endure.
COPE's nomination process is open, and incumbents are granted no privilege. But Bass has strong support, from traditional COPE members and the electorate. In the last election, Bass won more votes than any other council candidate. Unseating Bass from the COPE slate would be a difficult proposition.
However, since the mayor joined COPE, the membership in the party has nearly doubled from 1,200 in 2002 to at least 2,100. Campbell's team is now polling members to see if the mayor has enough support to control a nomination meeting.
If Campbell leaves, the logistics would be quite difficult but not impossible, insiders say. There is the question of whether such a move would alienate the mayor's COPE base. And in December, after Campbell announced he would stay with COPE, councillor Jim Green declared that his departure would only breath life into the NPA, which he described as "a cadaver looking for a grave to fall into."
COPE's executive will meet Wednesday to deal with the aftermath of Bass's remarks. COPE external co-chair Anita Zaenker said Bass's made a "serious error" and she said the executive warned him in January not to make a speech at Sunday's meeting.
"Tremendous discussion and effort went into keeping everyone under COPE and to have that undermined by the comments of one councillor is a great disappointment," Zaenker said. "It was a mixed message that was delivered, and so it's hard to tell what the intention was. It might just prove to be the efforts of someone who doesn't quite understand how this works."
Scott Deveau is on staff at The Tyee.