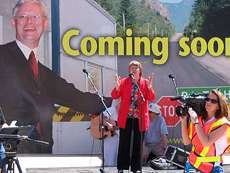 What do a 45-year-old construction worker, a gay business-school grad, an Interior cattle rancher, and a battle-in-Seattle anarchist all have in common?
They all voted Green in the federal election last summer.
But will they vote Green five months from now in B.C.'s provincial election? That's what political strategists of all stripes want to know. A new Ipsos Reid poll shows Green support slipping four points since September, sitting now at the same 12 percent the party pulled in the last provincial election. And one of the more high profile Green figures in the province, Tzeporah Berman, has just bolted for the NDP.
Nevertheless, in the coming battle, the B.C. Greens occupy some prime political real estate. In the last election the Green vote was the deciding factor in at least half a dozen races where Liberals won seats. That was a real surge for the Greens, who in 1996 drew only two percent of the popular vote. But in 2001, New Democrats liked to explain the Greens' strong showing as a protest vote that would be won back by revitalizing the NDP with fresh faces and greener policies.
One way, then, to look at the Greens' current 12 percent support, is that the party has held onto its market share of the environmental "brand" with voters. And in B.C., for 66 percent of residents, the environment is one of their five top priorities, a Canada West Foundation poll found last year.
Conservative Greens?
Most pundits continue to insist, wrongly, that Greens are a natural subspecies of the NDP. Hello, Rafe Mair voted Green. In B.C., support for the federal Liberals this year was the same as in 2000, whereas Green support was up from two to eight percent, suggesting that their converts came from people disgruntled by the Progressive Conservative-Alliance merger, an Ipsos-Reid poll announced before the June 2004 federal election.
Weird but true. So, theoretically, the B.C. Liberals could have accessed these wildcard voters, as there are clearly many people who care about the environment (or just a fresh perspective) but have no love for the NDP's big unions and big government . However, for nearly four years the Liberals' record on the environment —promoting fish farms and increasing the amount of old-growth logging allowed annually, among other things—is not likely to have attracted many small-g green voters.
"I'm upset with the Liberals now, but that's not how I started," says Donna Morton, executive director of The Centre for Integral Economics in Victoria. Her group develops workable policies around tax shifting, an up-and-coming school of thought that promotes tax incentives for ecological industries, and higher taxes on polluting ones. "Before the election and early in their mandate, we had meaningful conversations with Gary Collins and Gordon Campbell about re-inventing the economy of B.C."
Morton says she had high hopes for the Liberals' New Era promises to cut subsidies to corporations (a blanket statement she imagined would cover the oil and gas industry) and devolve power to municipalities, which would allow people to have more control over their local environment and resources. Instead, the opposite has happened on both fronts. "They are investing more than ever before in the 20th century carbon economy," says Morton. "They seem to think 'the environment' is a special interest. Is the air we breathe a special interest?"
The B.C. Liberals show no signs of wooing the green voter. "We haven't developed our election platform yet, but good public policy will bring votes. We don't need to pander," says Chad Peterson, a communications officer with the B.C. Liberal Party.
'The unorganizable'
As far as the Green Party goes, their biggest challenge will be expanding their base of support by convincing people it's not just a trees-and-bees party. Adriane Carr, leader of the B.C. Green Party, tells The Tyee that their new policies will do that, but their election platform is not yet ready for release. "The right and left are neck and neck. Having Greens in the legislature will hold whoever wins accountable," she says.
The public likes the Greens quite a bit in theory—before the federal election, they had up to 16 percent support across B.C. and Ipsos-Reid pollsters predicted they could take two seats. But in the end, only 6.3 percent voted for them. It's not surprising that people get last-minute jitters, when the first-past-the-post system means that parties with 15 percent support do not get 15 of 100 seats. In the case of the Greens, they have yet to win a provincial or federal seat.
"The Greens have a problem—they think they're right, and people will just cleave to that," says Andrea Reimer, a Green school trustee for Vancouver who was elected in 2002. "Candidates have to work two or three times as hard, because the party vote isn't there to carry you. We need to work for issues and seek endorsements at the community level. There are some obvious groups we can appeal to, younger students and younger people in general. It is possible for us to organize those who seem unorganizable," she says. "We look at the world in a different way. The NDP and the Liberals live in the same house and fight over who should get the most resources."
While the former NDP government did more for the environment than the Liberals have, they often pandered to the resource industry, and that left many greens bitter. "We have learned from the mistakes of the old NDP, and things will be different," says party leader Carole James. "People who voted Green in the last election will see that we share those values."
But it's going to be an uphill battle to prove it. When asked about her position on tax shifting, a key Green Party platform, James seemed unfamiliar with it. "Gordon Campbell has shifted the tax burden from the wealthy to low and middle-income earners," she said. However, when I elaborated on tax shifting, she responded, "Those are some of the issues put forward in our committee meetings. It's early days, but I think people will be pleased with our platform."
Switching sides
One high profile eco-activist who's already made up her mind is Tzeporah Berman, who just announced she is switching allegiance from the Greens to the NDP. Berman, a former Greenpeace organizer who pushed international boycotts against B.C. timber products and helped frame the so-called Great Bear Rain Forest initiative on the coast, said the NDP's approach to social and environmental issues more closely matches her own, and that the NDP offers the only chance of defeating the Liberals.
Other representatives of the new environmental voters aren't necessarily convinced the Greens are the only party that can save the world. Matt Price of Victoria founded the B.C. Society of Conservation Voters last spring, based on the American model of endorsing individual candidates, and he hopes to make the environment something that any politician could latch a campaign to. "If the Liberals ran a good candidate it's not out the question we'd endorse them, though I can't imagine it will happen this time around," he says.
If nothing else, the growth of green politics is sure to impact the direction of public debate. "The party that will pick up the most votes will do a terrific job of demonstrating that innovative economic policy and environmentalism can go together," says Morton, who at one time worked on developing economic policy for the Green Party.
"The Liberals could have had a guaranteed double mandate if they did that, but instead they have left a lot of room in that area," says Morton. "My advice to both the Green Party and the NDP is this: they need to build deep relationships with small- and medium-sized business and build a concrete platform that includes renewables, clean energy, green technology. An economy built on sustainability—that's an important territory for the upcoming election."
Alisa Smith is a frequent contributor to The Tyee.