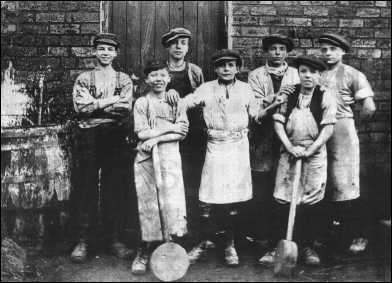 TheTyee.ca
[First of a two-part series]
One moment, Luke MacIver was doing his job, sorting cardboard at Wastech Services, a Coquitlam recycling plant. The next he was dead, crushed under a pile of garbage when a dump truck driver failed to see the young worker. MacIver was only 15 years old, making him the youngest workplace fatality in B.C. in the last two decades.
"Luke holds the record. I don't want to see anyone even younger get killed," says his aunt, Deb Stead, who lives in Jasper, Ontario. In the eight years since the death of her nephew, Stead has had little reason to fear. Now, however, the B.C. Liberals have passed Bill 37, which will effectively lower the minimum working age from 15 to 12.
At the same time, the bill will reduce government oversight of the province's youngest workers. Before, the workplace of every child under 15 had to be inspected by a government official. Now, a 12-year-old could easily work under the same dangerous conditions that led to Luke MacIver's death-the coroner's report cited Wastech for overall deficiencies in training and supervision.
On October 7, NDP MLA Jenny Kwan read a letter from Stead in the legislature, imploring the Campbell government not to make the changes. The argument fell on deaf ears, and the bill is slated to pass into law on December 14.
When the first draft of Bill 37 was introduced in May, labour minister Graham Bruce issued a press release explaining that the new legislation would increase flexibility in employment standards, eliminate red tape, and help kids as young as 12 enter the workforce. The permits were "a clear case of over-regulation," he said.
Critics, however, have lined up with evidence that any benefits will come at the expense of young workers, who are easier to exploit and underpay, and are more likely to get injured or worse. So far, the government has failed to answer the criticism with anything more than political rhetoric.
Former officer sounds alarm
"There's deregulation and then there's unregulation," says Graeme Moore of Surrey, who worked for 21 years as an industrial relations officer for the Employment Standards Branch, beginning in the Social Credit era and quitting last year out of frustration with the Campbell government. "Essentially, there won't be child labour laws."
Since 1948, children 12 to 14 have needed permission from a parent, from their school, and from the Employment Standards Branch in order to work during the school year. (Casual jobs such as babysitting, newspaper delivery or yard work were exempted, and school permission was not needed for summer employment. Last year, the government issued 3,835 permits, the vast majority for young actors in the film industry.) Under Bill 37, all that will be needed is a parent's note to be kept on file by employers.
In an interview with the Globe and Mail in August, Bruce said that he was not aware of any application that had ever been denied. Moore, on the other hand, estimates that he and his colleagues turned down one in five work permits for youth under 15, while a further three in five were approved only after changes to the terms of employment.
Among the rejects, Bruce said, were applications to put kids to work as dirt-bike-riding scarecrows in a berry field bristling with unmarked wire at neck height, and to send a 12-year-old garbage picking alone on the highway's edge near Surrey. Parents had pre-approved every one of these altered or denied applications, Moore notes.
'How can parents know?'
"How can parents know?" asks John Higgins, a 21-year-old university student living in Delta. At age 16, Higgins broke his back on the job when he was crushed by a forklift that he had set into gear while standing outside the vehicle. No one was supervising him at the time. "My parents were pleased and proud I had this job, and my dad thought it was great I was driving a forklift - that it showed how mature I was. None of us stopped to think if I had the training I needed. You think that the employer will take care of that." Higgins is still undergoing operations related to his accident. "There are bound to be more problems, and a spike in injuries, with more children under 15 in the workforce. They will be less skilled. And if they are asked to do something, they don't know how to say no."
Bruce has insisted that safety will not be a concern, as young workers will still be covered by the basic safety standards that apply by law to all workers in B.C. The minister did not respond to repeated calls from The Tyee. "He's a busy boy," ministerial assistant Ian MacLean said breezily from Victoria, adding that the minister is concerned about "all the misinformation out there, especially on the safety issue."
According to the Workers Compensation Board of B.C., five young workers (defined by WCB as age 15-24) were killed last year. Statistics also show that 50 percent of all workplace injuries occur in the first six months on the job. One young worker is injured every hour, and five are permanently disabled every week.
To date, no statistics have been kept for workplace accidents involving workers under 15 in B.C. That will change, says Karen Zukas, manager of strategic initiatives in WCB's prevention branch. "We are tracking that in light of the new labour laws. Starting recently, we have our eye on that group."
What is known is this: in the five years from 1998 and 2002, 46 workers under age 15 made WCB injury claims, to a total of $375,382 in compensation. The highest number of claims (10) were in accommodation and food services, and the largest payouts ($93,650) in agriculture. Since then, the government has cut enforcement of existing laws - last year, the Liberals laid off 45 of 151 employees, and closed 10 of 19 regional branches of Employment Standards. Complaints registered with the branch plummeted from a high of 1,600 to 400 a month after the cuts; government officials argue that workers are happier, but observers point out that there are fewer avenues of redress.
Weakest standards in Canada
After the draft legislation was introduced last May, it was criticized by a wide range of groups representing and serving children; the Liberals later announced they would introduce accompanying regulations (which are weaker than laws) on December 14. What those regulations will contain has not been made public, but while speaking in the legislature, Bruce has suggested they will contain a cap on the number of hours that children under 15 can work - 20 hours per week during the school year, and 35 per week in the summer. Even with these additions, however, B.C. will have the weakest child-labour standards in Canada.
The most widespread abuses of young workers are likely to be less dramatic than death or disability. If children under 15 have a complaint about their employer, they will have to do as all adults have under changes put in place by the Liberals last year: fill out a complex, 19-page "Self-Help Kit" and present it to their boss. Industrial relations officers have found that many adults cannot complete the form properly, says Graeme Moore.
Under the old system, viable complaints triggered a formal investigation, and if the boss was found at fault - if he had, for example, assigned overtime work without extra pay - he had to comply with the law and pay up. Now, the model is mediation and settlement, which means an employer could easily get off with paying only 50 percent of what is owed, says Moore. "That," he says, "is an incentive for non-compliance."
Tomorrow: Child advocates left out of the loop in drafting new regulations.
Vancouver based Alisa Smith has written for the Globe and Mail, National Post, Ottawa Citizen and Vancouver Sun.