[Editor's note: Along their eastward route to Ottawa, the Tyee's new national reporter Jeremy Nuttall and his partner Mao Yanhong are chatting with ordinary Canadians to find out what they think should be covered in the capital. They're also filing dispatches from the road. Wondering who Jeremy is and how this journey came to be? Check out our introduction here.]
We can report the one-vehicle convoy representing The Tyee managed to pull through four mountain passes -- very treacherous for a packed-to-the-ceiling four-banger with nearly 275,000 kilometres on it. 
We are now in the safety of a Lethbridge motel, with complimentary breakfast and some flash carpeting reminiscent of a Crown Royal bag. 
But it has been a good journey, and as part of this reader-funded initiative, we're asking Canadians we stumble across along the way for some advice and input on what The Tyee should bring to Ottawa. 
Though I didn't really stumble across him, my first choice was Gary the barber.
Gary owns the barber shop next to the location of one of my first jobs in journalism in Princeton, British Columbia.
Barbers tend to be pretty astute students of politics and people. So, during a trim, I asked Gary what advice he had for The Tyee in the nation's capital.
"Keep your ears wide open and your mouth shut," he said. 
Gary would like to know what's going on with Nigel Wright, the prime minister's former chief of staff who resigned over part of the Senate scandal. 
Gary then suggested The Tyee may only get to the bottom of the scandal by chiseling off Pamela Wallin's makeup. 
Onward
The next day we pressed east from the Okanagan. 
More than 800 kilometres later, the drive through southern Alberta yielded an interesting change in the landscape.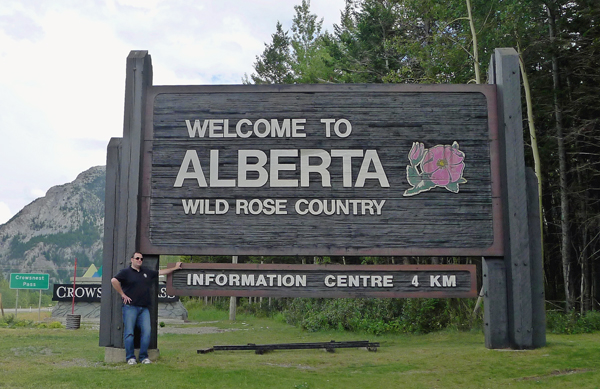 Ten years ago, there was one wind powered generator. Now, they stretch as far as the eye can see across the horizon. 
Is this the true future of Canada's energy? 
In an effort to save time and money, today we turn south to Montana to make the trip across the Dakotas before entering back into Canada at Windsor. 
East bound and down!