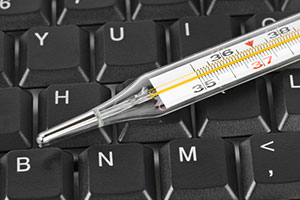 First, the bad news: This spring has seen the emergence of not one but two potentially disastrous new diseases: H7N9, an avian flu that could be more dangerous than H5N1, and MERS -- Middle East Respiratory Syndrome -- a coronavirus related to SARS.
The good news is that health agencies, governments, journalists, and ordinary people have created an online early-warning system that may have helped suppress H7N9 and could do the same with MERS.
MERS actually emerged first, in the spring of 2012, when a number of health-care workers in a Jordanian hospital fell extremely ill; a couple of them died. By the time the cause was identified as a new coronavirus, the outbreak was over. Months later, new cases turned up, including one in Britain: a British resident visited Saudi Arabia and Qatar, and when he got back home he passed the disease to family members.
This was certainly alarming, because this "novel coronavirus" was a cousin of the SARS coronavirus. Exactly 10 years before, that disease had leaped from a Hong Kong hotel corridor to cities around the world, and hundreds had died before its source was identified and the chain of infection broken.
But again the novel coronavirus cases faded out. I'd followed them on my blog H5N1, but I was dealing mostly with the routine disasters of dengue, cholera, malaria and encephalitis.
Then, on Sunday, March 31, the Chinese government announced the outbreak in Shanghai of a new strain of bird flu -- H7N9, which had never before made anyone sick.
That alone set off alarms in every health ministry in the world. Before 1997, H5N1 had never made anyone sick; now it kills three out of five of its victims. H1N1 was just another flu virus until 2009, when a new strain turned into a pandemic that is still killing people around the world. Now another avian influenza had blindsided us, and two of its first three victims were dead.
Memories of SARS
H7N9 was also scary because it was coming out of China, where SARS news had been suppressed for months back in 2003. Ten years later, suspicion immediately arose that Beijing was again keeping the lid on, allowing a dangerous new virus to spread rather than face international embarrassment.
Some reports seem to support that worry. Weibo, China's Twitter, of course exploded with comments about H7N9 and where it was breaking out. Then we heard such posts were being deleted.The Chinese media mentioned many people being "detained" for spreading false rumours about H7N9.
I shared the suspicions, despite the praise of the World Health Organization for China's openness about the outbreak. Then a paper appeared in Chinese Science Bulletin, predicting that H7N9 would probably evolve into a "deadly pandemic." The authors were members of the China National Avian Influenza Laboratory in Qingdao. How could such a forecast be published in a country trying to silence bad news?
So I emailed the corresponding author of the article, Dr. Ji-Ming Chen, and he promptly wrote back. Very politely, he told me to get a grip; no, they hadn't checked with Beijing, and it hadn't even occurred to them to do so.
In other words, this outbreak was under adult supervision and the world would know what the Chinese knew.
A mysterious bug
What they knew was alarmingly little. With H5N1, the "classic" bird flu, poultry died suddenly and in huge numbers. H7N9 didn't bother poultry at all; you knew it was around when people got sick, presumably after eating infected birds. But almost 900,000 tests of poultry and poultry markets turned up only 53 positives for H7N9.
So the people who actually caught it, and died from it, were the winners of the world's worst bad-luck lottery. Even so, hundreds of millions of Chinese -- many informed by online news sources -- took chicken off the menu, with economic damage that even the most callous Beijing bureaucrat had to take seriously. H7N9 is believed to have inflicted $6.5-billion worth of damage to the Chinese poultry industry.
However H7N9's rarity and mobility might baffle epidemiologists, it turned up from Beijing (where three kids contracted it) to just north of Hong Kong (where it was found in chicken poop in Dongguan).
But the Chinese authorities had shut down SARS by forbidding the sale of civet cats to restaurants serving wild animals. This time they shut down live poultry markets in eastern China, and that seems to have suffocated the outbreak. Maybe it's a seasonal disease, and will come back in the fall. If so, the Chinese will be expecting it.
A virus that thrives in hospitals
Saudi Arabia has been another story. Most of the MERS cases have emerged there, and the last few weeks have seen a dramatic resurgence. Unlike H7N9, this virus seems able to move easily from person to person. As in its Jordan debut, it does so most often in hospitals -- Jordan, then Britain, then France, and now, repeatedly, in Saudi Arabia.
But the Saudis have been less transparent than the Chinese. Late May, for example, after a spate of hospital-related infections in the eastern city of Hofuf, the Ministry of Health mentioned five new cases, also in the eastern region, but said nothing about the patients except that they were old and had chronic diseases. Not until the following day did we learn from the World Health Organization (WHO) that three of them had already died.
The Saudis also looked like inept crisis communicators. In mid-May, they released a report showing health officials visiting a MERS patient. The patient seemed pretty well, and the officials didn't even wear masks. How serious could these guys be?
By contrast, the Chinese had shown a little Beijing girl fighting for her life against H7N9 in a hospital room full of equipment and even a stuffed rabbit. Millions understood instantly what was at stake and how seriously the Chinese were taking it. (I'm glad to say she recovered.)
Ransacking the Saudi media, I used Google Chrome's ability to translate from Arabic to English. Flublogia could not exist without Google, but its translation abilities are not great. Still, I could see that the local papers were publishing details that didn't make it into English-language media like Arab News and Saudi Gazette.
WHO, at least, seemed to be in constant contact with the Saudi authorities, and the WHO coronavirus page provides good information.
Significantly, WHO has also begun using Twitter for its breaking-news announcements. They use hashtags for #H7N9 and #MERS, so the message gets out quickly to health experts, journalists and others. WHO communication officials regularly get into Twitter conversations, answering questions and clearing up misunderstandings.
Compared with SARS 10 years ago, the online world has grown far more sophisticated in its response to such outbreaks. Then, foreigners blogging from China provided a tenuous thread of unofficial information. But they reached relatively few readers and had little impact on mainstream media.
A more sophisticated response
When H5N1 returned, especially in 2006, health agencies paid more attention to blogs but seemed reluctant to create their own -- perhaps out of a bureaucratic fear of embarrassment. But their own websites did begin to offer more information, notably during the H1N1 outbreak in 2009.
That seems in large part thanks to a few remarkable journalists like Helen Branswell, Maryn McKenna and Declan Butler.
Branswell has covered the disease-outbreak beat for The Canadian Press ever since SARS, going straight to the health ministers and agencies and writing reports respected around the world. McKenna, through her blog Superbug, has explained complex medical issues like antibiotic resistance. Her post on how to read H7N9 reports became an instant classic.
Butler, who reports for the British science journal Nature, used an early form of blogging to gather news on H5N1 while also reporting on the scientific implications of the disease. He continues to cover the new viruses, including the latest scientific findings on H7N9. Many other highly competent journalists are also following the stories, and people worldwide are following them on Twitter.
As the boundary between science and journalism became more porous over the last decade, information got out faster and more accurately. Media like blogs and Twitter have begun to work both ways, with health experts and agencies coming to rely on news coming from Flublogia -- and glad to see their own reports spread through social media.
The web continues to support any number of medical cranks, rumormongers, and conspiracy lovers. But they have little traction in Flublogia, which ignores them. The online community of interest that began to form after SARS has matured into a community of practice: groups, professions, and individuals with differing skills but a shared concern for obtaining and sharing reliable information and getting it out all over the world.
That community could help prevent, or at least slow down, the next pandemic, and thereby save many, many lives.