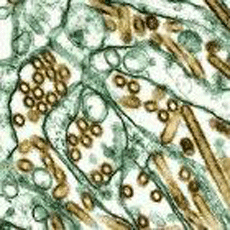 Over two months ago, I published a story on The Tyee on the rapidly emerging community of flu bloggers—experts and laypersons who are trying to forestall a catastrophic pandemic.
A lot can happen in two months. At the beginning of June, I was concerned about dubious Google translations of Chinese posts about dying geese in northwest China. Could we trust the reports? Were bloggers talking themselves into believing an illusion, and developing a suspicion of the "mainstream media" because it wasn't in step with us?
At the beginning of August, I can say that the reports of dying geese were accurate (actually understated). The geese that didn't die at Qinghai Lake appear to have flown at least as far as Siberia and Kazakhstan, infecting at least one human in the process. The Chinese expatriate news website Boxun seems increasingly reliable. Official Chinese news sources do not.
And the gap between bloggers and mainstream media is widening.
'Worry a bit'
In fact, the "A-bloggers" are now part of the MSM. In the last weekend of July, the Washington Post ran a front-page story on the flu. Various big bloggers picked up on the story, notably Glenn Reynolds of Instapundit. His advice to his countless readers: "Worry a bit" about avian flu.
Trivial though it was, this comment sent ripples across the blogosphere. Political bloggers passed the story along. Other bloggers commented. A story originating in the print media was now spreading online, and occasionally dropping back into print in small-town newspapers.
Having lived in the flu community for months, I was alarmed at my own annoyance: Why were all these people finally paying attention? And why hadn't they been keeping up with the story?
The moral I drew was that the flu bloggers, like most online communities of interest and practice, are very few and very focused. In the hours we daily spend gathering information, most of the world is getting on with its life. The pandemic that draws us together is technically non-existent: a lot of chickens and wildfowl are dying, but very few people.
Yet if the pandemic actually does break out, our community will grow from a few hundred to several million, essentially overnight. And it will be the mainstream media that direct people to the flu blogs.
The impact of the Washington Post story made that point. I had glimpsed a kind of foreshock a couple of weeks earlier, when several newspapers ran a Canadian Press story on flu bloggers. It quoted me and provided my URL, and I saw an immediate spike in traffic: from perhaps 150 or 200 hits a day, I was now getting 600.
Pig Fever or 'Swine Flu'?
As flu bloggers gain more information (and grow more alarmed), the relative apathy of the mainstream becomes frustrating. In some cases, it's not apathy but simple ignorance that could be dangerous. For example, a mysterious "pig fever" broke out in China in June, and by late July it was a big story for flu bloggers. Maybe this was actually avian flu mutating through pigs, much as the Spanish flu did in 1918.
Chinese authorities said it was a bacterial infection, Streptococcus suis II, and not a viral disease at all. But Reuters and other news agencies started calling it "swine flu," which is strictly a term for a viral infection. Some flu bloggers even emailed Reuters to complain, but the error only spread. For countless readers of Reuters news stories, "swine flu" is now the big problem.
While the mainstream media cover the story haphazardly, bloggers have begun to build a remarkable network of resources. One of the best is the FluWiki, which anyone can add to. Among the wiki's best elements is a fictional account, almost book length, describing how the pandemic could affect one small city—Kingston, Ontario. The author, known as "CanadaSue," is a former nurse, and her day-by-day account has a disquieting plausibility.
The flu wiki is being translated into Spanish and hopefully several other languages as well. Meanwhile, flu bloggers are turning up from around the world; I've linked to sites in Israel, France, the Netherlands, Venezuela, and Russia.
Flu blogger leanings
The politics of the flu bloggers seems in general to be on the left, and the flu wiki was launched by liberal bloggers in the US. "Revere," the pseudonym of a reportedly famous public-health expert in the US, often lambastes the Bush government on other issues than avian flu. His site, "Effect Measure," offers a glimpse into problems of American public health far beyond the pandemic.
Yet some bloggers were cheered by right-wing Instapundit's recognition of the avian-flu threat, and one or two have even suggested forming a left-right alliance of political bloggers to maximize public awareness and preparation.
Meanwhile, the story develops and spreads. A poultry worker in Kazakhstan has come down with avian flu. The disease is spreading west from Siberia, and on August 2, Moscow quarantined all poultry farms in Russia. Another death is reported in Vietnam, and some bloggers darkly suspect that "pig fever" is really a mutated form of Ebola disease. The narrative continues, as fascinating as a good mystery: Who's telling the truth? Who's lying, and why? And are we bloggers mere observers, or active participants in the narrative?
Regular Tyee contributor Crawford Kilian has been blogging the pandemic since March here