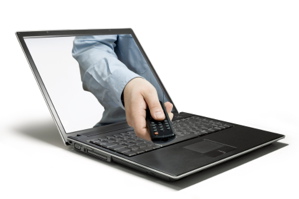 Which side are you on?
It makes sense that many people believe that cable and Internet are two separate services, brought to us through distinct wires. And why wouldn't we think this? After all, these services are also in competition for our business.
The reality is that television services actually go through the same wires as Internet services. Why is this important?
Because it raises serious questions about both the practice of slowing access to (throttling) Internet services and the new imposition of broadband download caps by Internet Service Providers (ISPs).
Are telecom companies discriminating against the open Internet in favour of their own digital TV services?
Telecom companies seem to have enough money to invest in TV services to ensure that they operate unfettered. Yet people rarely question whether Canada's decline in key broadband metrics, such as speed and cost (compared to other OECD nations), might have something to do with the inherent conflict of interest in having the same entities provide access to two competing mediums.
The following exhibits provide evidence that telecom companies are exercising preferential treatment toward their TV services over the open Internet.
Exhibit 1: Rogers caps the Internet
In July, just days after online video service Netflix announced its expansion into Canada, Rogers Communications announced that they would add new usage limits on some of their plans. This move appears to have been a defensive measure, meant to protect the company's own video services from encroachment by Netflix.
Rogers Communications is Canada's biggest cable television provider and it operates a video streaming service similar to Netflix called On Demand Online. Rogers' Video On Demand and Pay Per View offerings, which reach users via their televisions, will not be affected by the aforementioned caps, even though Rogers customers receive both Internet and television service through the same cables.
Some have argued that the caps are not discriminatory if they apply to Rogers's online services as well as Netflix. What these commentators fail to realize is that by adding limits to the Internet while keeping TV costs/services constant, Rogers is discriminating against the public Internet and those who use it to deliver competing services.
The company already forces customers to be cable subscribers before allowing them full access to Rogers Online. Rogers adopted this policy for fear of cannibalizing the market for their controlled TV service with the open Internet. Why would anyone subscribe to cable if they could get that same service online as part of an Internet subscription?
Exhibit 2: Bell's freak out
On August 30, 2010, the CRTC ruled that major telecom companies must allow their independent Internet service competitors to obtain access to the same speeds of broadband as those they offer to their own customers. The incumbent telecom companies are reportedly concerned, not just for fear of increased competition, but also because this will enable independent ISPs to provide fast enough service to facilitate open access to video services like Netflix.
In short, this decision makes it more difficult for big ISPs to freely use download caps or price increases to discriminate against competing online video services. Independent ISPs like TekSavvy, now in a better position to compete in the market, seem happy to focus on fast and open Internet access, rather than on content distribution. Bell is so threatened that it is calling for cabinet to overturn the landmark CRTC decision.
It's not just Canadian telecom giants that are afraid of competition from online services. Time Warner reportedly axed a deal with a content company called Epix after it found out that the company was also working with. . . you guessed it. . . Netflix. It appears Time Warner wanted to punish Epix for being disloyal.
Exhibit 3: Telecoms buying content
On September 10, Bell Canada Enterprises (BCE) Inc., already Canada's largest communications company, announced its plan to acquire 100 per cent of CTV, the nation's leading broadcaster. Earlier this year, Shaw announced its intention to purchase Global TV's assets, previously owned by the now defunct CanWest. Rogers and Quebecor (owner of Videotron) already own significant media content assets. If Shaw and Bell complete these purchases, telecom companies will own the majority of Canada's private broadcasters, with the exception of Telus, the only major ISP that isn't heavily invested in media content.
Allowing Internet service providers to own major content assets creates an economic incentive for them to invest in a controlled content distribution infrastructure and to discriminate against the open Internet.
From command to coercion
It appears that the big telecom companies learned a lesson when they lost the Net Neutrality battle last year: coercion is a better method of changing people's behavior than overt commands. The best way to demolish an institution, organization, or in this instance, a medium, is to duplicate its services with an alternative medium, and provide extra incentives for people to use that alternative.
At the same time as they cap and slow down the public Internet, telecom companies appear to be investing in providing faster and more reliable access to Internet services like Facebook and online gaming via TV. Just check out the Telus/Microsoft partnership that 'allows' you to "share photos, stream home videos, [and] connect with friends on Facebook or Twitter right on your TV". This begs the question: if these services eclipse the use of the public Internet, how will the next Facebook, Google, or, for that matter, existing independent services and content providers, reach users?
Will they have to make special deals with Telus or Microsoft?
If they do, it could mean the end of the engine of innovation and free expression that is the open Internet.
An Internet controlled by gatekeepers?
This big telecom dream is precisely why the recent Google/Verizon Net Neutrality proposal was careful to allow for telecom-based "differentiated services" that would access the Internet. Those "differentiated" or "managed" services are really just neutral-sounding words for an Internet controlled by gatekeepers. It appears that in order to get Verizon to sign on to the proposal, Google allowed these services to be defined in such a way that they fall outside the scope of the proposed Net Neutrality rules in the US.
If the next generation of access points, found in set-top boxes and wireless devices, restricts the open Internet, there will be a comparable restriction in the open collaboration, participation, expression, and empowerment that the open Internet currently enables.
These are the very things that have helped strip away our differences and that allow us to transcend space, time, and social strata to more easily connect with each other.
These are the things that we should be willing and ready to grow, defend, and fight for when threatened by phone and cable companies.
We should not let this happen right underneath our noses.