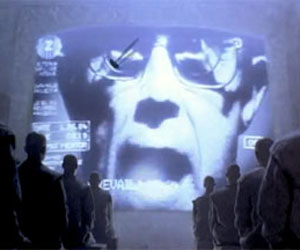 In Apple's own words, their iPad is a "revolution," and one in which there's "no right or wrong way." But that message -- the conceptual lithium that powers the marketing machine that made Apple into the creative class darling -- is at odds with the message of Apple's app store, which is the monopoly supplier of software to the iPhone, iPod and iPad.
At the app store, where mostly non-Apple developers submit new apps for approval, Apple employees are making decisions every day about not just the quality of the apps, but the morality of the apps' content -- right and wrong -- which raises the pesky little issue of hypocrisy. But that's not all: the moralistic line Apple has drawn (mostly with regards to the sexy stuff) has been getting pixilated of late – this week in particular.
'Fresh smut everyday' -- A-OK!
As Mediaweek's Lucia Moses reports, "Given Apple's supposed nudity ban, some were surprised to see the June iPhone/iPad version of GQ ($4.99 per issue) with cover model Miranda Kerr dressed down to her stockings and a deep tan. Cosmopolitan has a saucy Sex Position of the Day ($1.99), with step-by-step instructions and colorful illustrations. Apple also is cool with Sports Illustrated's Swimsuit app, updated in May, with little more than videos of its models. Additionally, there are many other apps offering sex advice and photos of scantily clad women."
Sex advice columnist Dan Savage's app, Savage Love, was approved, despite his prediction that the "Puritans" would turn it down for being too "racy" (though there are no photos or illustrations in that app, just "podcasts, columns, fresh smut everyday.")
Joyce's 'Ulysses'? No, thanks
Yet Apple has rejected so many other apps for being racy that it's starting to be a joke online.
Apple's no nipples policy lead one fashion magazine, Dazed & Confused, to nickname their App store version the "Iran Edition" drawing parallels between "Apple's strict censorship policies and the repression seen in the Middle Eastern theocracy."
In May, Apple censored a line drawing of breasts in Throwaway Comics' adaptation of James Joyce's Ulysses, even though the question of whether Ulysses is obscene has been settled for more than 75 years, when a New York judge deemed it O.K. Ulysses itself aside, we're talking about a line drawing of a breast.
Apple also censored a gay kiss in a comic book version of Oscar Wilde's The Importance of Being Earnest. (You can see the before and after versions of both comics here.)
In the latter two cases, Apple has reversed course and admitted that the company "made a mistake." But as Valleywag's Ryan Tate argues, "reversals shouldn't keep consumers from seeing a trend already well underway before these two apps came along, in which Apple tries to sanitize and Disney-ify culture in the name of decency and brand purity. In April, Apple rejected a gay travel guide because it contained a political caricature of Sarah Palin, a Renaissance-style painting of a penis, and a go-go boy in a gay bar with his shirt off. As app author Anthony Grant told us at the time, 'I tried throughout to make things very PG-13... But how would I properly illustrate Ass Wednesdays at the Urge... with Etch-a-Sketch? This is all part of gay culture.'"
Jobs: 'It's for the children'
In an email exchange, Steve Jobs told Valleywag, "We believe we have a moral responsibility to keep porn off the iPhone," for the sake of children. Jobs said he wanted to offer the world "freedom from porn," and said "our motives are pure."
There are two main reactions to this type of content screening. A smattering of people are, predictably, in favour of this "freedom from porn" stance (even though, as we've seen, it's anything but freedom from porn and more like a scatterbrain's approach to censorship, according to the whims of the app reviewers, not based on any actual published guidelines. And on that note, a friend of mine who's an app developer says so much of whether you get a yay or a nay on your submission is the specific reviewer you happen to get).
Apple's cider house rules
Some people who have had apps refused or changed even say it's Apple's right. Robert Berry, the illustrator of Ulysses Seen, said he did not feel remotely censored by Apple. "It's their rules," he said. "We're coming to their dinner party at their house."
And of course, many commenters on blog posts support Apple. As one said, "As a consumer you can choose what product to buy. Do your research. If you don't like the manufacturer's policies or ideologies, buy something else."
Others go so far as to praise Apple for its anti-porn stance. "Porn is an extremely destructive force in the world victimizing women and children in particular. Anyone who denies this is woefully ignorant about its effects or is in total denial... At least [Steve Jobs] has the good sense to not want his name and his company associated with that which makes the world a much worse place."
And the comparison is often made to a "bricks-and-mortar" store. As Mitch Wagner from ComputerWorld summarized it, "Any retailer has a right, and even an obligation, to decide what books and magazines it carries, and [Apple's] philosophy with regard to the App Store is no different."
And if the store is a monopoly?
The problem with supporting Apple's right to choose which content it approves is that this isn't really just a matter of private choice.
Berry's dinner party theory just doesn't hold because millions of people are affected by Apple's decision. In fact, given that Apple sold more than two million iPads in the first two months, and over five million books alone in that time, and currently sells over 200,000 apps, Apple can't claim this is private matter any more than Britney Spears could if she flashed her boobs in front of the paparazzi (except, of course, Apple would never run that photo -- or would they?).
And it's not as simple as saying consumers can vote by tapping a payment confirmation for a different merchant's product. Once a product becomes this popular and ubiquitous, in fact, it's part of culture. You can choose not to buy or use that product, but in so doing, you're saying no to more than a consumer durable, you're saying no to participating in conversations and work, and the small habits of daily life that make up the whole. And sure, I could choose a Kindle instead, but it's not at all the same thing.
"It's a form of censorship, and having to have Apple approve your content is kind of concerning," said Joe Landry, senior vice president of Here Media, a publisher of gay-themed media, in Mediaweek.
If any retailer gets big enough that their choices affect tens of millions of lives, their choices aren't merely corporate ones. I don't support Apple's right to say no to apps for content-based reasons -- I support individual consumers' rights to say no to apps for content-based reasons (with the exception of content that violates the law). I know the filter that asks people to tick the box if they're over 18 doesn't work, but surely there could be software that could allow parents to block certain kinds of content, so that the rest of us can make choices to see boobies if we want to.
The two main problems seem to be nipples and gay themes (sometimes). But the irony with the latter is that Apple actually contributed to the fight against California's Proposition 8, which banned gay marriage.
And the irony about this kind of censorship at all is that it kind of alienates their core demographic. As Valleywag pointed out, "To the extent those customers do share values, it's that they tend to pride themselves on their tolerance for how other people express themselves, and on how eclectic and unpredictable their own tastes are."