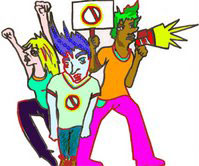 Prior to the deregulation of community TV in 1997, all Canadian communities with 2,000 cable subscribers or more enjoyed access to a cable-operated community TV channel. Some communities even had a vibrant network of volunteer media makers, such as the roughly 1,200 volunteers across 12 regional offices in Vancouver's lower mainland. The resources for community TV came from a broadcast levy collected by cable companies; considered a public trust.
However, in the last 13 years, cable companies have altered community channels and the levy that supports them: they are now a competitive advantage rather than a community resource. Big cable companies have also centralized community TV production so that fewer than ten per cent of Canadians can access a "community channel" to express themselves or create programming. This represents a serious misuse by cable companies of the roughly $100 million public trust funds ($116 million in 2008).
In 2008, cable monopolies earned a profit of 25 per cent, before interest and taxes. Irrespective of these earnings, they are using public trust money, partially earmarked for the most marginalized in our society, for their own commercial interests. This community money should be used to create an innovative independent media sector in Canada and provide much-needed resources for underserved communities and at-risk youth. 
That some of the most profitable companies in Canada are taking public resources from those most in need is outrageous and must be challenged.
The missing report
The CRTC is currently reviewing community media in Canada, and taking back this public money could pave the way for an historic opportunity to create a rejuvenated, fresh and innovative independent media system. A proposal by CACTUS (Canadian Association of Community Television Users and Stations) is calling for the millions of dollars already being collected by cable companies for community TV to be liberated to independent media centres. These media centres would serve to empower citizens and facilitate media innovation, and the CRTC can make this a reality.
Recently, it was brought to my attention that a report detailing community channel policy from around the world ("Community TV Policies and Practices Worldwide") has been removed from the CRTC website. This report formed part of the public record when the community TV hearing was called but has since been removed. The study's author, Catherine Edwards, is an international community TV expert and her report provides essential information for public participation. It is striking, to say the least, that the CRTC would remove a study it had itself commissioned.
According to the CRTC website, they removed the report because of "concerns" by licensees of broadcasting distribution undertakings (a.k.a. Big Cable). This decision appears to be in response to a Dec. 10, 2009 letter sent by Rogers Communications, Shaw Communications, Cogeco Cable, EastLink, and Quebecor Media, asking for the report to be removed.
The letter comes from companies that clearly have a financial incentive to limit public understanding and therefore participation concerning this hearing. The CRTC's apparent willingness to bend to the concerns of a few clearly biased companies draws into question the CRTC's independence from the cable industry.
OpenMedia.ca has posted the report online, but it should also be part of the public proceeding.
Watchdog for Who?
The CRTC's website indicates that there are 139 cable-operated community channels in Canada, but gives no further information. We don't know who owns them, where they are located, and what their programming is made up of.
As far as I can tell, the problem is that despite complaints from community TV organizations, the CRTC is not actually monitoring or supervising community TV activities. The CRTC doesn't even appear to be collecting programming logs, so how can they possibly review them? Clearly, the funds collected from the community TV levy are largely unaccounted for.
Big Cable has been given unfettered access to over $100 million of our money and the CRTC has seemly provided little oversight. But this situation isn't new: over the past ten years, an estimated $800 million has flowed through this fund.
The best way to get out of this mess is to liberate the community media funds straight to community media organizations. Cable companies have shown themselves unfit to be middlemen any longer and the CRTC has shown itself incapable of ensuring funds are directed towards their intended purpose.
Canadians can ask for the funds to be given back to communities by sending a comment to the CRTC here.