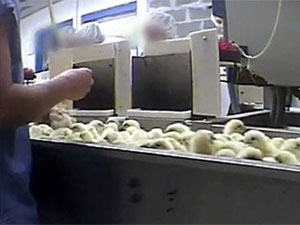 The video is stomach churning.
It opens with hundreds of newly-hatched chicks chirping as they are roughly funneled along a series of conveyor belts.
According to the video, the males at the hatchery are separated and tossed into a grinding machine, where they are torn to pieces by a macerator.
The female chicks are snapped by their heads into a spinning de-beaker, where a laser removes a portion of their beaks, before the future egg-layers are placed in crowded boxes for shipping.
Several other chicks, having fallen through the sorting machine, are shown dying on the factory floor in a heap of egg shells.
The hidden camera footage was recorded at Hy-Line International in Spencer, Iowa, reportedly the world's largest egg-laying breed hatchery.
The disturbing video, filmed by a member of the non-profit vegan group Mercy for Animals, who got a job at the plant in May and June, has prompted activists to call for stricter industry regulations.
'No more eggs for me'
But the popular video has also succeeded in reaching the less food-conscious among us, sparking a debate about what is acceptable in the era of industrial farming.
"I just can't believe it, no more eggs for me," one typical YouTube comment reads.
"Hatchery Horrors," as the video is titled, has been viewed nearly 1.5 million times since it was posted last week.
Industry defenders told Associated Press that videos like this one play on people's emotions without taking into account the economics of food production.
In this instance, they argue, the newly-hatched male chicks must be disposed of because they can't lay eggs or be raised profitably for meat.
They also say the video overlooks improvements to animal treatment in the past ten years.
"Most people think their food comes from a grocery store," Dave Warner, spokesman for the National Pork Producers Council, told AP.
"In processing food animals, there are things that you have to do to get them there."
'Instantaneous euthanasia'
In a statement, Hy-Line North America said it would investigate the Iowa hatchery, but contended that "instantaneous euthanasia by maceration" is supported and approved by the animal veterinary and scientific community, including Agriculture Canada.
The United Egg Producers told AP it would investigate the company's Iowa plant. In a statement, the trade group also said the industry is researching methods for breeding predominantly female chicks, but noted the research was only preliminary.
Animal rights groups such as Mercy for Animals, meanwhile, are hoping videos like this one compel people to push for change within the food industry -- or choose a vegan diet.
"The cruelty you have witnessed is not isolated, but rather inherent and widespread within the entire industry," the narrator says.
"Please remember these chicks the next time you sit down to a meal."