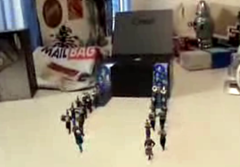 "Hey my little techno friends," says a man's husky voice from behind a camera. He films his hands taking out a new Samsung Omnia phone still in its box... or, so it seems. He presses a red button on the top of the box and suddenly it starts to smoke and a mini marching band, dancing girls and a horse emerge from inside. If you don't live for the next innovation in Apple, Samsung, Nokia or Nintendo gear, the spoof will have likely gone over your head. Yet, the video, which has generated over two-million hits, is a clever spoof of the ultimate in geek porn: the unboxing video.
The trend was first started by David Abrams of Cheap Ass Gamer, who first filmed himself as he opened a box containing a new PlayStation 3 with a running commentary. His video has inspired many a tech-head since.
The formula for the unboxing striptease is simple: the owner of a newly bought gadget (computer, phone, MP3 player, video game, etc.) gives a play-by-play as he films himself excitedly (but oh so gently) taking his new toy and other swag (including instruction guide, ear phones, charger cable, screen protector, etc.) out of the box.
Sounds boring? Well, perhaps. But like many of the viral videos found online, it's the mind-numbing simplicity of the unboxing video that has inspired hundreds of variations and, arguably, a new genre.
My personal favourites are videos like "Apple Unboxing Gone Terribly Wrong," when the unboxing doesn't quite go as planned.
As the season for unabashed spending sprees begins, I hope new additions to this quirky and strangely charming genre will be found... microwave, bicycle, toothbrush unboxings anyone?
Related Tyee stories