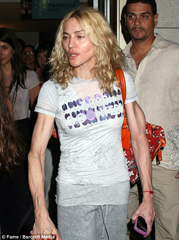 A guy I know says plastic surgery is a reproductive lie, and celebrities are at the forefront of perpetrating it. "Attractiveness is about reproduction. If you reproduce with someone who doesn't actually have the genes they appear to have, isn't that cheating?"
Charles Darwin, meet Madonna. She's accused of something almost as titillating as her supposed affair and impending divorce: having had "work" done.
Celebrity-plastic-surgery watch is of course one of the main pastimes of the tabs. They tend to run a photo (often a before and after) of the suspect, and the opinion of a medical "expert" who doesn't treat the suspect. Cue Law & Order music.
The Daily Mail, which first broke the big story and photos, discusses the "shocking" look of Madonna's face. "Her swollen face renewed speculation that she is relying on more than yoga, the gym and a macrobiotic diet to ward off the effects of ageing." Oh, Madge! Among the specific charges are that she's had her cheeks filled (with what, I don't know) and a lower face lift to tighten the skin around the jaw line that naturally softens as you reach 50, all of which is confirmed by Harley Street plastic surgeon Angelica Kavoun.
Madonna's own response is enigmatic: "I am certainly not against plastic surgery; however, I am absolutely against having to discuss it."
Democracy of the knife
Not only do the tabs focus mercilessly on celebs' looks, it's almost to the exclusion of anything else. In the Daily Mail, there were 18 headlines featured in the right side panel that day. Eight headlines were directly about female stars' appearances, and a further five articles discussed their appearance in the articles themselves. The 14th story was about Patrick Swayze's post-cancer appearance. And the 15th was about a talented female news anchor getting the boot likely because she is aging.
Then there's the fact that the plastic surgeon's knife is becoming widespread in all socioeconomic brackets (about a third of people considering plastic surgery have incomes below $30,000 and are inspired by reality TV that flatter stomachs and inflated bosoms will improve their lives so much it's worth debt), causing the practice to become even more widespread. Bridal botox parties are a new trend. And physical perfection obsession has saturated every part of North American life, as reported in Alex Kuczynski's frightening book Beauty Junkies: Inside Our $15 Billion Obsession With Cosmetic Surgery. With the average Jane joining in, it means there's even more pressure on celebs to raise their game further.
As Slate reports, "we live in a society that rewards beauty and punishes ugliness." A Federal Reserve study found that attractive people, in all occupations, earned five per cent more than the physically average, while the ugly (whatever that means) earn nine per cent less than everyone else. I couldn't find any stats for how much less money unattractive celebs make -- because there aren't any, at least female ones
Female Mick Jagger?
There are no female Mick Jagger equivalents when it comes to the weathered look. For fame merchants, the look of youth is so important that if a woman celeb doesn't get surgery, she sometimes gets it anyway. Feministing reports that Keira Knightly hasn't had breast augmentation surgery and is often surprised to see that her figure has been digitally altered in films and magazines.
Then comes the double whammy: Not only do audiences seem to demand surgery, but they cut down the celebs when they get it. It's part of the perpetual motion celebrity journalism machine. As the celebrity industry sells the illusion of perfection, audiences are drawn to stories uncoiling the celebrity industry's ever increasing spin.
A perfect construct.
Related Tyee stories