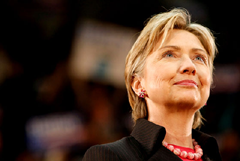 I thought I had resigned myself to the relentless onslaught of porn infecting every aspect of life, from the skank-wear on the streets, to gratuitous nudity in advertising, to the sitcoms where gags about handcuffs, anal sex, and blow jobs make me want to, well, gag.
I used to think porn culture's driving ethos -- that women have no purpose but to titillate men -- would fade as the sexist old guys died out. In short, I was an optimist. Right until I was hit with Dove's cynical Campaign for Real Beauty and some American election commentary all in the same sick-making hour.
Dove is earning positive ink-and-air for its supposedly inclusive definition of beauty. The campaign features a parade of old, wrinkled, saggy women that Dove labels "beautiful." They even shoot them naked, a la Annie Leibovitz in Vanity Fair because apparently you're nobody until you're photographed in the buff.
Are they beautiful? Hell no. Not even with fab lighting, professional make-up, and talented photogs. They're average.
But that's not the issue. The question is why does Dove insist that every woman, of every age, in every walk of life, be beautiful? And that she should get naked in public to convince herself that she too is worthy of a meat flute solo?
Down side of lustworthy
Outside of the mating game, beauty is pretty much useless. It's sort of like being ambidextrous, it's a nice quality of have, but hardly essential. Unless a woman aspires to be a porn star, or any of its variations -- such as a Hollywood actress or a fashion model -- there's little value in lustworthy looks. Although there is a fair bit of grief. Ask the beauties: many will mutter about being asshole magnets. They'll tell tales of being hassled by men on the streets or on the job. The smart ones often play down their looks, noting that the wrong kind of attention isn't just irritating -- it's dangerous.
It's no wonder Dove is getting away with its latest consumer con. Since most Americans are ignorant of evolutionary biology, they have no understanding of what the word beauty means when applied to a woman rather than a Grecian urn. Not surprising really, given that 16 per cent of American high school science teachers are creationists who promote religious superstition in their classes and dismiss Darwin.
So here's a primer. While fashions in ideal weights and adornments change, all humans define beauty the same way: we admire physical qualities that suggest health, fertility, and the ability to survive. Smooth, clear skin, specific hip- or shoulder-to-waist ratios, balanced features and well-proportioned bodies all register on the subconscious of both sexes as good breeding partners, and translate to the conscious mind as "beautiful." One of the well-publicized findings from the research on attraction is that the waist-to-hip ratio of Marilyn Monroe -- chubby by today's standards -- and stick-insect model Kate Moss are the same. Researchers suggest it implies fertility.
So calling a woman beautiful really means that she will appeal to all men as a sexual partner. Now why, exactly, would any woman want to appeal to all men? Who made appealing-to-men the ultimate measure of a woman's worth? Or beauty the one thing that makes her attractive?
All those beauty industries that profit from the view that women have no purpose but to inspire chub slapping, that's who.
Boy crazy
Dove's campaign is brilliant because is delivers the same old message, that women are worthless without male sexual approval, while challenging the Vogue-model-look of the moment. And they do so with propaganda films so sophisticated that Leni Riefenstahl would applaud.
Amy shows only a boy, about 12, on his bicycle going to see Amy. He calls at her window, but she won't come out. A super comes up: "Amy can name 12 things wrong with her appearance. He can't name one."
Sweet commercial? Perhaps. Now, explain to me why this pre-pubescent girl's life is dramatized through the eyes of a guy? Why is his opinion featured as the significant one? Why is she -- and by extension all women -- taught to have no sense of her worth beyond her value in the eyes of men?
Apparently the Dove brain trust figured that if they reassure women that they are beautiful -- i.e. boink-worthy -- then in gratitude they'll opt for the soap-seller's brand of budget skin care.
Again, who needs to be beautiful? It won't help anyone discover a cure for cancer, spot the billionaire-making investment, change the law, run faster, or write a brilliant book. Beauty doesn't even convey opportunities to the extent some people believe -- Oprah didn't get to be a billionaire on her looks.
Judging by the number of size 12 women with flat chests, short legs, and beady eyes running around, it appears average looks have done just fine for millennia. For all of us to be here today fretting over how much plastic surgery we need, many an average looking foremother must have caught the attention of our forefathers. So I'm guessing there's more to this mate-attracting thing than arousing every man who walks by?
Hillary Clinton's oglers
Then again, women endure a lot of abuse for failing to titillate most men, even if they're just looking to get hired for a job like president.
Hillary Clinton is a pleasant looking, well-groomed woman in her 50s who, if we must go there, is far higher up on the looks scale than most of her critics. Yet she is pilloried for her unattractive wardrobe, her "nagging wife" voice, and her "haggard face that will scare off voters." Her strategy for pushing on with a primary campaign she can't win had commentators noting that she was acting like "the runner-up in a Miss America pageant" shoring up her second-place spot in the event the winner's Penthouse photos surface. (Ironically, the only thing that will get a beauty queen de-tiara'd is to get caught crossing the line from soft to hard-core porn.)
Someone spank those monkeys
The Women's Media Center has a short doc called Sexism sells -- but we're not buying it, featuring such leading American pundits as Tucker Carlson and Chris Matthews sharing their views on why Hillary doesn't turn their crank. It's astounding that these pudgy, pasty, balding and downright repulsive men feel free to condemn an accomplished politician, lawyer, and U.S. senator, who is running for president, because they don't consider her a "knockout."
As if anyone wants to know what gets them off. (Eeeeuuuwww.) Since they've raised the looks-driven aspect of the mating imperative, do these guys even own mirrors? Chris Matthews, an albino with a comb-over, is the very image of a raincoat-draped wanker -- you just know his hands are moist and sticky. As for Prince Smarming, Carlson has the aura of the sort of guy you don't let put the kids to bed.
The fact that they're still employed makes me suspect that the ubiquity of porn-think has given everyone a tolerance for viewing every woman as nothing but a universal male arousal service.
To be fair, I have noticed some reverse sexism and can see that the dehumanizing impact of dominant culture of porn is beginning to affect men. They're being judged by the skin-flick yardstick and find they too are coming up short. Manscaping, for example, owes its popularity to blue movies that require men as well as women to render themselves as hairless as children. (I shudder to think of the implications of that particular fetish.)
I'm no prude -- as the saying goes, I don't care what people do in their bedrooms as long as they don't do it in the streets and frighten the horses. But our willingness to tolerate relentless pornography and its underlying philosophy is reducing us to little more than actors in a lifelong version of Girls Gone Wild.
Is that a shampoo bottle in your pocket?
Last week a friend was muttering about having to forego her favourite shampoo because it came packaged in a bottle designed to look like a dildo and she's offended by the lack of wit.
"It was a vibrator sans batteries. No subtlety. No imagination," she reports. "By bombarding us with blatant sexual imagery all the time, they're just making sex boring."
Not to mention that now we can't even wash our hair without encountering the eye of some dick.
At least Dove's propaganda is clever. Besides, we all know that cosmetics companies can't profit from such marginally useful stuff as moisturizers unless their advertising raises the fear that failing to primp correctly will leave women unlovable.
Porn on the Fourth of July
But what's the reason for rating a presidential candidate on the hotness scale? Do they want her engaging in a more hands-on kind of diplomacy in the Middle East? Maybe they're hoping for a stiffer U.S. dollar and think replacing Washington with photos of a sizzlin' current prez will help?
Or maybe they haven't considered the logical conclusion of rating politicians on their porn star potential?
With Paris Hilton in the White House. That's where.
Before you suggest she couldn't do a worse job, have you seen The Simple Life? (Jeez, did I just give them a plot?)
Porn has become the marketing world's answer to corn fructose syrup. It's cheap, earns big profits, and some people find it so tasty as to be addictive -- but a little goes a long way. Most of us find it leaves a bad taste in our mouths and resent it flavouring everything. So maybe it's time to start telling industry to stop slipping it into every aspect of life before someone gets hurt. (Or, if that someone is Chris Matthews, maybe just after.)
Related Tyee stories:
© Shannon Rupp. For permission to reprint this article please contact the author: shannon(at)shannonrupp.com.