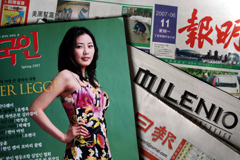 Seated at a table in the gallery of the Vancouver Public Library, D.I. Lee recalls how excited he was to hear he would soon be reading the Vancouver Sun in his native Korean.
Lee speaks and reads English himself, but he was anticipating what the new "instant translation" feature on CanWest's website would mean for the rest of the Lower Mainland's Korean community. Struggling to integrate and get ahead in a new country, on-the-spot machine translations would mean they would gain better access to regional news through CanWest papers like the Vancouver Sun.
But when he logged on and tried translating a Sun article, his excitement quickly turned to frustration.
"Read this and tell me what it is," he says, holding out a sheet of paper covered in part by the Korean characters rendered by the site's software. Lee, the editor-in-chief of a local quarterly called The Korean Community Magazine, has re-translated the article back into English for me.
"Movement elevation to investment tax increase," reads the enigmatic headline; "Parking tax, property tax to increase to be traded Hydro levy" goes the subhead.
"It's worse than this," says Lee, who points out how not even the name of the newspaper itself survived the software's rough treatment: the story has evidently been published in the "Vancouver Sunday's."
"It's completely nonsense," says Lee of the rest of the article. "I can't retranslate it properly back into English."
Gold mine
CanWest's translations are tough to decipher, but experts say the motive behind offering them is clear: they want to tap into Canada's thriving ethnic media readership, and the advertising revenues that come with them.
UBC journalism professor Mary Lynn Young notes mainstream metropolitan newspapers have seen declining circulation -- and increased ad sales -- over the last 50 years, a trend examined in a Tyee story last winter.
In a new media environment, however, winning new readers and ad dollars is key to any publication's continued survival, a fact made resoundingly clear in CanWest CEO Leonard Asper's speech this past May.
D.I Lee has no trouble getting advertisers for his magazine. They know his target audience is new to Canada, and buying a lot of consumer goods to outfit their homes.
Some speculate Canada's ramped-up immigration will only add to their numbers. According to Statistics Canada, by 2017 the majority of the population in the Vancouver metropolitan area will be people from visible minority groups.
'Growing interest'
Foreign-language media in the Lower Mainland is growing, says Sherry Yu, a Simon Fraser University doctoral student researching the phenomenon.
The big three in ethnic media in the Lower Mainland -- Chinese, Korean and Punjabi newspapers -- are actually adding reporters, bucking the trend in mainstream bureaus that has seen shrinking newsrooms across the continent, according to Yu.
Earlier this month, San Francisco Chronicle managing editor Robert Rosenthal called the widespread lay-offs of journalists in his country the "greatest upheaval our industry and the institution of journalism has ever faced," before tendering his own resignation.
According to a 2005 Environics Research survey, the Chinese-language dailies Sing Tao and Ming Pao have a daily readership of 65,000 and 50,000, respectively. The Taiwan-focused World Journal gets another 16,000 readers a day.
The Punjab-language Indo-Canadian Times has 55,000 weekly readers in the Lower Mainland, and double that across the continent.
While the Vancouver Sun still enjoys a healthy weekly readership of 463,400, pulling in tens of thousands more through online translations is an alluring idea for an industry battling for advertising revenues. One indication: the Sun sent its managing editor to this month's Chinese Media Summit, and CBC brass was there, too.
"There's a growing interest," said Yu, who was in attendance.
Free software
The question is how to spin English into other languages cheaply and quickly -- but accurately.
At the Canadian Press bureau in Montreal, reporter Les Perreaux says editors count on bilingual staff to make translations between the nation's two official languages. They have no plans to use translation software.
"I suppose if it worked 100 per cent perfectly [we could use it], but it's generally quicker to do it ourselves."
Experts, however, say perfect on-the-spot translations for all languages are still years away. Others doubt computers will ever be able to disentangle the complexities of language.
Google representative Daniel Pastor admits the current technology is "not perfect," but he says that it's good enough to give readers "a gist understanding."
While his company is making inroads with a new model of software known as statistical translation, Google's own home page still runs on out-dated software owned by Systrans. The latter is a lower-accuracy method based on grammatical rules, and is available for free on the Internet.
Lost in translation
Simple tests show the free Systrans version is the same version CanWest newspapers are using. Results on their digital edition in French, for example, are identical to the results users can produce themselves through Google.
Deb Hutton, a spokeswoman for CanWest, denied that this was the case in a phone interview with The Tyee, although requests for further information about the software they use were not responded to.
"We've obviously chosen a software that we believe suits our needs," she said.
Major firms, meanwhile, often opt for more advanced stats-based software like Language Weaver, which has surpassed Systrans and is yielding more precise results every year, though at a cost for their product's license.
Beth Walsh, a rep for the company, wouldn't say how much it would cost the Vancouver Sun to license their software, but she did provide a pay-per-usage scheme to give a rough idea.
To translate a total of two million words from English between one, two or three "Premium" languages (such as Korean), firms pay about $5000 U.S. For the same two million words to be translated into a choice of five European languages, it's half the price.
'Anglo mentality'
For now, costs still likely exceed the benefits for most newspapers to purchase or license software, but some wonder if it will be worth it when prices come down and quality goes up.
Raphaël Perdriau, editor-in-chief of Vancouver-based French bi-weekly L'Express du Pacifique, says it would mean little to francophones to have the Vancouver Sun available.
"What I would be curious to see is how far francophone people would actually buy into this, because the Sun is so characteristic of a certain business-oriented anglophone mentality."
On the other hand, Perdriau believes more press in French would help francophones hold on to their mother tongue while living in B.C.
'Hieroglyphics'
Like D.I. Lee, Perdriau was disappointed with how the online translations threw him off from understanding.
"Hieroglyphics should be only for scientists," he said.
SFU computing science professor Fred Popowich says reader responses to machine translations will continue to hinge on their expectations. By marketing the service from the platform of a major media publication, he said, CanWest is treading dangerous ground, the reason being that their readers are different than someone looking for an English version of a Japanese blog.
"If you as a user draw on something to ask for a rough translation, you're going to be happy and easier to please," said Popowich.
Though Lee tips his hat to the Sun for trying to extend their coverage to his community, he thinks the information is too important for it to be given so rough a treatment. He calls the translation feature an "irresponsible" way for CanWest papers to treat their journalism.
"They have to stop promoting that. They think that they have a publication available in 13 languages, [but] it's wrong, it's a lie."
Related Tyee stories: