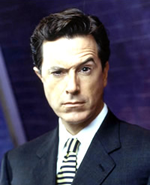 Andrew is a tall, skinny, 18-year-old university student who lives with his mom and dad on Burrard Inlet's North Shore. Early in the afternoon on July 31, he settled into the swivel chair in his parents' study, turned on his computer, and began combing through the bowels of Wikipedia, the world's most popular online encyclopedia.
Andrew (when he isn't busy playing favourite games like Battlefield 2) performs an essential role in the ongoing struggle to defend Wikipedia from vandals of truth. Andrew is so committed to his mission, in fact, that he has invented digital 'robots' to help him patrol for enemy attacks. As one of more than a thousand Wikipedia administrators, he volunteers up to 20 hours a week. He and his trusty 'bots' find and zap inserted falsehoods that plague the pages of the huge, interactive site.
It's never easy preserving Wikipedia's credibility. But on that July afternoon, Andrew faced a truly formidable opponent, the godfather of "truthiness" himself, Stephen Colbert.
Andrew logged in as his cyber-identity, Tawker. He scanned some of the conversations on Freenode, the Internet Relay Chat (IRC) network of choice for wiki administrators. One thread caught his attention.
Someone mentioned a segment on The Colbert Report filmed earlier that day entitled "Wikiality." Colbert, no fan of reality and its "liberal bias," professed his admiration for Wikipedia since it enables truth to be determined based on popular opinion. If, for example, he believed the elephant population in Africa had tripled in the last six months or that George Washington did not own slaves, he said, he could turn those myths into facts with just a simple edit on their Wikipedia pages. As long as enough users agreed with his take on reality, Colbert claimed, such fallacious assertions would become fact. He urged his minions to follow his lead and challenge these established "facts" as they appeared on Wikipedia.
Knowing Colbert's disciples have a penchant for blind obedience, Tawker grew concerned for the safety of Wikipedia's entries on elephants and George Washington. He loaded the "Elephants" entry and found "THE NUMBER OF ELEPHANTS HAS TRIPLED IN THE LAST SIX MONTHS!" scrawled across the top of the page, edited by a user named "Stephencolbert." This was at about two in the afternoon West Coast time, well before the episode hit the national airwaves. But the edit did seem to occur right around the time the episode was being filmed in New York, suggesting that Colbert (or some staff member) may have indeed vandalized the site in real time.
Decisive action
Flexing his administrative muscles, Tawker erased the changes and blocked "Stephencolbert" from editing privileges indefinitely. A rash of vandalism to the "Elephants," "George Washington" and Colbert's own Wikipedia pages after the show aired on the east coast prompted Tawker to lock those pages so that unauthorized users could no longer edit them. Tawker had saved the truth, for one more day at least.
And for a brief moment, it made him famous. The blogosphere was abuzz with Tawker's victory. CBS and CNet News each wrote about Tawker on their media blogs. Tawker's own blog received over 25,000 visits after he posted a note about the "Wikiality" incident. Tawker was the man of the moment thanks to what was fast becoming the word of an era: truthiness.
In January of this year the American Dialect Society named truthiness the "Word of the Year." Colbert had coined the term months before in the pilot episode of his show. Or to be more precise, he had redefined truthiness, an archaic word found only in obscure 19th century texts. As Colbert defined it, truthiness refers to truth based on feelings rather than facts, or "truth unencumbered by facts" as Global Language Monitor would define it when it named "truthiness" and "wikiality" top television buzzwords at the end of August. Truthiness was trumpeted by everyone from the New York Times to Oprah Winfrey throughout the first part of 2006, striking a chord in an age when truth takes a back seat to spin, and facts are prioritized by convenience.
What is real?
Sporting a Canucks cap, with blonde curly hair and a complexion still roughed by adolescence, the Wikipedia administrator sits in a busy donut shop in downtown Vancouver and contemplates the nature of truth. "I'm a defender against vandalism. But truth? You just never really know," says Andrew.
"Where is truthful information?" he wonders aloud. "I don't have a clue. I don't trust everything I read in the newspaper, I don't trust everything I read in Wikipedia, I don't trust everything I see on TV. The only way you can verify and know for a total fact something happened is if you were there and witnessed it. The nature of information has changed."
Alfred Hermida, UBC journalism professor and a pioneer of internet journalism who helped develop the BBC News website in the mid-90s, believes that Wikipedia symbolizes a larger shift in the way information is dispersed and consumed.
"It turns the model of truth on its head." Rather than one journalist or one newspaper transmitting information to many readers, he said, Wikipedia has many anonymous writers sending information to countless readers. The onus, then, is on the reader to determine truth. "It's a completely radical way of thinking."
Wikipedia is indeed a 21st-century touchstone for an age-old debate about the nature of truth and information. On one hand, Wikipedia offers volumes of searchable information, and with almost 1.5 million entries in English alone, it dwarfs any of its encyclopedic competitors. Journalists at CBC and BBC, including Hermida, readily admit to at least consulting Wikipedia in the course of research.
Yet several well-publicized abuses of its egalitarian and open-source format have tarnished Wikipedia's reputation as a reliable source of information. Last year, for example, a "joke" edit made to journalist John Seigenthaler's Wikipedia entry erroneously implicated him in the Kennedy assassination. Bits of vandalism and rumours like this illuminate the glaring truthiness that Wikipedia tends to perpetuate.
Anonymous attackers
The anonymity Wikipedia users enjoy undermines Wikipedia's credibility, but it is also part of what enables it to thrive. Andrew says that much of what drew him to Wikipedia in the first place was the ability to post anonymously with little chance of retribution. He said many Wikipedians he knows feel the same way.
"It's sort of a safety factor," says Andrew. "You know that if you write something it's not going to come back and bite you down the road." He does not believe that Wikipedia could function if authors' identities were revealed, but he admits that Wikipedia's insistence on privacy sacrifices much of its accuracy. He also said that anonymity creates a buffer between users like him and the political battles that rage within the wiki community, fights about whether or not to include certain pieces of information in various entries, or decisions on approving new administrators. "I'm not a major one to get involved in those political showdowns," he said. "It's just not me."
The most destructive aspect of anonymity on Wikipedia -- or at least the most annoying to administrators -- is the potential for vandalism. Miscreants like Brian Chase, the person later found to be responsible in the Seigenthaler incident, are quite difficult to deter and rarely get caught. Some vandals, though, are overt in their antics and seem to take pride in their high-profile status. One of the most common types of vandalism is known as page blanking, essentially deleting or significantly altering the content of a page. These perpetrators range, as Tawker said, from high school kids bored in the back of history class to elaborate "vandalbots" programmed to destroy pages at will. Often page blankers will replace existing entries with pictures or phrases.
Some well-known vandalbots include Squidward, which posted pictures of the Spongebob character on blanked pages at a feverish pace, or "Wikipedia is Communism," which blanked pages and plastered that phrase on as many Wiki-entries as possible.
With a capacity to wipe out hundreds of pages a minute, these vandalbots erode Wikipedia's very foundation. Administrators -- mere humans -- are all but helpless as they scramble to keep pace with the malicious machines. But they have bots of their own: Tawkerbot2 and Tawkerbot4. Created by Andrew/Tawker and his friend (wiki username Joshbuddy) these 200 megabyte "library" programs are packed with complex detection algorithms and constantly scan Wikipedia. The Tawkerbots return some 5,000 pages a month back to previously pristine states, and Andrew clearly takes pride in the thought of his creations "happily reverting vandalism."
'In the era of Tawkerbot'
Andrew says there was some initial controversy about using the Tawkerbots because administrators felt no machine could do the work of a human. Now, he said, they are indispensable, "like microwaves or cell phones." Since the Tawkerbots have been on the scene, Andrew says, fewer vandalbots have appeared. "In the era of Tawkerbot they've pretty much realized that it's all automated and you can't beat the bot, so why waste your time?"
Tawkerbot4 (with a little help from its human namesake) is credited with catching the Colbert culprit, whoever it was. User Stephencolbert remains blocked from editing any pages, but Andrew said that will change as soon as someone verifies the user is actually Stephen Colbert. Keeping with its strict privacy policy, Wikipedia officially denies knowing the culprit's IP address. But Andrew said it "most likely" did not come from anyone at Comedy Central. Ironically, "Stephencolbert" was not blocked because of vandalism but because of Wikipedia's celebrity impersonator policy. Maybe Wikipedia is more concerned about verification than it appears.
As for Andrew, tomorrow's another day of battling on behalf of truth...whatever that might be. Andrew isn't about to offer a firm opinion about what is real and what is not. "It's up to the reader to determine what the truth is."
Related Tyee stories: