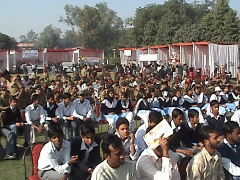 "We're all tired of words. What we want is commitment -- action, not promises."
That's what a dewy Margaret Trudeau told her audience at the first-ever Habitat Forum in Vancouver in 1976, where she protested for clean water.
Nearly thirty years later, Ms. Trudeau seems to have changed her mind about being tired of words.
Ms. Trudeau is, once again, participating in the forum. (It's now called the World Urban Forum and will convene in Vancouver in June.)
Once again she's focused on the issue of clean water.
But first, Ms. Trudeau will, herself, be immersed in a super-sized torrent of words meant to set the stage for the World Urban Forum. That conversation, called the Habitat Jam, is happening online from December 1 to 3, 2005, and there is still time for you to register to take part.
Let's talk
While it may be democratic and accessible, Charles Kelly, Habitat Jam's organizer and the commissioner-general of the upcoming World Urban Forum, is quick to point out that Habitat Jam is not a blog.
The Habitat Jam website describes it this way: "During the Jam, you can read what others have to say, introduce new ideas or respond to someone else's comments. You can sort through all the information presented to find the most relevant topic for you. You can participate in any or all of the seven Jam forums. You can present research, share your ideas, discuss specific solutions, offer examples of programs that work well, collaborate on new ideas, challenge the status quo, and more. You can safely send emails to other JAM participants and invite participants to email you while protecting your privacy. You can also invite new people to join the JAM."
Kelly's description of the Jam sounds more like a massive improvised musical work played mostly by amateur musicians, loosely conducted by a multitude of mini-conductors.
Moderated democracy
"Hundreds of facilitators will be participating to stimulate dialogue, and six hundred experts on the topics will be adding input and reacting to the discussion," says Kelly.
At the same time, there will be an ongoing computer analysis of discussion using a groundbreaking process developed by IBM. Facilitators will be able to see what the hot topics are, and also help participants link to related discussions in other subject areas, creating new linkages and cross-fertilization.
But that's just the first stage of the project. While the Jam is in process, facilitators will be tracking ideas they believe to be "actionable." Once the Jam is over, those ideas will be analyzed and distilled into two or three hundred of the "best" actionable ideas, which will be used to help refine the agenda of the World Urban Forum. A condensed version of the Jam and the actionable ideas it generated will be available on both the Habitat Jam and World Urban Forum websites.
"It's a very horizontal experience and free for any citizen who has access to the Internet," says Kelly, although he also admits the vast majority of the world's population -- and those disproportionately negatively affected by urbanization -- are also those least likely to have that Internet access. Furthermore, Habitat Jam will be conducted in English, with parallel Spanish and French chatrooms, leaving an enormous part of the globe's population out of the conversation even if they have Internet access.
The well connected
But Kelly points to initiatives Habitat Jam has taken to improve access for the underprivileged. "Four or five of the presidents of the International Association of Shack and Slum Dwellers are going to be moderators. We've organized participation for 500 people from a slum in Delhi, and there will be talk shows happening in Brazil on these topics where the discussion will be transcribed and added into the Jam."
Furthermore, Kelly sees age as a bigger barrier to participation than other factors. "Kids are text messaging all over the place in Africa," says Kelly. "It's the forty-year-olds who are scared of technology. The young people are whom we need to reach anyway. We need the next generation, the ones who are going to have to address these issues. Our target group is the pragmatic professionals. I bet virtually every planner in Vancouver is going to be online, talking to their compatriots."
Twenty thousand people have pre-registered for the forum and Kelly expects the total number of participants to be forty thousand or more. "We have registrants from 176 countries plus one person from Antarctica," he says.
Kelly is keenly aware of how much discussion there has already been on these kinds of issues, and how little it seems to have accomplished. "There's been endless discussion about what to do, but very little discussion about how to do it. We are trying to raise the profile of these issues and link people up so they can make it happen. We are developing new tools to speed up the dialogue. And if we find real innovators through the Habitat Jam, maybe we can bringing those people to the World Urban Forum."
"It's far from perfect," Kelly says. "But we're experimenting here. We're taking some risks."
Can this latest flood of words - admittedly ambitious and technologically sophisticated - actually lead to the action Margaret Trudeau was longing for thirty years ago?
One can only hope.
Dorothy Bartoszewski is a Vancouver writer.
To register for the Habitat Jam, click here.