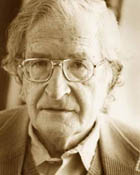 Vancouver held a love-in for Noam Chomsky this weekend. At the rally on Sunset Beach, he received a standing ovation from thousands of anti-war demonstrators who waited patiently (and sometimes impatiently, with loud murmurs of "Where's Noam?") to hear him speak.
At the Orpheum theatre Saturday night, at the beginning and end of his talk, more ovations. He was to give another talk the next morning, Sunday, at 8 am, and that one too was sold out. The crowds felt they were in the presence of a great man, a tireless advocate of social justice and (that old-fashioned word) truth. Those at the Orpheum paid 25 dollars to be there; they were a diverse group, white haired to barely out of their teens, drawing from many ethnicities. The three elderly women seated next to me could barely contain themselves.
Of course, like the Pope, Chomsky went over the stories we already know. It was a kind of liturgy for leftists, reminding everyone of the facts about American interventionism around the world and about the corporate media not telling us about what's really going on. Terrorism, he said, is always the violence of the other side: "We don't pay attention to our own crimes. We don't count 'em up. They don't exist." A couple of times he slipped slightly, seeming to lose track of a fact or a date, and you felt like maybe his age (76) was affecting him, and then he picked up the thread of his thoughts and you felt again as if he was ageless. He wore a sport coat and cords and looked like a wise old teacher and he was often funny.
He commented repeatedly on the way people have the possibility to demand change from the powers that be. The anti-war rallies from a year ago didn't stop the war, he said, but they altered its course. The people at the top, he said, were aware of the protestors, and it was the first time the world community had come out against a war before it had even started. "A civilizing development," he called it. He reminded us it is not in vain to organize and educate and persevere.
Sort of like he said when he visited Vancouver in 1996:
"The media is more free and open than they once were, bad as they are. There's all sorts of opportunities (for dissenting voices) with the new technology."
It didn't matter that there wasn't much new for him to say, people seemed to feel relieved just that he was saying it. If my mini-disc recorder failed to function, which it did, no matter. A quick tour of the Web turns up Chomsky (the most frequently cited academic in the world) sounding familiar, prescient themes in interviews dating back to well before the U.S. invasion of Iraq was launched a year ago. Some samples:
December 2002: Why U.S. Is Spoiling for War with Iraq
"I think [President Bush and his advisors] are desperately eager to win an easy victory over a defenseless enemy, so they can strut around as heroes and liberators, to the rousing cheers of the educated classes. It's as old as history.
"It's interesting to read the archives of Nazi Germany, fascist Japan, the Soviet Union. The leaders are acting from the highest imaginable motives, and probably believed it. It is remarkably easy to come to believe what it is convenient to believe. That's the secret of being a 'responsible intellectual,' someone who serves power abjectly while believing oneself to be an independent thinker." November 2003: Invasion as Marketing Problem
"Lofty rhetoric is the obligatory accompaniment of virtually any resort to force and therefore carries no information. The rhetoric is doubly hard to take seriously in the light of the display of contempt for democracy that accompanied it, not to speak of the past record and current practices."
February 2003: Tide of Opposition Never Higher
"There's never been a time that I can think of when there's been such massive opposition to a war before it was even started. And the closer you get to the region, the higher the opposition appears to be. In Turkey, polls indicated close to 90 percent opposition, in Europe it's quite substantial.
"In the United States the figures you see in polls, however, are quite misleading because since September there's been a drumbeat of propaganda trying to bludgeon people into the belief that not only is Saddam a terrible person but in fact he's going to come after us tomorrow unless we stop him today. And that reaches people."
April 2003: Why Did the U.S. Invade Iraq?
U.S. policy-makers . . . must impose a client regime in Iraq, following the practice elsewhere in the region, and most significantly, in the regions that have been under U.S. domination for a century, Central America and the Caribbean. That . . . is well-understood. Brent Scowcroft, National Security Adviser to Bush I, just repeated the obvious: "What's going to happen the first time we hold an election in Iraq and it turns out the radicals win? What do you do? We're surely not going to let them take over."
March 2004: No Such Thing as 'Vietnam Syndrome'
"There's a lot of focus on the American death toll but personally I think that's partly propaganda exaggeration. Polls have demonstrated time and time again that Americans are willing to accept a high death toll - although they don't like it, they're willing to accept it - if they think it's a just cause.
"There's never been anything like the so-called Vietnam Syndrome: it's mostly a fabrication. And in this case too if they thought it was a just cause, the 500 or so deaths would be mourned, but not considered a dominant reason for not continuing. No, the problem is the justice of the cause."
Deborah Campbell is an editor at Adbusters and regular contributor to The Tyee.