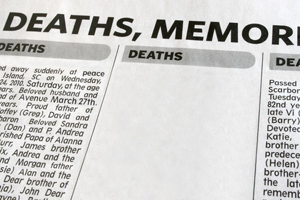 Did you ever wonder how irritated some dead people might be if they could read the local paper and see how their days had been summed up in the obituary column?
Grieving families often get it wrong when it comes to writing obits. You can't blame them. They may be too busy crying and sorting out their inheritance to think long about the sweet nuances of your captivating short life. And they may not have decent writing skills.
So why not sit down, face facts and write your own obit? Or do you trust your husband or wife or sister to write it? What would they say?
Think about it.
Get a box of Kleenex and put on your favorite sad music. If you are having trouble getting in the mood, you might want to try Ann Mortifee's CD Serenade at the Doorway. It worked for me.
Writing your own obit notice should take you about an hour (if you know yourself reasonably well), and is easy to do. And practical -- if you can face the simple fact that YOU ARE GOING TO DIE and someone is likely going to say something about it in the newspaper.
When selecting a photo, you may want to consider that the picture of beautiful you at 21 may not be recognizable to the people who know you now. Pick something a little more current and appropriate. 
Once it's done, stick your draft obit in a file with your will, and your family may one day really appreciate your efforts. Or they may laugh hysterically at your delusions of grandeur. Either way you will get your version out there.
There, there. Hopefully it may not be needed for a while and you can update it every so often if you ever do something useful.
And don't forget to consider the cost. Obituary notices don't grow on trees. The following bare-bones notice, using one black and white picture, roughly 200 words of text, and running for three days in my local paper will set my family back about $900.
Check the newspaper tomorrow if you need a model, or feel free to use mine:
Thelma Fayle, August 25, 1956 -- xxx
Thelma was the fourth of six children (just as an aside -- the fourth is often said to be a closet genius), born to Robert Fayle and Thelma Fayle (nee Andreasen-McKenna) in Montreal, Quebec. (Verdun, to be more precise.) She moved to Victoria, B.C. at 21, to become a legal guardian to her younger sister and she worked for the provincial government for 25 years. She earned a late-life degree in non-fiction writing from the University of Victoria, by taking one night-course per term over 20 years. She joked about being the slowest ever to graduate, but it gave her some skills to enjoy freelance writing about facets of life that interested her. She was lucky to have a few good friends and a large family that she loved.
She was proud of a five-minute film that a young palliative care physician made after being inspired by an article Thelma wrote about hospice care for the Globe and Mail newspaper.
A memorial service will be held at the Sons of Norway hall (a secular place) on Hillside Avenue on xxx date at xxx time. Thelma loved life and had a lot of fun and probably irritated a few people along the way. And one other thing: she loved swimming in the cold ocean.
Got your own ideas for an obit? Already written your own? Let's hear it in the comments below.