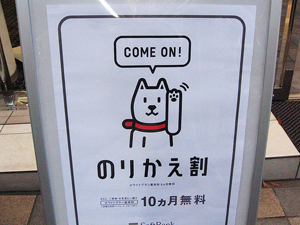 Hello from Tokyo. I open today's dispatch with a brief quiz. Match these Japanese retail businesses with their products:
1. Satin Doll 2. Funky Street Star 3. Softbank
A) Kitchen knick-knacks and baby clothes B) Watches C) Cellular service
Answers later!
The Japanese fascination with English always offers entertaining sideshow on any trip here -- words come unmoored from their meanings. The web offers countless examples of hapless translation attempts that lead to hilarity. But in the retail world, Japanese English can be a kind of poetry, in the sense that Japanese retailers and designers like the sound of words and seem to use them to evoke feelings and impressions, in ways that most native English speakers would never consider. Would a Western retailer ever have come up with the name Cannibal Jelly? (FYI, the fashion ad slogan "Pleasanty surprise of groping" is Chinese. They've got their own style too.)
Japanese English also serves to illustrate the subtleties of our language and the fine distinctions that affect meaning. I recently walked past a Tokyo cafe called "Please Coffee." A very Japanese English name -- yet transpose the words and it would be perfectly unexceptional, no longer evoking the image of a whimpering, caffeine-starved beggar. On another occasion, I saw a t-shirt bearing the phrase: "What do you think about these matters?" Grammatically flawless -- yet indisputably Japanese in origin.
Thanks for coming
Tokyo is an odd destination. You can point to specific sights (locals frequently suggest that you visit the thoroughly unexceptional Tokyo Tower), but a large part of the real attraction is just the urban intensity of the place. Where else can it be an exciting experience just to go to a Starbucks? In particular, the one at Shibuya Station -- the busiest Starbucks in the world, with a streamlined menu to keep the line moving. If you can get a seat upstairs (good luck) you have a perfect seat overlooking the intersection that is featured in virtually every Tokyo montage, where each green light unleashes a human flood from every side, sweeping over the crosswalk grids. All around, high definition billboards create an ambient light that is entirely unnatural, and thus completely appropriate.
People here are always friendly to visitors, but there may be a bit of extra hospitality in the air this year. The evening of my arrival I was searching for a supermarket to buy some breakfast items, and asked directions of a local. She pointed me to the store and thanked me for coming to Japan this year, in the wake of so much bad publicity. She told me she is starting up a hostel to be called Retro Metro and is interested in why tourists come to Japan, or don't. I offered my opinion that to stay away from Tokyo out of fear of lingering radiation from the Fukushima nuclear accident would be silly.
Yet on such issues do tourist decisions sometimes turn. In 2003, I was in a Paris taxi when the driver heard I was from Vancouver. "Ooh," he said with a shiver. "SARS!" The SARS outbreak had indeed struck that year, killing 60-some people about 3,300 kilometres away from Vancouver -- farther than the distance from Paris to Moscow. Meanwhile this cabbie, whom I came to realize was not operating through official channels, was taking regular pulls from a whiskey bottle he held between his thighs. Wherever he is now, I doubt he ever got the chance to die from SARS.
Caught in the act
Of course, there are things to legitimately worry about in Japan. Earthquakes for example. And the long arm of the law. They caught up with me just the other day. I had my camera confiscated at a kabuki show.
Sad but true. A friend had scored tickets to the show and invited me. It was fascinating and fun -- colourful but also more accessible than I had expected. Seated about 10 rows ahead of us was ex-prime minister/#1 Elvis fan/national sex symbol Junichiro Koizumi. Yes friends, that's how I Tokyo roll.
No pictures, said the announcement. But as long as I kept the flash off and was sneaky about it, what harm could there be?
Then she was there, standing behind my seat -- a small but insistent young woman in an usher's uniform, holding out her hand for my camera. I tried to put it back in my bag with an apologetic smile. She wasn't going for that. I had to give it up. Most mortifying, but I'd been warned. They don't fool around in these parts. I got it back later with a little lecture, just like that rubber-band gun I had to give up in Grade 1. I'm just glad I didn't try to take photos of Koizumi -- that sweet young usher was probably Japanese Secret Service. The papers here are full of the long-delayed arrest of a member of the Aum Shinrikyo poison gas cult, but with a little effort maybe I could have bumped them off the front page. Tokyo could use some lighter news in 2012.
And now the puzzle solved
Those quiz answers: 1B, 2A, 3C. After all, if you feel in your heart that you are a Funky Street Star, you can pull it off in an apron and oven mitts. As Lewis Carroll said of humans and their words: "Which is to be master?"
Meanwhile, I invite you all to check out the latest hit from pop star Milky Bunny. All the rage here now.
[Tags:Travel.]