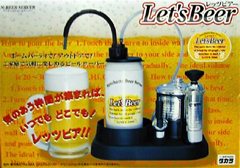 It's a given that odd things will happen when you visit Japan. The cultural and linguistic differences guarantee it. You'll see odd things and, lacking any explanatory soundtrack, will be left only to wonder.
And yet there are some weird things here that are just weird. Exhibit A: I check into my Hiroshima hotel room and see a push-button radio. Options include NHK FM and NHK AM -- both offering Japanese chitchat. So I punch a button marked FEN. That channel is playing the theme from Rocky. Followed by…the theme from Rocky. It is the Theme from Endless Rocky, hot-and-cold running Rocky, available in every room free of charge. The first time, it was rather invigorating, but by the sixth repetition I just felt old.
Any trip to Japan becomes an exercise in noting odd signs and attempts at English sloganeering. Many of the Japanese-English signs and ad slogans have a sort of garbled directness that communicates rather well -- "Let's beer!" for example. Japanese English can boil things down to their essence. Toughness Rider was the title of a Western; Space Bad Boys was, well, guess.
Appeal of semi-comprehensible
Others offer a disingenuous, semi-comprehensible appeal, such as this shopping bag pitch from a clothing store called Swordfish: "Cool people with the sence (sic) of mismatch who can enjoy mixed taste and stylish joke, we wish those people to select our Swordfish."
One sweatshirt, not particularly heavy metal in design, was adorned thusly: "Serpent, come into my own heartily. Make a favourable impression on me." Last words of Cleopatra, perhaps?
But other examples are profoundly mystifying and even downright disturbing. Walking along in Fukuoka I passed a noodle shop with a sign that boasted: "The noodle of a prejudice." I have been trying to wrap my noodle around that ever since. Could it be a threat to any invading Italian restaurants?
A cryptic food item, listed on a signboard outside a Kyoto eatery: "Shrimp of pie wepping scorch." Well, there's probably shrimp in it.
The English slogan of the Japanese Red Cross is: "Look, blood!" Possibly a pitch for the voyeuristic donor, or the CSI fan.
Mixed signals?
Once upon a time, young nurse trainees were known as "candy stripers," on account of their candy-cane uniforms. That may have been the wholesome image sought by the casual women's wear store I saw in Hiroshima. However, with the name "candy stripper," they might find themselves with a different sort of clientele back home. Then again, maybe they'd be right in tune with the times.
There's a popular loan shop here with signs all over Japan. Ubiquitous as they are, it's clear that they are doing well. Good for them. When you consider the name of the place -- "No Loan" -- I think their success speaks well for their corporate perseverance. Perhaps they are targeting pessimists.
Time to move on from Hiroshima -- I turn on the radio as I pack. This evening they are offering a program of the "Theme from Rocky." I pack with extra vigour.
Confused kittens
Kittens and pandas and other exemplars of cute are popular symbols here -- so popular that their meaning becomes confused. They're used in so many places that it's hard to draw conclusions. From the Shinkansen train window I see a sign with a kitten holding a green cross. A veterinarian, perhaps. But this being Japan, not necessarily -- it might be a cancer clinic. Kittens could mean anything here.
Occasionally a foreigner in Japan will draw a reaction of undisguised fascination; sometimes, as happened to me today in Fukuoka, a small child will begin screaming. That fascination/fear of the outside world will show up in advertising in different ways. On the mundane side there is the titillation of seeing major stars like Brad Pitt and Cameron Diaz doing TV and print ads for the Soft Bank broadband company. On the startling side, a large billboard seen in Tokyo with the silhouette of an Afro-wearing model, and the enthusiastic slogan: "Real Black!"
Occasionally a bit of Japanese English will rise to the level of inspiration. On a busy street in Osaka I saw an alluring poster featuring a bikini-clad woman with a seductive stare. The single word on the poster: "Defilicious!"
Now if that's not a word, it ought to be.