A friend dropped by this summer to have a look at my chickens.
He was in the middle of a month-long experiment to eat vegan -- no animals or animal products whatsoever. It was more for fun, a personal challenge, than anything else, but it made him question the ethical, moral and even spiritual implications of humans' relationship with meat, eggs and milk.
He wondered if I ever felt guilty. For, you know, using the chickens. I hadn't thought about it. It's true that our hens are caged 99 per cent of the time. It's true that we manipulate their seasonal cycles with a bulb that provides eight hours of light no matter what time of year. It's true that they will never have (maybe even enjoy) the company of a rooster or their own brood of chicks.
But as I considered his question, I glanced over at Rhubarb, one of our Rhode Island Reds, who happened to be scratching away in the large planter box that we had reserved exclusively for the chickens. She was pecking at a dirty bit of mango that I had saved from my morning smoothie. I could see the iridescence, flints of blue and black, in her red feathers. She is plump, shiny. Beautiful.
"No," I said. "I don't feel bad."
We -- the four of us who share this house, this backyard -- got the hens in the spring of 2010. We drove to Langley a week before Vancouver's bylaw officially passed, because we just couldn't wait, and picked out four hens. Two Rhode Island Reds, good layers that produce a large, brown egg every single day. And two Polish hens. Their eggs are smaller, less frequent, but they are a fancy breed with a feathery afro instead of a comb on their head. Think David Bowie in the '80s. Show birds. In other words, we wanted both style and substance.
Despite the cute names -- Blanche, Vindaloo, Rhubarb and Marigold -- I was fairly unsentimental about the chickens. I wanted to make them comfortable and healthy, for sure, but they had their place. I picked out the name Vindaloo, for god's sake. Handling the chickens was something I avoided -- those reptilian claws, those beady, soulless eyes -- and they certainly didn't want to be handled. I ducked in and out of the coop quickly, feeding, watching and picking up poop as they circled my ankles like feathered sharks, peck-peck-pecking at my shoelaces.
'Ruthless, awful creatures'
One of the best parts about having chickens at first was that it offered a certain kind of bragging right in my food-conscious circles. I happily answer questions from curious friends, neighbours and co-workers, taking pride in debunking chicken myths: like needing a rooster to make eggs.
Does a human female need a male to make eggs? No. There's an icky reminder that we eat unfertilized ovum from a bird. Think of that next time you dig into an eggs benedict.
And did you know that chickens only have one hole? It's called the cloaca. That's why you always wash the eggs well.
On the backyard chickening discussion groups I discovered online, conversation was rarely about eggs. It was all about chicken behavior; chicken husbandry, you might call it. Pecking was a popular topic.
I met a homesteader once who described his chickens as "ruthless, awful creatures." He made a face as he described how sometimes the young birds would just gang up and kill one of their own. My grandfather told me about a farmer who had a heart attack while feeding his flock and was found dead hours later with his eyes pecked out. That may have been a tall tale -- but still, experience tells me that chickens can be ruthless in establishing a pecking order: who's the boss and who's at the bottom. In other words, they turn on one another.
Blanche, the beautiful Polish with feathers the colour of peaches and cream happened to be at the bottom. The abuse from the others left her with a red, raw patch right between her eyes. Worse, she seemed resigned to just sit there and accept the cruel hand fate dealt her. She knew something we didn't. While commenters on the online chicken forums suggested everything from duct-taping beaks to separating the hens, to bringing in a rooster to sort things out, the overall consensus was that this was simply the way of the chicken.
"Going against their nature would just create grief for yourself, wondering why they don't behave the way YOU think they should," warned someone called 'chillin with my peeps'.
Still, it was hard not to intervene when I happened to catch the unprovoked attacks, hard not to rush into the coop to separate them and admonish "No! Bad chicken!"
What chickens want
It was around then that I think I crossed the line. The line between having poultry and having pets. It's one that every urban homesteader must tread carefully.
By summer time, the coop that we'd gone to great lengths to make interesting now seemed a bit dull. The hens had long since decimated the kale we'd planted along one edge, and all the shiny things we'd put in there to amuse them (okay, to amuse us) were covered in dirt. So when my housemates went to Ontario for a month, I took it upon myself to give the chickens a taste of freedom. Surely, a little backyard run wouldn't hurt.
Do you remember the kitchen scene from Jurassic Park? Two terrified children are huddled behind a stainless steel countertop, trying to outwit and escape a pair of ravenous velociraptors that have figured out how to elude genetic engineering, electric fences and locked doors.
I was reminded of this scene the first time I let the chickens out of the coop. They emerged slowly at first, taking slow tentative steps and clucking cautiously, before rushing out to attack every green thing within reach -- including our potted vegetables. With their awkward gait, outstretched necks and clawed feet, they even looked like little velociraptors on the run. In a backyard world littered with old two-by-fours and cardboard boxes, they found plenty of dark, bug-filled corners and interesting vantage points.
Of course, these weren't exactly free runs. I had to sit outside and supervise, to make sure a chicken didn't wander into the street or get into a tangle with a neighbourhood cat. Which was fine with me. Our outdoor "walks" together opened up a whole new window into their behavior. I learned that chickens' actually seemed to have a method to their mad scratching. The repetitive steps allowed them to cover as much new ground as possible, as efficiently as possible. Scratch with the right foot, scratch with the left, again with the right, backstep, backstep and begin it all again!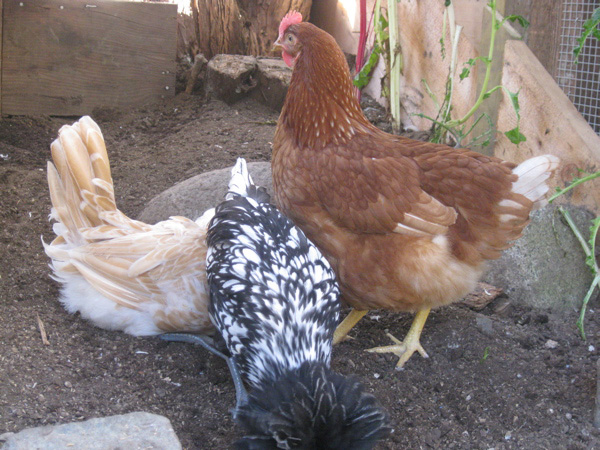 I learned that chickens learn. They learned that, although they couldn't always avoid being picked up (and at that point, I was more than comfortable picking them up, could even get one under each arm) they could make it marginally more difficult with passive resistance. We called their technique "putting on the brakes" -- hunched down, with wings arched out stiffly. I'm sure you've seen a child do this before.
They learned to associate the sound of a terra cotta pot scraping across our asphalt driveway with exposed bugs and worms. I'd move a tomato plant and they would come running. I've seen those hens spot the wriggling legs of a pill bug stuck on its back from a good two meters away. Kind of like that toilet scene from Jurassic Park.
(In fact, chickens and all birds evolved from dinosaurs. In a recent TED talk, paleontologist Jack Horner describes how he is manipulating the genes of a chicken embryo to try and "turn on" vestigial traits such as tiny arms, or scales. If he succeeds, he will fulfill a boyhood fantasy of owning a pet dinosaur.)
Free as a bird
Our chickens learned, too, that they enjoyed being outside more than being inside the coop. Like children, their newfound freedom came at a cost to us.
"You little shithead -- get back here!" I would cuss, chasing a hen around the backyard that wasn't ready to be cooped up again. A far cry from the sweet nothings I had whispered at the beginning of our relationship. The chickens had their taste of freedom. And they didn't want to go back.
One morning we woke up at 5 a.m. to a long, shrill 'Braaaaaawck!' Then another. And another. This continued for weeks. It didn't really bother me (in fact, it brought back fond memories of traveling in cities and towns where chickens and roosters are as common as squirrels) but it bothered the other housemates. I happened to be out of town when I learned that the neighbours down the street were starting to notice. The thought was floated that the offending chickens might have to go, perhaps to a petting zoo? I bristled protectively.
"Being pawed by small children at a petting zoo would be arduous for most animals, I imagine, but for a skittish bird like Vindy who hates handling, it would be a special kind of hell," I responded. "I would rather see her dead than at a petting zoo."
That wasn't entirely true. But it was at that point I realized that hens really were more to me than just poultry. I cared about them -- I had grown attached to those dumb birds.
I had to move out of that house this fall, for reasons that had nothing to do with squawking chickens. And, although all four hens are still around I hear the Polish are laying even less now and might be sent away, replaced with two more Reds probably, two more egg-producing powerhouses. I hear they might go to a lady who appreciates Polish hens just for their looks. I hope so. They are beautiful.
The last time I went to visit the hens, I went straight to the coop and let them out. They did their usual bum rush of the door, scrambling over one another to escape, but I grabbed up Blanche before she could get away and held her close. "You're a good chicken, aren't you?" I cooed, stroking her back. She wriggled uncomfortably.
I let her go and watched them for a while. When the sun faded and the crows flew overhead, the chickens wandered in from their bug-hunting haunts and began a familiar 15-minute bedtime ritual that involves much flapping, clucking and jockeying for space. When all four found room on the high beam in the corner of their coop, they settled in for the night and fluffed out their feathers, cooing gently.
I feel lucky to have lived with chickens in the city, even for just a little while. It gave me a small taste of the unhurried, pleasurable sort of rural life that I want for good some day. The kind of life where nature serves as the evenings' entertainment. If, the next time I go back, a hen or two is gone, I won't be too sad. We had some good times, me and the chickens. And I hope they know I really appreciated the eggs.
[See more Tyee food coverage.]