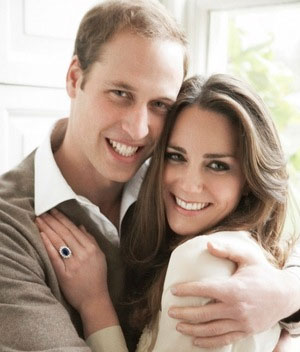 Nobody's interested. Everbody's watching.
Over the last few months, friends' comments and media stories about Bill and Kate's trip down the aisle have been ho-hum at best. I publicly predicted that despite People magazine's best efforts, no one in North America could be persuaded to care. I'd like to stand by that. Except I'll now be watching, as will most of my friends, as will more people than have ever watched anything in the history of the world. And there's even more interest in the U.S. than the U.K.
So, uh, I guess I was wrong.
So why are so many people getting up in the middle of the night to gaze at screens with images of strangers as they do something many of us don't even necessarily believe in?
At least I won't be alone, sitting in front of my computer at 2 a.m., cold and sleepy. In fact, between a third and half the world (2-3 billion) will be watching on TV, plus 400-800 million online, plus 800,000 people in front of Buckingham Palace. To put that in context, 600 million people watched the first man land on the moon, 111 million Americans watched the Super Bowl this year (the highest number ever for a U.S. TV show), and 16.6 million Canadians watched the gold medal round of the men's hockey in the 2010 Olympics (the highest number ever on Canadian TV). Even Charles and Di's wedding, back in '81, only got 750,000 million worldwide. I admit I was one of those who got up at 3 a.m. to watch; the difference is that then I kind of believed in fairy tales (hey, I was eight), and now I don't (and neither does anyone I know who'll be watching), but I still can't pin all of this on ironic fascination.
I'm looking for someone or something to blame, but I don't think I can just point at the media (whatever that is). In this magic age of audience (TV) and traffic (Internet) tracking, media outlets are certainly pandering to audience interest, but they aren't creating it. Most are even having to get into bidding wars for experts, in order to satisfy audience demands.
I also don't think this is just a distraction from the current glut of natural disasters -- Canadian election (boring to many people despite the current dramas), imminent U.S. government shut down, birther nonsense, and emerging problems in Syria -- because, well, there's always doom and gloom. And people could just as easily be tuning in to the other Kate's (Hudson) engagement or anything else vapid.
So what up?
Hitting the fairy tale 'sweet spot'
Barbara Walters, who'll be covering the event live and hosted the 20/20 special "William & Catherine: A Modern Fairy Tale," says it's a Cinderella story "that hits the sweet spot of female audiences." Ahem, not all of us, thank you. But she's onto something with the fairy tale talk.
We're certainly swimming in princesses right now. Most of my smart, feminist friends (ones who'd never even touched a tiara or tutu before) have young daughters who insist on wearing head-to-toe pink, sparkly clothing almost every day. Call it a feminist backlash, or nemesis, but princesses are the new [insert kid trend that parents hate, i.e. Teenage Mutant Ninja Turtles, Cabbage Patch dolls, belly-baring T-shirts].
And as for why it's more popular in the U.S. than elsewhere, could it be that the Cinderella fable meshes pretty nicely with the American Dream, the U.S.'s unofficial religion. Not even Diana, the People's Princess, had rags-to-riches going for her. Though the wedding story is partly about the future king of inherited power, officially an anathema to Americans (though unofficially not, of course), it's mostly the story of a middle-class Middleton who worked hard, had a dream, was patient (Waity Katy) and made it rich.
It's the ultimate reality TV show. It's got tension, scripting, improv, costumes, make-up, love and money.
Weddings gone wild
Rebecca Mead argues in One Perfect Day: The Selling of the American Wedding that our current interest in fairy-tale weddings goes deeper.
She investigates the recent explosion of the wedding industry, and finds, for example, in 1939, 16 per cent of brides were married in clothes they already owned and a third didn't have an engagement ring. Now the average dress costs $1025, a ring is essential (and last year, Americans spent $9.64 billion on them). The wedding industry in the U.S. is worth $161 billion, and the average wedding costs close to $30,000 at a time when the median household income in the U.S. is around $45,000.
So how did the fairy-tale wedding get to the altar of our imaginations?
Mead argues it's ironically married to the rise in divorce and common-law arrangements and the resulting decline in actual marriages. For the first time in Canadian history, there are more unmarried people than legally married people, and common-law families are growing faster than any other type of family. In the U.S., the divorce rate is still around 40 per cent, and divorce filings are up given the stronger economy, lower unemployment and improved housing market.
Mead says that makes people want to have weddings that have a very "viscerally affecting experience," so they really know they're married. People need a sense of "Wow! Something really big has just happened!" Kind of like divorce insurance, in some ways.
So, I guess people want to see the royal couple really really get married, given that fewer and fewer of the rest of us are practicing traditional marriage. Most fantasy is borne from contradiction, right? Like how people sit on the couch eating tubs of ice cream watching stick-thin models on Fashion TV or playing in the Super Bowl?
Your brain on meringue
But maybe the reason for the big viewership numbers isn't all about fairies and unicorns. Maybe it's as simple as that our monkey brains react the same way to people we see on TV as in real life: we think we know them, even though we don't. We've been seeing Bill and Kate for frikken ever. And while they don't seem like friends to me, they're definitely like distant cousins, who are having an inconvenient wedding (and aren't all weddings a bit inconvenient for the guests?). The invite is sitting on your counter, and the happy couple's waiting on your RSVP.
So whether you're watching (going) or not comes down to your attitude, to wedding invites and weddings themselves. I don't generally want to go, but I always do. I suppress a grimmace or a giggle at certain points, and invariably end up having a good time after a few drinks.
But maybe you're more like my brother-in-law, who happens to be British. "I have no interest in watching a wedding of two people who I don't know and don't care about," he told me this morning. "In fact, going to a wedding is bad enough... sitting next to strangers, eating shit food and dancing to terrible music is pretty much the worst Saturday ever. Why would I want to experience that at any level?"