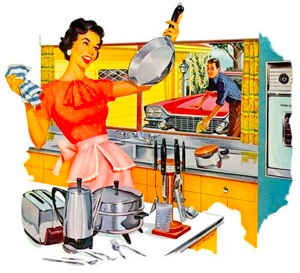 "For the first time since the decade began, Americans are having fewer babies, and some experts are blaming the economy. "It's the recession," said Andrew Hacker, a sociologist at Queens College at New York's City University. "Children are the most expensive item in every family's budget... So it's a good place to cut back when you're uncertain about the future." -- The New York Times
MEMO
To: Members of the Henderson family
From: Mom
Subject: Cutbacks
In light of the current financial situation, it is my sad duty to inform you that we will be downsizing the family in the hopes of remaining a competitive household. Please note that we regard each and every one of you as a valuable member of our organization. However, we are unable to retain a full staff in this troubled economic climate. Jenny, we wish you the best of luck finding a middle-child position in another family that can use your unique qualifications.
In addition to the new layoff policy, the rest of us will have to make sacrifices in order to remain a solvent kinship. Effective immediately, we are instituting a freeze on allowance hikes, bonuses for good grades, and perks such as lunchbox pudding. All travel expenses, including soccer practices and trips to the mall, will be reviewed for cost-effectiveness. Wherever possible, other expenses -- such as the $20 Todd gets for mowing the lawn -- will be outsourced to the less fortunate Baxter children, who offer better rates with minimal decline in quality.
Since Rebecca is an infant, and thus incapable of independent mastication, she will receive special dispensation from the new "Cutting Your Meat For You Tax." In a related policy, there will be no more meat. Casual Saturdays will now be even more casual; by making it "underwear only" day, we hope to cut our clothing expenses by one-seventh. The annual family vacation will be held semi-annually in the playroom, which will be shuttered the rest of the year. The backyard swing set will now be operated on a "pay to play" basis. The Christmas present will be shared by all.
Until the economic situation improves, each child will be limited to three prayers to grandma per week, and no more than two minutes per prayer. All requests for grandma to "look over" family, friends, and pets must be approved by management. In addition, no family members may have any further contact with Uncle Bob. This policy has nothing to do with the downsizing.
It is incumbent upon each child to bring the spirit of these new measures to bear on their daily decisions in an effort to curb wastefulness and improve efficiency. For example, if you are not tired during nap time, you might find it a nice, peaceful hour to sew wallets. School days might be more fun if you think of "Show and Tell" as "Appraise and Acquire."
In the spirit of parity, management will be making cuts of their own. Daddy will no longer use the joint credit card to buy expensive jewellery for executives that are not Mommy. This will enable Mommy to make fewer investments at the "drinky store," which, in the long run, will save us the expense of acquiring a fourth Daddy. Accordingly, executive compensation packages will be limited to continuing our weekly sessions with Dr. Peterson, who has been working as an outside consultant to keep the organization afloat.
We are certain everyone will work as a team to return the Henderson household to its previous state of fiscal stability. Should you have any ideas you would like to contribute, the suggestion box is in the kitchen (Please note the new coin slot).