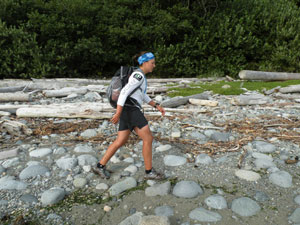 Jen Segger believes in setting goals. Big goals.
Segger is in Portugal this week, racing as part of Team nuun-Feed the Machine in the Adventure Racing World Championships -- a 900 kilometre, non-stop EcoChallenge-style race for teams of four. The unmarked course includes trail running, mountain biking, paddling and rollerblading, as well as requires team strategy and decision-making: for example, route-finding and navigation, and deciding when, or if, to sleep.
Clearly endurance racing is her passion. But for Segger, and others who train and compete at so high a level, can it become an obsession that blurs logic and masks physical damage?
I first got to know Segger two years ago. Then 27, she was training for the 2008 Badwater Ultramarathon. Considered by some to be the toughest footrace on the planet, Badwater is a 135 mile (217 km) run, on pavement, from the lowest place in North America, searing Death Valley, California, where temperatures commonly exceed 50 C, to the top of Mount Whitney.
Segger was aiming to be youngest woman ever to run this infamous race. But only 90 athletes are selected to toe the start line of Badwater, and they must have a running resumé that includes finishing at least one 100 mile race. It takes years to build muscles and joints up to ultramarathon running distances, and this is why ultrarunning is a field dominated by older athletes; the average age of Badwater entrants this year was 46.
"I just set it as a goal," she says. "I knew it would be a big challenge to train for, and I wanted to see what I could do on pavement."
Segger acknowledges that becoming the youngest female finisher is not a record that people really pay a lot of attention to. But she used the idea of breaking that record as her motivation: setting both her goal, and her deadline.
'You want to collapse'
When I first met Segger, she was transitioning from her main sport of adventure racing to ultrarunning. Moving from trail running to logging hundreds of miles on pavement was taking a toll on her body. She had recently run the San Diego 100 Mile Endurance Run, the last 100-mile event of the year that could qualify her for Badwater 2008. It was her first ever footrace of that distance.
"I pulled my IT bands at the 50 mile mark," she says, wincing at the memory. "It's crippling. Every time you put your knee down you want to collapse." Segger was in intense pain; she knew that if she stopped at all, she wouldn't be able to get herself going again. So she didn't stop. "It was so painful that I was running backwards down the hills."
If that wasn't enough to turn a few heads, her finish time was. One hundred miles in 21 hours, 53 minutes -- enough to earn her a podium spot as second female and eighth overall. And her place on the Badwater start line.
What struck me even more than her stunning result, though, was her ability and her desire to push through such pain. "I know that I'm doing long-term damage, and I know that it's not the smartest thing," she admits.
"But I feel like I really live in the moment, especially when I am racing. At that moment, the most important thing is what I am doing. If I set a goal, I do everything in my power to get there."
One challenge after another
Segger was out of training for only a few weeks after that race, healing quickly and soon back to running. She went on to achieve her Badwater goal. In July 2008, she became not only the youngest female ever even to start the race, she wowed the tight ultra-running community again with her results: fifth female, and ninth overall.
After Badwater, Segger moved back to her usual routine: juggling her 14 to 25 hours of training per week: running, on her bike, and in her kayak, with her work as a sports coach. She also squeezed in the time to log a dozen first and second-place finishes in various trail runs and mountain bike races in Canada and the USA, as well as a respectable sixth place finish with her team in last year's Adventure Racing World Championships in Brazil.
But Segger, who grew up on Vancouver Island, felt she needed something more. Her passion for Vancouver Island, her need to have another big goal looming ahead, and her work as an ambassador for impossible2possible (i2p), a non-profit organization that strives to inspire youth to protect the environment through global adventure, all merged into a plan for her next adventure: Vancouver Island Quest. "I didn't think anyone had travelled the whole length of Vancouver Island under their own power before," she says. "At least not non-stop."
Of course Segger's human-powered expedition was not planned to follow the easiest route. Instead, she chose hiking routes through Vancouver Island's most iconic stretches of wilderness -- the new Cape Scott hiking trail at the island's northern tip, the high alpine of Strathcona, the West Coast Trail, and the Juan de Fuca Trail -- linking them up by mountain bike along rough logging roads, for a total distance of 750 km. Then, just to make sure that she'd made her goal big enough, she gave herself a time limit: four days.
Segger undertook Vancouver Island Quest this past August, accompanied by a support crew of ultrarunning and endurance athlete friends who would run or bike with her on various legs along the way. I ran with her for part of the West Coast Trail section. By then, three days into her journey, and behind schedule because of inclement weather and poor visibility in the mountains of Strathcona, she was hobbling along, suffering from a severely inflamed Achilles tendon, as well as on the verge of losing several toenails.
Behind the runner's high
As we ran, I thought of Segger's motivations, replaying in my head some of the things that she has said to me. "I know I am doing long-term damage but I just can't quit," and "I live in the moment," and "That high, when you finish a multi-day race, is the best feeling in the world. Once you experience that, all you want to do is to experience it again."
And the one word that came to my mind was: Addiction.
I asked Segger about that last week, as she headed off to the AR World Champs in Portugal. She paused for a long moment before she responded.
"I don't like to think about it like that," she said.
Researchers have long speculated that the fabled "runner's high" is a real, chemical effect -- that protracted exercise produces natural opiates such as endorphin, a natural pain suppressant -- and that these natural opiates might be addictive. Last year, researchers in Germany were able to show for the first time via brain imaging that distance running indeed triggers the increased release of endorphins in athletes' brains. The pain-killing effect of these natural opiates, post-exercise, can lead to a feeling of euphoria -- Segger's "best feeling in the world."
And new research published this summer indicates that withdrawal from intense exercise can produce effects that parallel, chemically, heroin withdrawal. Rats were divided up into two groups -- those that had access to exercise wheels and those that didn't. Over the first week of the experiment, rats that did have access to the wheels upped their daily time running by about four times. When their access to food was restricted, they ran even harder. But the most revealing result came when, several weeks later, the rats were given a dose of naloxone, a drug that is used to counteract heroin overdose and produce immediate withdrawal symptoms.
The rats who had been running responded to the drug immediately, showing typical withdrawal symptoms such as teeth chattering, drooping eyelids, and shakes. Rats who had not been running, however, showed little response to the drug.
This study shows that the opiates the body produces naturally during exercise can have similar effects to externally administered opiates such as heroin; it also implies that endurance activities such as ultrarunning might be of use in helping drug addicts replace a "negative" addiction with a "positive" one.
Psychiatrists distinguish a negative addiction from a positive one by determining whether the barrier between "commitment" and "compulsion" is crossed. Some athletes can train heavily yet still maintain balance in their lives, exhibiting no signs of addiction. But if that balance is lost -- if exercise has become more important than relations with friends and family, or if it consumes all free time and is at the expense of other activities, or if it continues in spite of injury, illness, or the threat of long-term damage -- then this is a sign of negative addiction.
'Like taking my life away'
Segger achieved her Vancouver Island Quest goal, covering 750 km of Vancouver Island's toughest terrain on foot and by bike, arriving in Victoria mere minutes over her 4 day goal. It was at a cost, though -- but a cost that actually may have a hidden reward for her.
The damage to her Achilles tendon was severe. Segger finally stopped running.
"My Achilles has been a problem since last December," she admits. She had pushed on in spite of the pain, though, finally tearing it in a six-day ultramarathon pulling a sled in the Arctic last March. "Sometimes I just feel like I can keep going and going. And the thought of not running all summer was like taking my life away."
She acknowledges now, with hindsight, that the best thing to do was to stop. "I think I am just so used to pushing through the pain to achieve my goals. But I have learned a lot from this." Segger has worked hard on a program that includes stretching, icing, and massage. The desire to run through it has been reined in by her consciousness of the people who are working with her to help her heal, to not sabotage their efforts, and she has been able to maintain her fitness by biking and paddling.
Two weeks before she left for Portugal, Segger was cleared to start running again. "So I am going into the worlds feeling confident. It was a chronic problem that I needed to stop and address, and I think I have."
Segger agrees that her compulsion to run has some parallels with the symptoms of addiction. "But it's not just about running," she clarifies, "it's about being healthy and active and playing outside."
She acknowledges, though, that this brush with an injury serious enough to threaten what she loves most has opened her eyes. "I'm respecting my body more. I realize that if I want to keep doing what I am doing, I have to look at these things, and take care of myself."