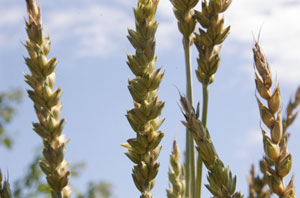 [Editor's note: This is third in a series called Eat Your History, featuring the stories behind foods special to British Columbia. Would you like to suggest a food for a future article in the series -- and perhaps win a prize? Read how, here.]
For those of us who grew up with textbook images of the Canadian Prairies as the "breadbasket of the world," Cedar Isle Farm is a gentle shock. Here, golden wheat fields spread not to some flatland horizon but toward the steep flanks of the Canadian Cascades. All around are dark forests and the big-easy backwaters of the Fraser River. Nothing fits with expectations, yet on this family farm an essential part of our national food history is coming full circle.
Cedar Isle Farm will supply 200 people with organic flour this year, the first time in recent memory that West Coast grain has been available to any but the most dedicated locavore. Today, though, Jim Grieshaber-Otto walks me past the big fields to his family's test plots, none larger than a backyard garden. Here, they've planted heritage wheat varieties in the order of the age of their pedigrees.
"These all look quite similar and they've all done quite well this year," says Grieshaber-Otto, running his hand over varieties with names like Thatcher and Manitou. The oldest is Marquis, usually pronounced 'markwiss or 'markiss. This year's crop stands five feet tall but casts a shadow over this landscape that reaches back 117 years.
Marquis wheat is such an important crop that it consistently appears on lists celebrating Canada's greatest inventions. It's credited with ensuring an Allied victory in World War One by feeding troops abroad and support workers at home. From the early 1900s until the mid-century it was the dominant wheat variety in North America, at its height waving over 90 per cent of Canadian and nearly 50 per cent of American grain fields. Yet it was developed in the Fraser Valley -- where grain-growing traditions have nearly disappeared.
The golden age of BC wheat
In the late 1800s, the Canadian government established five experimental farms across the country, one of them in Agassiz, just a few kilometres from the site of Cedar Isle Farm today. The Agassiz station tested hundreds of crops, many of them so totally vanished from the landscape (take cherries, for example, which were once such a major Fraser Valley crop that 10,000 people would turn out for Chilliwack's yearly Cherry Carnival) that it is easy to believe they never grew there.
In 1892, A.P. Saunders, a researcher at the Agassiz experimental farm, crossed an early-ripening wheat from India called Hard Red Calcutta with Red Fife, a variety most likely from the Ukraine that had become Canada's standard-bearing grain. The new cross was a hardy northern wheat that ripened early enough in the year to avoid fungal wheat rust. In 1904, after further testing, Marquis was officially recognized as a variety by Saunders's brother Charles, the head of grain research at the Central Experimental Farm in Ottawa.
Before the emergence of today's highly globalized food system, grains were grown throughout British Columbia, from the Kootenays to Vancouver Island to the Bulkley-Nechako district. In 1872, the Mainland Guardian reported minimum yields of 30 to 40 bushels of wheat per acre in the Thompson-Okanagan and Fraser Valley -- figures that would be typical for unirrigated fields even in the Prairies and Great Plains today. Amounts "very much exceeding this" were common in the Fraser lowlands. In 1892, the year that Marquis was in development, Delta alone produced a reported 6,000 tons of grain -- enough to produce 18 million loaves of bread. The varieties were as varied as the landscapes: White Fife, 90-day, Chili, Club, Ladoga, Spring Swamp, Campbell's White Chaff.
This history is inspiring people today to look at the West Coast food system with new eyes. "People are interested in food self-reliance," says grain researcher Chris Hergesheimer from his home in Roberts Creek. He notes that British Columbia currently produces only 13 per cent of the grain it consumes, the vast majority of it coming from the plains of the Peace region. "People want to reclaim some control over this concentrated and consolidated system of production with four companies controlling 90 per cent of grain in the world."
Hergesheimer runs a small business called the Flour Peddler that produces fresh-milled flour that he sells at Sunshine Coast farmers' markets. Much of the wheat is grown on small plots throughout southern B.C. "I love to see a half-acre grain field because it shows we're not bound by how grain is grown, harvested and processed," he says. "Once you change that perception there's a revolution."
Revival of the fittest
By the mid-1980s, rust-resistance in wheat had been advanced to the point that Marquis was federally deregistered, meaning that the Canada Wheat Board would no longer buy the variety from farmers. Still, the genetics of Marquis live on in every registered variety of Canada Western Red Spring wheat. And with the interest in heritage grains increasing alongside the boom in local foods -- Red Fife is already a darling of the Slow Food set -- Marquis is making a return to the back forty.
"We're seeing history repeat itself on the prairies," says Heritage Grains Foundation founder, Robert Giardino. "Due to changing climate, Red Fife isn't giving farmers the results they're looking for. Marquis is better suited to Canadian growing conditions." He adds that our current changing climate could help fuel a resurgence of older wheat varieties that were developed to suit local conditions in different parts of the country.
"Partly it's just intellectual curiosity, but also people are attracted to it," says Grieshaber-Otto, explaining why his family decided to grow wheat. He started thinking about it three years ago after hearing a radio interview with the original 100-mile dieters, authors Alisa Smith and J.B. MacKinnon, who recounted the struggle they had finding locally grown wheat despite the area's grain-growing past. Andrea Gunnar from Anita's Organic grain mill in Chilliwack was an early supporter. "Little things like that really made a difference," says Grieshaber-Otto.
The family first tried Marquis during last year's wet, cold farming season, but lost the crop to fungal rust. This year, Cedar Isle Farm was approached by Martin Twigg and Ayla Harker of Urban Grains. Inspired by a grassroots grain revival in the Kootenays, Urban Grains was attempting to link people in the Vancouver area who wanted to buy local grains with farmers who might be willing to grow them -- a model called "community supported agriculture" that already supports many mixed-crop farms in the province.
Grieshaber-Otto is the CSA's sole farmer this year, and will supply each of Urban Grain's 200 members -- shares in the project sold out in two weeks -- with 20 kilograms of organic whole-wheat flour made of a blend of winter wheat, triticale, and Hard Red Spring. This year's Marquis test crop looks strong, however, and he sees a possible place for the heritage variety in the mix.
"One of the things we'd like to do, because we know Marquis was partly selected here in Agassiz, is to have an Agassiz bread wheat," says Grieshaber-Otto, "and then someone would make the bread here in Agassiz." While prairie wheat typically contains 11 to 15 per cent protein, which is perfect for making bread, the same varieties grown on the coast are often lower in protein and are best for dense breads, sourdoughs and flatbreads. Already, some local grain farmers have achieved comparable protein ratios to prairie grain.
"We're very respectful of the breeding program that Canada has had over the years, but we also know that the varieties of wheat we select for use here can't rely on tests that have been done anywhere else, because the climates are so different."
Fresh bread
None of the effort, of course, would seem quite so worth it if the end product wasn't plain old good food. Local produce generally showcases flavours at their freshest, fullest and most nuanced, and local grain is no different. Grain kernels right off the stalk at Cedar Isle Farm taste slightly sweet, with a pleasant, chewy texture. Wheat kernels, also known as wheat berries, can be eaten in place of brown rice in almost any dish (but be sure to take it slow -- wheat berries take more chewing than more familiar cooking grains). Sprouted wheat is also popular and can even be baked into bread.
But really, it's freshly milled, local flour that piques consumer interest. Hergesheimer notes that his customers comment on the smell and even the feel of his flour as much as they do the taste. "If you pop open a bag of flour that you've had on the shelf for months, it doesn't have a smell," he explains. "Fresh-milled flour feels alive."
In that spirit, I share with you my favorite bread recipe, from Mark Bittman's How To Cook Everything:
Jim Lahey's No-Work Bread
4 c all purpose flour or bread flour, plus more for dusting (Or replace up to 2 cups of the all purpose flour with whole wheat, spelt or other whole flour)
Scant 1/2 t instant yeast
2 t salt
2 c water at about 70 degrees F
2 T extra virgin olive oil (optional)
Cornmeal, semolina, or wheat bran as needed
Combine the flour, yeast, and salt in a large bowl.  Add the water and stir until blended;  you'll have a shaggy, sticky dough.  Add more water if it seems dry.
Spritz another large bowl with olive oil, dump your dough in, and then spritz with more olive oil. Cover with plastic wrap and let rise for 18 hours in a warm place. The dough will be bubbly when ready.
Lightly flour a work surface and dump out the dough. Fold over once or twice. It will be extremely sticky. Cover loosely with plastic wrap and let rest 15 minutes.
Meanwhile, prepare a cotton towel with cornmeal, semolina, or wheat bran. I only had cornmeal on hand, so that's what I used. Sprinkle it liberally on there so the bread won't stick.
Using just enough flour to keep the dough from sticking, gently and quickly shape into a round and then place on the prepared towel, seam-side down. Cover the top with more cornmeal or whatever you used for the bottom and drape another towel over it. Let rise another two hours or until doubled.
Thirty minutes before the dough is ready, preheat your oven to 450 degrees F. Put a 3-4 quart oven-safe covered pot with the cover in the oven. This pot can be cast-iron, enamel, Pyrex, or ceramic. When the dough is ready, flop it out into the super hot pot, cover, and bake for 30 minutes. Remove the lid and bake an additional 20 minutes.
Turn finished bread out onto a rack and let cool about 20-30 minutes.