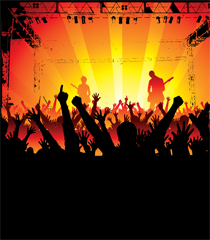 Vancouver is a coy minx. The city might have temporarily changed out of its bylaw enforcement uniform and into a party dress, but it's wearing fleecy, long underwear underneath.
Case in point: this weekend. There was an embarrassment of parties all over the city -- indoors, outdoors, day, evening -- frequently with the kind of sunny weather that gives Vancouverites rain amnesia. Vangroovy seemed determined to show the world it's not someone's kid brother any more, throwing lame basement parties while the parents are out of town, but a proper grown-up party-town, ready to host the ultimate kegger: the Olympics.
"People who don't think Vancouver is fun need to come to these events," enthused a 30-something exhibitor at Vancouver Fashion Week at Storyeum in Vancouver's Gastown on Sunday.
It was the best fashion event of the dozens I've been to in the city: a professionally executed, well-attended series of shows and after parties. Kris Krug, the director of photography, says because of the work of many volunteers, this year's event was easily the best he's seen: both in terms of specifics (like venue and attendance) and spirit. The Juno parties were a hit, as were the Junos themselves. It was a good week.
The Juno-Vancouver Fashion Week after-party late Sunday night was also "great," according to one attendee, CKNW radio producer Leila Pejman. "Everyone there was kind of euphoric. It wasn't like a club; it had a different vibe. You could tell that most people there had just accomplished something, or won something or been nominated for something -- like they'd worked for months or years on something and had just pulled it off." And she said the Canadian celebrities there like George Stroumboulopoulos, members of the Barenaked Ladies, and David Suzuki, were very approachable. "Everyone was just celebrating."
And for those not on the A-list?
Yes, in this jam-packed party weekend, Vancouver was showing off its new wardrobe. But it seems in some ways, it might have been wearing the emperor's new clothes. The good parties seemed a little insider-only, Pejman said as she looked around the Juno-VFW after party seeing mostly industry types, with only a small number from the general public. And some of the other parties, like those on Granville Street, left people shaking their heads in confusion.
To be fair, I went by the WestJet Street Party on Granville Street for three of the four days, and saw many things to get excited about. The bands were great (Hot Hot Heat, Divine Brown, Said the Whale and about a dozen others), the people working in the corporate booths were admirably cheerful. And with the exception of a few rainy patches, in which the party didn't exactly look "like a housewrecker: Elise Estrada's audience consisted of 22 confused-looking Japanese exchange students," the event was pretty busy throughout.
But running along Granville Street was a 10-foot high chain-link fence and large opaque white tents. Those physical barriers metaphorically showed Vancouver's real opinion of revelry: that music and booze are tolerated as long as they're contained. That fun is something ordinary citizens need to be protected from, something no one should have to see. The so-called beer gardens were so sterile and un-gardenlike (in windowless tents behind the locked fences) they might as well have been called alcohol prescription centres. It was like being in fun jail.
So while the people at the parties this weekend were enthusiastic, and definitely put on a good show, Vancouver's fun vitamins haven't yet seeped into everyone's water supply.
'I hate to be a Downer Debbie but...'
A friend went to the F1 race in Montreal last spring. He said bar tables spilled out onto the streets, people drank beer in public in a civilized if energetic manner, and bands just stood on the street and played. That kind of thing makes you think partying might actually be a healthy phenomenon: something that brings citizens together and encourages them to celebrate life.
I want to celebrate the city's recent successes. And I know it's cliché to be critical. "If one more person calls Vancouver a no-fun city I'm going to lose it," said one friend emphatically. "If you're looking for the government to provide parties for you, you need to get a life. Go make your own fun," he said.
And sure, we shouldn't be sitting at home waiting for our party invites to arrive in the mail. But the problem is that it's hard for everyone to make their own fun due to restrictive regulations.
"I hate to be a Downer Debbie," said one clerk in a Granville Street store, who said she was encouraged to hear the parties were fun, "but the city keeps hitting my favourite bars with stupid bylaw infractions and making it really difficult for good places to survive."
Fiona Morrow picked up on that theme in a Globe and Mail feature this weekend. "Apart from the stadium surrounds of GM Place, the premiere rooms of the Commodore and the Orpheum, and long-standing smaller spaces such as the Railway Club and Richard's on Richards, Vancouver struggles to maintain a reliable number of small to mid-size live venues that can host up-and-coming local talent.
In the article, she talks to Zak Pashak, owner of the Biltmore Cabaret, who suggests that "A combination of condominium development, Vancouver's strict noise bylaws, and the city's reluctance to provide what are known as liquor-primary licences have created a perpetual crisis in the Vancouver music community... Last August, the city closed the Biltmore for 10 days because of bylaw violations -- an act that Mr. Pashak said has taken months for the business to recover from."
So, while the people at the parties and at VFW were enthusiastic, and while anyone could buy a ticket to the Junos at GM Place for 30 bucks, in most cases, parties had locked doors (or tents) and guest lists.
I know Vancouver can pull it off. But the fun isn't out there for everyone... just yet.
Related Tyee stories: