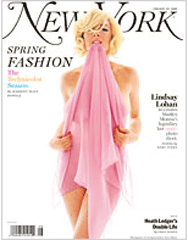 Brace yourselves, and definitely make sure no kids are around. In case you haven't already heard, Lindsay Lohan has done something very dangerous and immoral.
Mike Galanos from CNN explains: "Lindsay Lohan is baring all, I mean holding nothing back from New York magazine . . . . Here are the pictures -- might want to get the kids out of the room. She's supposed to be in a 12-step program -- exactly which step is posing naked for a magazine? . . . And let's talk about the kids -- there's no cellophane or anything around this. They all could be gathering around the playground getting an eyeful . . . She used to do Disney movies. I mean you're not going to get parental approvement [sic] on this . . . I guess Hollywood's morals are probably a little different from the rest of us."
Yep, Lindsay Lohan -- aka LiLo -- has posed "nekkid" (as many bloggers have put it) for a 15-page spread (pardon the pun) that recreates Marilyn Monroe's "Last Sitting" of 1962 by photographer Bert Stern. Monroe, of course, died shortly after that from an overdose of barbiturates.
So why do we need to protect the children? I wondered if LiLo shoots lasers, fembot-style (from the magazine or computer screen) at any man, woman or child who so much as looks at the photos. Or if she reinvents Medusa and turns anyone who looks at her into stone. But apparently that's not it. Apparently the problem can be summed up in one word.
Nipples.
LiLo is actually completely covered by a scarf for most of the shots. It's clear she's nude -- but the kind like we're all naked under our clothes, if you know what I mean. But in some shots, bloggers and CNN have used ribbons, black squares and air brushing to cover certain anatomical parts when they are visible, and have even put warnings on their sites. Nipples, it seems, are a moral issue.
Site for sore eyes
Of course, overwhelmingly, this shoot has been greeted with excitement. There were so many visitors that the New York Magazine site crashed.
The mag made a fortune. According to Forbes the site usually gets around a million page views a day, but got 40 million on Monday and Tuesday, and likely made at least half a million dollars from ad views in that time alone.
Because they used the Monroe angle, Gawker pointed out that NY Magazine got to exploit pop culture for massive clicks while still maintaining its "smart" cred. And Defamer, for one, views it as a good career move for LiLo too. "As far as career rejuvenation stunts are concerned, we are predicting that this tastefully titillating homage to Marilyn Monroe's 'Last Sitting' is poised to sit alongside Drew Barrymore's role in Poison Ivy in the pantheon of greatest breast-baring comebacks of all-time."
They do have their uses
But there have been many criticisms. And to be fair, not all have been on "moral" grounds. The Box Office Psychics blog titles its post: "What do you get when you cross an AIDS-hooker with a Dalmatian?" (her scarf has polka-dots on it). And another blog, I Don't Like You In That Way, says the shoot is an effort by Stern and Lohan to "piss on Marilyn's grave." But both of these are issues of taste -- these critics don't like the style of the shoot.
So why the moral criticism? That implies that nipples, or the viewing of them, cause harm of some sort.
Last time I checked, breastfeeding was considered a good thing, and as I understand it, breast milk comes from breasts and nipples. Last time I checked, most women have nipples; it's not an optional, frivolous upgrade. Last time I checked, breasts don't tend to injure people (though with growing environmental pollution, breast milk isn't as toxin-free and therefore harmless as it once was -- but I don't get the sense that's the problem).
Dangerously sexy?
One signal to contemplate is that most people aren't even referring to them as nipples but "nips" or "nip nips." Just like in last year's war of words over Grey's Anatomy use of the word "vajayjay" instead of "vagina" to avoid censorship of the show, some people view the word nipples as one that needs to be avoided. And people tend to censor and infantilize concepts that are powerful or threatening.
Amy Walker, publisher of Momentum Magazine, who works across the hall from me, theorizes that the problem is that nakedness can arouse people, and those who are uncomfortable with their sexuality don't like to be aroused. So they tend to blame the stimulus or object of arousal -- in this case, LiLo and her breasts.
And that's possibly why CNN's Galanos despairs that the magazine isn't wrapped in cellophane.
Wrap on the nipples
So let's weigh the moral concerns here: cellophane versus naked breasts.
We only have to look to the recent campaign to ban plastic bags to see how much those harm the planet and its inhabitants. But it's yet to be established, other than making some people uncomfortable, how nipples cause harm.
In fact, it's the lack of respect and appreciation for things that sustain life -- the planet and its animals' mammary glands to name two -- that is life-threatening and harm-inducing.
For that reason, I'm going to suggest we save the moral outrage for the cellophane that covers up shots of naked nipples. And suggest that we embrace nipples (with permission) and things that promote life, and direct our efforts instead at the greed, laziness, inefficiency and corruption that cause its destruction.
Related Tyee stories:
Marred Stars
Strangely, the stranger some get, the more they sell.
Breast Wishes
Who really yearns for 'enhanced' boobs?
The New Prudes
Reviewed: Prude: How the Sex-Obsessed Culture Damages Girls (and America, Too!)