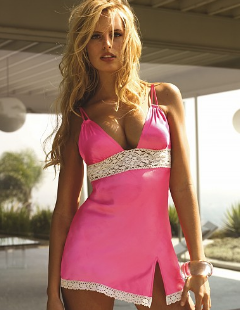 [Editor's note: This is the first in The Tyee's week-long 'Love on the Edge' series.]
Only one more shopping day before V-Day. That's right, romance is in the air along with the subtle fragrance of self-improvement. What'll ya have? A little botox? A quick peel? Why not jump to the most cherished item on your love prep list - go on, get your boobies done.
Or better yet, get your sweetheart to buy you a pair. "This year, get her something you both want," urge the models in the Victoria's Secret Valentine's Day marketing campaign. Their sexy "secret" is as much their giant breasts as the lace that barely covers them. Forget all that Vagina Monologues empowerment crap. Listen to Maureen Dowd. In Are Men Really Necessary? she says that, once again, there are two kinds of money: real money and "girl money" (which means we no longer need to pay for things anymore, apparently). That's right, it's post-feminism. So why not celebrate?
Big boobs are a trophy: they cost money (about $7,000 to $10,000 a pair in BC). And obviously, many celebs sport pairs of them, making them into coveted fleshy jewelry. The Canadian Society of Plastic Surgeons doesn't release stats but says, per capita, Canadian plastic surgery trends are about the same as the US. Last year, breast augmentation was second only to liposuction in popularity (for top surgical procedures). Yes, they're still popping out everywhere. A friend remarked to me last week that Yaletown (a neighbourhood in Vancouver) is overrun with big boobs and little dogs. He wasn't being entirely critical.
Getting it off your chest
Is it so bad? I've spoken to teen girls and middle aged mothers who sheepishly or proudly admit to having endured the physical and financial pain to get the orbs they always wanted. Although I might like to report otherwise, every single one of them is pleased, to say the least.
But I wonder if my implant-filled friends are satisfied because they're actually more attractive to men, or because they're getting more points on the sexiness "scale;" one that seems ever closer to abstract perfection and further from desire? I probably wouldn't say that to a friend, fresh from surgery, still bandaged up and eating ice cream. But here, I can mull it over.
Recently, Kerry Gold pondered this in the Vancouver Sun, "One day, when we reminisce over this age in pop culture, we'll remember it most for the proliferation of swollen members, and perhaps wonder what psychology lay behind our strange focus on boobies. Is it merely a case of new and improved implant technology?"
Technology and beauty are no new best friends. Even I confess that if it happened by some miracle and not through an actual surgery that cost a huge amount and hurt even more, that there are parts of my body I would wave a magic wand over. Perfect ab muscles: yes. More flawless porcelain skin: oh ok, you got me. And yeah, those would make me more perfect. But I'm starting to wonder if that's got anything to do with sex? To the desire to take someone else's clothes off?
To be honest, it's the type-A, perfectionist, competitive part of my brain that tingles when I think such deep thoughts (like about my body shopping list) and not the desire part of my brain. In fact, when it comes to sexiness, implants and beauty, I'm starting to wonder if our brains are becoming a bit like the ones in the "say no to drugs" movies they used to show in junior-high school. Remember the ones where "the brain" starts out as a series of clean, colorful, pretty wires. And by the end, there's nothing left but jumbled metal.
Happy surgery
"Anyone who thinks breast implants are bad, doesn't know what they're talking about," one woman (who has breast implants) told me rather fiestily last week at a party. "Every woman I know who has them, loves them. They change women's lives. They make women feel more confident and more sexy. You find me even one woman who's sorry she got them. You won't."
"They were the most grateful patients I had," says Dr. David Reed, a surgeon based in Princeton, BC who has done over two thousand breast augmentations (four thousand breasts). He says it's like doing no other kind of surgery. "After I did a gall bladder surgery, I'd usually never hear from the patient again. But women who had their breasts made bigger would call or come in and were just so grateful. They said they felt better about themselves. Quite a few went to college afterwards or got rid of a dud husband and they'd attribute it to the surgery…Many would get them to please men in their lives but found in the end it made them happier than their mates."
Reed started doing the surgeries in the 1960s. "When the silica gel implant was introduced in 1969, we thought it was magic. Before that, we used to carve up a piece of sponge or used rolled up pieces of fat from people's bottoms."
Reed says this shows what women are willing to go through. Especially since "women's magazines got very discouraging about implants after the silica trouble, so women who got them had to be extra determined and quite brave." So what's the payoff?
Breast points
In Girls Gone Wild, Ariel Levy argues that having a perfect body gains women the most points in the female social hierarchy. Being "sexy" is a woman's most important asset. So are women getting breast implants for women or for men? The ones I've spoken to say they're getting them because men like them. But I wondered what men actually think. I realized I'd never really asked them.
I spoke to two dozen guys including a teacher, two members of the Canadian armed forces, an anesthesiologist, two journalists, a fishmonger, a political strategist, an environmentalist and a professional cyclist. They ranged in age from 18 to 50. So this isn't exactly a scientific study, but bear with me.
I was worried that my own breasts, which certainly aren't large, (but I prefer "medium sized" to "small" thank you) would make the men change their real answers so not to hurt my feelings. So I talked to them over the phone and I chose mostly men I hadn't meet in person. Believe me, they laughed when they heard what I was calling about. One asked if he'd have to pay me to talk to him about it. Maybe I should have taken him up on it.
It was the vociferousness of their opinions that surprised me.
'Good from afar'
"They're good from afar but far from good," said a 36 year-old professional cyclist.
"Big, fake breasts are great for sex, but bad for a relationship. Sure it's a huge bonus for a one-night stand, but there's a big red flag that says 'really insecure.' One woman I dated had them and she told me right away, because she wanted reassurance. No surprise, she was insecure in other ways too," said a 31-year-old journalist.
"To me, it's a sign that there's something wrong. So your boobs start dropping after you have kids…if I lose my hair, should I get a rug?" said a 32 year-old journalist. "If any guy likes them, I'd say go out and buy a fake trophy from a pawn shop and put it on your mantle. If a guy needs that kind of trophy, it just reflects poorly on him. They need to show they're a certain kind of man who can get that certain kind of woman. It's just conspicuous consumption."
The member of the Canadian armed forces had another angle. "You can't have sex properly. I was with a woman who had huge, fake breasts. They looked great but she couldn't lie on her chest during sex. Do you know what a drag that was? And they were kind of hard and cold. And she couldn't cuddle afterwards. I like to cuddle afterwards. And even just knowing it's something she'll have to replace every ten years or so is weird. The whole thing is a turn-off."
"I've seen so many women with breast implants that have gone wrong. And even when they're ok, they still have to get them replaced every 10 years or so. People don't know that. But that's all I can think of when I look at them. It's such a turn-off," said a 40 year old anesthesiologist.
There was one lone dissenter. "It's a personal preference," one 50-something political strategist told me. "I went to a lap-dancing club with two of my friends and found out they actually prefer small breasted women. I had no idea anyone did. I like large breasts, but I'll take smaller ones too. And I don't care if a woman has implants or not. I had a girlfriend once who had implants and it took me months before I even noticed. One day, I saw a scar and it kind of dawned on me. But I really liked them. "
But just when I felt kind of relieved I'd finally found what I had expected to all along, he had the most unexpected comment yet. "People are attracted to things different from themselves. If women had elbows and we didn't, we'd like that.
"Men just want women. It's really basic. Women think they have to get all dressed up and get implants to attract us. They don't. They just have to exist -- dressed up, dressed down, fully clothed, naked, wearing a parka. If they're there, we'll find them attractive. Anything else is icing on the cake. So maybe it's all about competition between women? Whatever it is, it's something we don't know about. We don't really care."
Vanessa Richmond is the assistant editor of The Tyee.