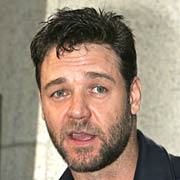 On the very day I went to see Cinderella Man, Russell Crowe got arrested for throwing a phone at a hotel employee. What do these two things have in common? Nothing really, except for the past couple of weeks, some celebrities appear to have gone chock full o' nuts!
"Cuckoo for Cocoa Puffs" is the term used to describe the recent actions of Tom Cruise, loose from the zoo, and from his long time publicist Pat Kingsley, he is free to run about the news, throwing poo at people, and gibbering like a crazed chimp.
There are plenty of other marred star stories to choose from this week; Christian Slater was arrested for groping the bottom of some poor unsuspecting female, and Michael Jackson's trial deliberates his fate.
The world stands by and watches with a silver string of saliva descending slowly from its jaws. There is nothing better than watching other, more famous people fall to pieces.
Punch drunk
In the case of Mr. Crowe, it is uncertain whether this display of phone induced hostility will hurt his film; it may even help, since the story is about another guy who liked to throw his fists around. Cinderella Man is the saga of legendary boxer, James J. Braddock, whose rise from the gutter to glory riveted a nation that was down on its luck. When the film opens, Braddock is a young up and comer; three years later, he's living in a basement apartment, working at the docks and breaking his hands in fights with chumps. Times are tough, but not tough enough to break the Bulldog of Bergen, the Pride of New Jersey.
In an accent that would make Bugs Bunny blush, Crowe plays Braddock as a saintly mook, a guy who's so good, he deserves a good smack. When Braddock's manager, Joe Gould (played with pop-eyed intensity by Paul Giamatti) gets him another fight, the stairway to heaven unfurls, but standing in the way of stardom is the world heavyweight champ Max Baer. Baer had already killed two men in the ring and wouldn't mind adding a third scalp to his belt. The real Max Baer was not quite a nasty as the picture would paint him, but then the real Jim Braddock was no saint either.
The complexities of genuine human beings have no place in a Ron Howard production. This is film where a good woman stands behind her man, children listen to their father, and the Great Depression is described as a bit of hard times. All you need to do is buck up, boyo, pull yourself up by your boots straps and fight the good fight. Only the pinko-commies crying about worker's rights get it in the kisser.
Director Ron Howard lacks the chops of Clint Eastwood; he doesn't trust his audience not to be completely dunderheaded. Thus every emotion must be telegraphed by swelling strings or a gravely tinkling piano. When Braddock begins his run for greatness, the moment is intercut with images pilfered from the work of photographer Dorothea Lange, sad eyed men, raggedy children, soup lines, past due notices. Okay, we get it! He's fighting for milk and you could drown in the schmaltz. From the sepia toned colours to the ashen faced little mites, hacking up their tiny lungs behind a ragged curtain, if your heart strings got pulled on anymore, they just might snap, and then you too would be throwing phones at people.
Healthy pop?
An early exposure to Kenneth Anger's legendary tell-all book, Hollywood Babylon permanently fitted me with a jaundiced eye, so when the hokum that Ron Howard is attempting to sell is punctured by the real Russell Crowe doing bad things, I can only think, haha! Howard may be pushing his brand of good old fashioned mush, but the public prefers fruit loops.
If there is far more interest in the real life actions of a Kiwi acting the ass than the fairytale story of a fictionalized hero, is it because we, the public, are generally cynical, or are we actually smarter than we think? Steven Johnson's book Everything Bad is Good for You, argues that popular culture doesn't dumb you down, but quite the opposite: it smarts you up! Johnson makes a variety of different arguments using video games, TV shows and films as indicators of our ability to understand and manipulate media.
In the case of bio pics that seek to iron out all the messy bits of history and make nice what is complicated, oversimplification isn't such an easy sell anymore. Whether this is responsible for Cinderella Man's less than stellar opening (soft in the language of industry types), is difficult to say, but it's getting increasingly hard to fool all the people all the time. Media savvy and access to the cogs and gears of Hollywood have also upped the insider ante. Websites like the Gawker, and the Defamer, the flagships of Nick Denton's blogging and flogging empire, give instant access to anyone with a computer, and are permanently set with sarcasm on high. No one is safe from a good hard mocking. An incident like the phone-throwing-Crowe is pure gold, an opportunity to haul out the big making fun guns.
The one thing the film makes clear, perhaps inadvertently, is that celebrity has often little to do with the object at its centre and everything to do with what is happening around that center. Would Jim Braddock, or SeaBiscuit, have become American icons if their stories hadn't taken place in the Dirty Thirties when the whole world loved an underdog? Or even an underhorse? If so, what does that tell us about our current celebrity obsessions: Paris Hilton, Lindsay Lohan or Mr. Cruise? That we're happiest when the mighty fall flat on their beautiful faces, and we're there to watch?
Cruise losing it?
While pundits have pondered whether Cruise's monkey business will do damage to his new film, the public claps its fat paws together and bleats with joy. Celebrities don't have any easy time of it either, so if they occasionally go tootsy frootsy, it's understandable. The stakes are high and if you screw up, you may find yourself nailed to one. Jesus Christ was a superstar, and look what happened to him. But at least the paparazzi didn't get him, unlike other more current celebrities who are seeking legal recourse against overly pushy photojournalists.
In the increasingly nasty struggle between celebrities and the media, even the legendary grin of Mr. Cruise has gone cold. A recent interview question about his relationship with his ex-wife Nicole Kidman brought out his mean face. Holy Hedda Hopper! Even if actors do go berserker in public view, there aren't too many unforgivable career ending sins anymore. If they make sad noises, head off to rehab or promise not to throw phones again, we generally forgive and forget. Almost any form of scandal can be put into the service of selling something. Or as the Hollywood gossip blog Defamer recently put it "I'm Russell Crowe and I'm a rageaholic. For a more constructive examination of the impulse to violence, please see my uplifting portrayal of lovable boxer James J. 'Cinderella Man' Braddock, who shined a ray of hope down the dark well of despair occupied by Depression-era Americans."
Nutty actors. Are they playing us? Or we are playing them? Who's really the sucker and the suckee when selling like crazy is the name of the game?
Dorothy Woodend writes about films every Friday for The Tyee.