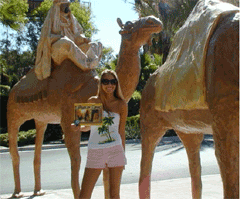 Jay Cormier and Natalie Jackson hover anxiously over a mini playing field. It's nine o'clock on a Friday night. And despite a "closed" sign on the window, the lights are on full and there's a crowd inside the store. It's board game night, and its patrons say they and the event are here to stay.
"Wow! I did not know that [board] games could be fun," is what you might be thinking, as do many people, says Cormier, a training specialist for Best Buy Canada and serious board gamer for a decade. "Nine out of 10 times, when people think of board games, they think of Monopoly; they think of a game that never ends, of confusing rules...and moving a piece around a board."
But Cormier and others have leapt over the stereotype of the bored board gamer. Around B.C., people are bringing board games into cafes and taking them out of the cupboard after dinner, and they say the effect is contagious. Plus, there's the involvement of specialty stores like Strategies in Vancouver and Drexoll Games, which holds "Games Night" every Friday, where patrons can play from a wide selection of games for free. Board gamers, whose ranks are increasing like houses on Park Place, are drawn to the attractive game designs, the tactile element, the wide audiences and the social aspects.
'Die hard'
The design is what first grabs many people. Tonight, Cormier and Jackson are playing Through the Desert, a popular German game with pieces Jackson describes as "so cute" and highly detailed. Players take turns placing their rider-bearing camel pieces strategically around the "desert" board in the attempt to achieve multiple goals: claiming a plot of land, creating the longest caravan, reaching the most oases or preventing other players from doing either of these things. Other popular games at Drexoll include Carcassonne, Settlers of Catan, and Ticket to Ride.
Like many other board gamers, Jackson says she isn't much of a video game fan. "I am a tactile person," she says.
She also likes the diverse audience drawn to the hobby. With little need for hand-eye coordination or fast reflexes, anyone can play.
"If you are not super die-hard and you pick up a [video game] controller these days, it is confusing," says Cormier. But board games generally have no controls to get accustomed to, and everything you need to play comes in one box, save for a couple of players. "This gives real immediacy to the game," according to Matt Foulger who works at Drexoll.
The accessibility of the games also makes them social. Video games can be, and are often designed to be, played at home, alone. But not only are board games fairly mobile, they also encourage, and even require, social interaction. Jackson and Cormier, have only just met at Games Night, but talk and laugh easily together throughout each round of play. From the adjacent game room, the social chatter of enjoyment resonates through the walls. There is no doubt that everyone here is having a good time.
Clean wrestling
"[Board games] are the best social interaction that you can have with a group of people," says Cormier. "And you can sit around a table that you literally just ate dinner on," says Foulger pointing to the table.
For Jackson, board gaming is an integral part of her family's social activities, and a venue for people to "wrestle or banter" with each other without "conflict." Sure, "you can have a little trash-talk and competition," says Foulger with a grin, "as long as you are still playing and interested in the outcome."
In fact, social interaction is often key to winning. "In a videogame, participants can only interact within the game's rigid rules and built-in interfaces. In board games, you can barter and haggle over resources and make deals," says Ian McMeans, a 24-year-old video game programmer for Pandemic Studios. "And being face-to-face when you are trying to scam is much more fun than doing it over [voice communication software]."
The clincher for many is that they're "old school." Board games really have to be fun in order to attract gamers. They can't rely on fancy graphics or special effects to entertain people.
German leaders
So what makes a game good? Gamers point to German games as the model; in addition to being well designed, they're often considered to be the most "strategic and fast paced." German imports topped seven of the 10 best game categories in Games Magazine, as well as game of the year in 2006. Some of the top games of 2006 include, Australia, Project Kells and Der Untergang von Pompeji (Escape from Pompeii).
Other game companies are responding, apparently recognizing that faster games with more variations are more likely to be played and replayed and therefore sell better. Hasbro has recently developed an "express" version of Monopoly, and North American manufacturers are following slowly.
Fans say that's a step in the right direction. But, unlike Monopoly and many other classic board games, many German board games are not simply about bankrupting or "knocking out" the other players in the shortest amount of time. Once that happens, the number of players (along with their interest in the game) declines. "[German games] are much more about everybody playing the game until the end," which prolongs the social interaction, says Foulger, "and then you find out who wins."
These games are increasing in popularity -- but will that continue? "100 per cent yes," says Cormier firmly, but "there is still a long way to go." Until recently, the board game scene has remained relatively poker faced, especially in the media, compared to that of video games. So the recent trend might not lead to board games taking over video game turf.
In fact, many gamers say it's not about whether one will replace the other entirely. Instead, it's about board and video games filling different niches in the gaming world. "Board games are a genre, not a medium," concludes McMeans, "and they offer things that video games cannot, so they will continue to occupy a niche. Our generation grew up with video games, but still chose to play board games as well." May the best game win.
Related Tyee stories: