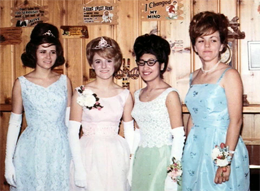 What's the number one thing grade 12s are thinking about right now? OK, aside from that, they're thinking about grad. That's because Canadian grads have gone from small, awkward affairs featuring cheap taffeta and poorly fitting rental suits in high school gymnasiums to lavish, often five-part events spanning the entire school year and requiring designer dresses and professional hair. And this weekend, towns and cities in BC will be swarming with limos and glittery things as grade 12s rejoice in the grand finale of their year-long celebration.
A few weeks ago, Stephen Colbert raised a flag of concern about this escalating trend in the US. He urged responsible men to volunteer to supervise grad as part of the "Stephen Colbert Guardian Eagles." Why? "The morals are dangerously thin, even thinner than teenaged girls think they should be," he said with an almost straight face. "Men: go out to prom and watch those girls with your eagle eyes," he instructed. "But please, no perverts."
Morals aside, grads are becoming a bigger phenomenon. The media relations department at the Pan Pacific Vancouver, which teens often say is the most desirable place to hold one of these shindigs, says that every year for the last ten years they've had more bookings.
Wedding warm up
They're more time consuming, commercial, expensive, and full of ever-higher expectations: the teen equivalent of wedding mania. But in this case, the driving force isn't just the ever more elusive search for romantic love, but the commercialization of childhood and changes in technology. Oh and celebrity.
So what are grads like now? Remember wearing a dress your mom helped you pick out that pulled in all the wrong places? Or throwing up in a garbage can in someone's basement, or on your date? Well, they're not like that.
Here's the range. In one school in Abbotsford, in addition to pranks and sleepovers, they have a prom (where you dress up) that costs $75, and a commencement where grads wear black gowns and stream in carrying lanterns, then get their dogwood diplomas. That's pretty basic, as far as it goes.
At the other end, in a West Vancouver school, there's a grade 11 and 12 prom in the fall (at a cost of $125 a ticket), a grad cruise in May ($50), a commencement lunch in a hotel in June (at $50 a ticket), and finally the grad dinner and dance, also at a hotel ($125 a ticket).
And that's not including limos, corsages, new shoes and dresses. Teachers and students at several schools across BC told me the girls spend from $100 to $800 on dresses, sometimes as high as $1,500. At the school in West Vancouver, girls needed a cocktail dress for the fall prom, a suit or different dress for the commencement, and a floor-length gown for the June grad dinner and dance, and often a new dress of some sort for the grad boat cruise.
And then there's hair and makeup. When I was a high school teacher a few years ago, I arrived to teach an English 12 class on the day of the prom. There were only three people in the class; the rest, I was told, were "having their hair done."
"I coached track, and girls stopped running sprints in grade 12 and started running distance instead so they would lose the muscles in their thighs," says Jen Muir, a former high school teacher who's now completing her MA at UBC looking at young women in the media. "Then months before grad, they'd start dieting and it would even get competitive -- like who could lose the most weight. It's just the same as friends of mine getting married now."
Price of fun
Grads now parallel weddings in more ways than one. In the US, CNN reports the average price tag for a wedding is fast approaching $30,000, and represents a 73 percent increase during the past 15 years. All told, I spent $300 on my grad almost 15 years ago at a West Vancouver school, and that felt excessive (though I wore the shoes all summer at my brain-numbingly dull office job). The average cost at that same school now, including tickets, dress, shoes, hair, makeup, and flowers is $900 conservatively. That's a 300 percent increase.
It's ironic, because Grade 12 graduation counts less than it ever has. With what SFU associate arts dean Mary Ann Gillies calls "creeping credentialism," kids know they need certificates, diplomas, apprenticeships and degrees just to do the most basic of jobs.
And if the goal of grad is to have the best time ever, the new hype might not be paying off. My grad was full of awkward moments (I stepped on my date's dad's feet several time and almost died in shame), then we all went to a friend's basement and drank too much "jungle juice" (a mix of hard alcohol gleaned from parents' liquor cabinets mixed with no-name brand soft drinks). No one was disappointed (except for the prerequisite girl crying in the bathroom) because that's basically what we all expected. Now there's the sense the moment has to feature angels singing in the background.
"I didn't really have all that much fun, to be honest," one 18-year old Vancouver girl told me. "It's the kind of thing girls just sort of imagine since you're really little. I mean, I did. It's not as big as your wedding day but it's close. And you imagine your prom is perfect and your dress is perfect and your date is perfect. It was still fun, just not as much fun as I thought it would be.
Stigma by omission
On the season finale of Gray's Anatomy, several of the main characters confessed they hadn't been to grad or hadn't really enjoyed it. For different generations, that admission can be a rebel badge of pride. Now, in fact, grad has become such a big, mandatory occasion that there's a charity devoted to it. As part of The Cinderella Project,"Cinderellas and Cinderfellas from the Greater Vancouver area come to Boutique Day to select their graduation outfits and celebrate their achievements," states the website. "With the assistance of a 'fairy godmother' or 'godfather,' each grad selects a gown, suit or tuxedo, shoes, purse and accessories. Students have their hair and makeup done and receive gift bags full of essentials such as personal care products and toiletries."
There are over 90 sponsors, including the federal and provincial governments, Coast Capital Savings, and Sears. Supplying underprivileged grads with dresses and suits for their big day, apparently, is as important or more important than funding extra learning support, extracurricular programs or job training opportunities.
It's become most important feature of grade 12, more than exams or university admission. And it's important to go big. "A decade ago, it was in the grunge era," says Muir. "So we would have made fun of girls who got too dressed up. But now the idea of being 'uncomplicated' seems like a failure and the idea of being perfect seems 'empowering.' Girlhood now is about constant reinvention and constant contradiction. Having a big prom is actually a throwback to the 1950s, when prom was the last big event before marriage. It used to be the big sex night, and you usually ended up marrying your date. Back then, wearing high heels wasn't about empowerment, it was just expected. But young women don't understand that. And we're even losing the sense that it's about irony."
I love me
But possibly even more than faux-empowerment, it's about celebrity. A couple of months ago, the New York Times reported that self-portraits are the primary use of digital cameras in "Here I Am Taking My Own Picture" (article only available with payment). They've become a kind of folk art for the digital age. "For a generation raised on a mantra of self-esteem, striking a heroic, sultry or brooding pose and sharing it with the world comes naturally," it reports. The article goes on to say: "Psychologists and others who study teenagers say the digital self-portraiture is an extension of behavior typical of the young, like trying on different identities, which earlier generations might have expressed through clothing and hairstyles."
Indeed, it's the only time young people have to complete a key part of their self-portrait photo album -- the red-carpet moment. "It's your one opportunity to be dressed to the nines, to be a celebrity," observed one 18-year old Vancouver girl.
Many young people have told me they upload their digital self-portraits to their MySpace, FaceBook, or Nexopia pages daily, and that they take these down almost equally quickly. It's a way to document their current realities and current identities. The same 18-year-old young woman told me at least half her class had grad photos up on their online community pages the following day. And while they take down their usual self-portraits almost as quickly as they put them up, they leave grad photos on for a year or more. Some still have theirs up a few years later.
The glamorous, starlet shots show them in a variety of moods and poses: sexy, sultry, chic, friendly, gracious, thoughtful, haughty even. In those shots, it's the biggest night of their lives. The pictures don't let on whether it will be all downhill from there.
Vanessa Richmond is the assistant editor of The Tyee.
Related stories: Dorothy Woodend discovers girls who fight, and about how movies get kids all wrong, and Vanessa Richmond surveys the terrain of high school cheerleaders.