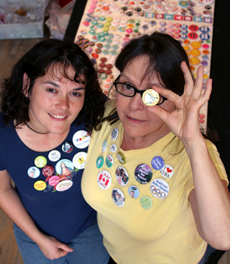 Melva Forsberg has likely seen a lot of pricks in her life. Appearing as a vendor at her 19th consecutive Vancouver Folk Music Festival, the Button Lady, as she's known around town, has a proclivity for pins that has no doubt seen her jabbed on a number of sharp edges.
From a small studio on the edge on the edges of Strathcona, Forsberg and her company, Babylon Buttons, produce some remarkable ornery ornaments. Amongst the hundreds of slogans she's printed on pins, there's some doozies: "Kiss me, I'm a terrorist." "I *heart* Commie Dykes" "Who would Jesus bomb?" "State terrorism is still terrorism" "CanWest Global sucks." You get the picture. If you've ever even been in the right wing of a building, there's probably something in her collection that'll strike you as radical.
It's not all dour decorations though. Forsberg's buttons have been a hit at the Folk Fest, because, unlike so much leftist sloganeering, they display a wicked sense of humour, one that's not above self-effacement. Cases in point: "Ham radio operators against Bush," a cartoon picture of Steven Harper with a thought bubble that says "Bitch," and alongside the ol' gem, "Unions: Yes," an identical pin which reads, nonsensically 'Onions: Yes'
Selling the classics
A longtime women's rights and labour activist, up-to-the-minute political points are one of the biggest sellers at Folk Fest. She says topical badges, such as a Bush-Cheney-Blair collage reading "Asses of Evil," sell the best, but old classics (anything pro-peace or anti war), never go out of style. Of course, she's in the right market this weekend. The typically laid-back Folk Fest crowd is more likely to agree with her printed sentiments than say, the patrons of a Smithers Fall Fair that she went to years ago.
"They tarred and feathered me up there," says Forsberg, laughing. "I get invited to a lot of labour events, to NDP rallies and events like the Folk Fest." She adds, "Of course, I don't get invited to Liberal conventions."
Though she's still far left of 90 per cent of the populace, she seems to be mellowing in her age.
"I used to get really upset, and take it really personally if someone didn't like my buttons. Now I just think: 'Fuck 'em'"
Non-sequiturial nostalgia
Forsberg is just the latest in a long-line of political activists that has used buttons and badges as tools of the trade. Popular wisdom traces the popularity of propaganda pins back to Nixon and Vietnam days, but in truth, they've been around for centuries: enthusiasts and collectors will tell you that there's vintage buttons to be found for some surprising causes: from George Washington's presidency to the Spanish Civil War. On eBay, that great barometre of cultural fancy, there are hundred of pins to be collected, ranging from $200 for Woodrow Wilson's presidential props to $.01 for a Bush/Cheney '04 badge.
Demand and enthusiasm for politically neutral fare are also high.
Characters from TV shows (WKRP, Welcome Back,Kotter), bands (The Jam, any two-bit punk band you can think of) and non-sequiturial nostalgic bric-a-brac (Howard the Duck, anyone?) have been selling like point hotcakes for years, primarily in one-inch form. A trend that saw rise in the first wave of punk, and followed through to the new-wave craze of the eighties, one-inch-diametre buttons have long served as a fix to Generation X's fetish for iconography and identity. These tiny pins, less overt than a t-shirt or bumper sticker, serve as identity shorthand -- from across a room, a Clash button (currently selling for $3.19 CDN on eBay) says more to a stranger than a furtive glance ever will.
In fact, once more popular as a signifier of membership in a sub-culture, one-inch buttons are now a standard weapon in the arsenal of marketing (along with Forsberg's booth, check out the artists' merch tables at Folk Fest and try to find an act that doesn't have buttons). Perhaps recognizing this, the latest take on buttonry, (brought to you by the same hipsters that made trucker hats cool three years ago) is rampant, do-it-yourself individualism.
Pushing buttons
Chris Bentzen, a visual arts grad via Emily Carr, is Vancouver's reigning king of post-modern button making. In sharp contrast, mass-produced pins hawking everything from Cold meds to Coldplay, Bentzens buttons are wildly random and individual. Hand-drawn original art, bits of font, abstract pattern and colour - Bentzen's pin-heavy shoulder bag is a veritable gallery in its own right.
Along with local artist Jim Hoehnle, Bentzen stages an annual event, Hot One Inch Action, a button sale featuring original works by 50 local artists. This year's' event, held at the Butchershop Gallery in May, reached capacity near instantly, with hundreds of delighted patrons snapping up randomly bagged packs of five, flittering around the room to trade with friends for the badges they coveted most.
Bentzen reckons buttons are the ultimate fashion accessory for those to whom individuality is everything. As with all underground fashion trends, however, the hooves of commercial interest can be heard stampeding behind the innovation.
"Somebody told me that [women's fashion hotspot] Aritzia was selling them for a while at three for $25. It's ridiculous that they could take that. It's the same with any cultural identifier. It's ridiculous that they could take it from one culture to the other," says Bentzen. "I've had people some up to me on the street and tell me they've just paid $2, or $5 for a button that I'm selling for $1."
While Bentzen may be scornful of imitators, he's no fool. "Sometimes I'll have people come up and ask for something, and I won't have it, but I'll make it at home, so I have it for next time." He says. "Usually it's girls who want 'Sexy' or 'Birthday Boy' or something like that. Have I had a request for 'Porn Star'? Yes, but I refuse to do that one. I have my limits."
Behold the freedom of self-employment.
Join the club
The young artist is aware that there are those for whom even his locally made buttons are too mass-produced, and so he's partnered up with the parking spot Gallery (8 Cordova) where he will offer a (hopefully) monthly session for aspiring buttoners to practice their craft. Providing tools and instruction, Bentzen and his partner Hoehnle will facilitate small groups of button-makers looking to put their own handiwork on the tiny, wearable canvases. Already, this month's session, happening July 20th, is completely sold-out. There has also been substantial interest in the pair's Tupperware party-inspired sessions for hire, wherein the duo will come to your home or business for a night of button-making madness.
Leaving Bentzen, a gracious offer of "any button on my bag" yields a hand-drawn button featuring a cartoonish bug, equal parts strange and lovely. Next to the classic peace sign Forsberg proffered at the end of a visit to her studio, it's a (quite literally) sharp contrast: universal themes, tempered with unlimited self-expression.
"You don't have to wear the same one every day. You can't tell now, because I have so many buttons on my bag -- I'm the crazy button guy," says Bentzen, inadvertently borrowing Forsberg's crown. "But when you look at the buttons, two or three of them, you start to get an idea of a person's personality. You can kind of change them, depending on your mood"
And if your mood is, succinctly, "I *heart* Commie Dykes," then perhaps Forsberg's booth at Folk Fest is the way to go.
Elaine Corden is a Vancouver freelance writer, currently working as Interim Arts Editor at The WestEnder.
Have a favorite button saying? Share with Tyee readers below.
Other Tyee articles on the Vancouver Folk Music Festival:
Folk Fest Maestro Dugg Simpson
K'naan's Politically Charged Hip Hop
Utah Phillips, Godfather of the Folk Fest