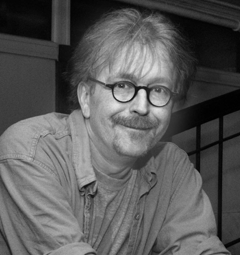 "They have to pry it out of my hands every year to get it to the printers," says Dugg Simpson scrunching up his eyes and making a clutching action before handing me a glass of wine.
The blonde shaggy headed 50-year-old artistic director is talking about the program for this year's Vancouver Folk Music Festival running this Friday through Sunday. As usual, he finessed up until the last minute trying to hit the right mixture of new and familiar artists; timing performances so no one was left scrambling.
This year's theme "music, community and social change" pretty well sums up all the things Simpson loves about this festival, except he'd put the community and social change part first. For Simpson the festival is a kind of social experiment where the goal is to discover new ways to bring out the best in people. The music is important of course, it gives everyone a reason to get together, and is the medium of exchange, but it's not the most important thing says Simpson, "Music doesn't change the world, people do."
Always coming home
For thousands of people the 28-year-old weekend festival in Jericho Beach Park is a kind of homecoming. They're the ones in the line up with blankets under their arms; they'll use them to stake out little home bases for their family units in front of the main stage. This sea-side world they're returning to feels more rural than urban. Not all-terrain vehicle, red-neck kind of rural; It's a place where you can walk barefoot all weekend, where you can rest easy knowing your bike is being watched by thoughtful volunteers. It's also a place to buy fair trade iced cappuccinos and cool jewelry, and where food gets served on reusable plates.
Simpson says that for people who have progressive values this festival is one the few places they can go and feel what it's like to be part of a large group -- outside of protest rallies. Perhaps that's what the regulars are drawn to -- a refuge for the socially conscious -- a game park for the wild roaming free thinker who wishes to hang out with her own kind.
Simpson is also trying to bring new audiences to the festival, people who may be turned off by the, "popular image of the proverbial sensitive singer song writer in cowboy boots with a guitar, writing songs that are variations on themes on their dysfunctional personal life."
He says technically, that's not folk music, "Folk songs are songs that are known to the folk. They are songs that other people know the words to, that mothers sing to their children, that people sing while they're working and at special times of the year."
So he started looking for 'cunning ways' to make people sing other people's songs. Last year it was a tribute to Leonard Cohen, and this year artists will be performing songs from the Nitty Gritty Dirt band's 1972 album, "Will the Circle Be Unbroken".
Next generation
As well he's looked at ways to broaden the definition of 'folk music' to include new forms, like spoken word and hip-hop, that speak for new generations of politically aware young folk.
Last year's mainstage hit, Tons of Fun University (T.O.F.U.) describe themselves as "hip-hop-folken-word-rock." The trio is comprised of National Poetry Slam winners, Mike McGee and Shane Koyczan and 'the human beat box from East Vancouver,' CR Avery. Simpson says it took a few meetings before McGee realized he was being offered the mainstage as the main attraction, not as a 'betweener' which is where spoken word artists typically get programmed.
Simpson's gamble paid off; the audience was moved to tears, T.O.F.U. got a tour and attendance at Vancouver SLAM events sky-rocketed the next year. "Mike and CR were so conscious that [the mainstage concert] was not just about them, it was about the whole spoken word community," says Simpson visibly impressed.
Simpson knows the best way to help the music sound good is to let the artists feel supported. To that end he created The Collaboratory, a "residency thing" that gives artists the chance to hang out and jam for a few days before the festival. "What I'd noticed was that the artists that we invited to this festival were coming from more and more different traditions -- but we weren't really addressing the fact that difference is real, and that there are a lot of them: gender, faith, how you came to be a musician... Some people have gone through a very ancient strict classical approach, others just decide, 'well I think I'm going to learn the guitar now.' That's a huge range of experience.
"You'd have these people thrown together, who are gifted players, but they're also sensitive, polite, not wanting to embarrass themselves or others... so the work on stage that I was seeing had a very tentative quality to it -- with everyone being very gentle with each other -- Understandably!"
Simpson says The Collaboratory puts everyone on a firmer footing that takes the music to a new level, music that sometimes "sounds like it comes from another planet." Some artists even continue to collaborate after the festival. "Finally we began to see what players who were that good on their instrument and that into their music could do when they had a little time to get to know each other."
Sara Kim is one of a number of local programmers invited by Simpson to suggest fresh acts for the festival. She brought in scratch DJs that she knew from her stage-managing work with Beats Without Borders. She says because some of these people are young and have never performed outside of their community they were quite intimidated going into the initial Collaboratory mixer at Simpson's home. However after Simpson talked to them, "I could tell they were reassured," says Kim, adding that she's "amazed" at the ways Simpson uses words.
Kim, who worked as a festival intern earlier this year and also was the volunteer coordinator for this year's Commercial Drive Street Festival says she would like to organize her own festival some day. She says among the many established festivals in Vancouver that she's volunteered at, the folk festival is the only one where she has felt she could truly be herself and that her contributions were fully appreciated.
"There are people working on this festival that have been doing it for as long as I've been alive," says Kim, who is 27. "When I started I wondered, do they need me, will they listen to me? Then I realized they do need me -- I'm one of the few young people, and people of color. That's what really impressed me with the people working on this festival -- they are open and receiving," says Kim.
Nicely out of control
When Simpson moved to Vancouver from Windsor in 1978 he knew only two people, one of whom was the volunteer coordinator for Vancouver's two-year-old folk festival, which had just moved from Stanley Park to its present Jericho Beach location. So it seems inevitable that Simpson would end up volunteering for the fledgling festival. Eventually he took over the volunteer coordinator position, growing the number of volunteers from 250 to 1,000 during his twelve-year tenure.
Simpson played a huge role in developing the volunteer-centred culture for which the festival is famous. This year, 30-odd volunteer committees that Simpson calls 'self-ruled anarchist collectives' will organize 1,200 volunteers to do everything from security to recycling. They will also organize the two meals a day and after festival appreciation party that are some of the perks of volunteering at this festival.
Simpson says it was as volunteer coordinator that he learned to have faith in people and discovered that the best way to guarantee that the work gets done is to give the committees autonomy.
"I remember my second or third year being volunteer coordinator. I woke up in a cold sweat near the end of June because it really hit me -- that there were maybe 8 summer staff working on the festival and 800 volunteers, and it was completely out of our control," says Simpson his eyebrows rising, "And it was like ... you better let go of a few of your control issues."
"And sure enough every year it works and people are in a good mood, and they're smart - they find new ways to do things - new ways to make it better. It impressed me so much about how humans can be," says Simpson.
Daunting debt
This year Simpson has even more reason to be impressed by the board, staff and volunteers that helped navigate the festival through the most challenging few months in its long history.
A $450,000 debt and the resignation of the executive director, Frances Wasserlein, in early 2005, left organizers struggling to find a way to respond to the emergency and still pull off the festival. They rose to the challenge in typical festival style, asking everyone to pitch in and suggest potential solutions. Support for the festival came from all corners, including the creditors to whom the festival owed money. Festival board chair John Kidder, says many of the creditors are small business owners, making their patience all the more impressive.
Kidder says they came up with a five-year plan that he is confident will eradicate the debt and create a much more financially stable and sustainable festival. The festival had been losing about $10,000 to $20,000 of its annual $1.1 million budget each year due to cost overruns, says Kidder. So this year they cut spending across the board by 10 percent while maintaining festival fixtures such as community tickets, volunteer meals and special needs access. They also increased ticket prices 10 percent but offered early bird tickets at last year's prices.
Perhaps most importantly they have centralized their accounting, making one staff person responsible for overseeing all spending for the festival. They will also be training all staff in proper accounting practices says Kidder.
Festival organizers have also started a fundraising campaign to eradicate the debt, and have scheduled sessions during the festival where they will be letting the audience know what happened and asking for suggestions and help.
"These [folk] festivals weren't started by MBAs or chartered accounts, they grew like rambling old farmhouses, organically responding to needs," says Simpson. However he says that the changes they've made this year will prove that, "An event like this can be socially responsible and financially sustainable."
Vancouver writer Dawn Buie is the web site designer and manager of The Tyee.