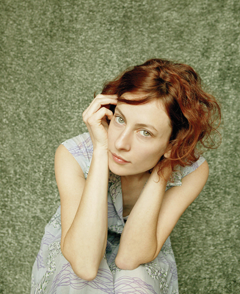 When Sarah Harmer chose to record her last album, All of Our Names, in her own home near Kingston, Ontario, it wasn't because the commercial recording studio was all booked up.
Harmer admits she tends to "write songs and bits of songs at home and about home." The wood stove crackles in one of the songs on the album, and she says "both the sounds and the sentiments of her house seeped in."
Harmer grew up in rural Ontario, and doesn't think much of recent developments in the Niagara Escarpment, to name one of her environmental concerns. No naïve granola, Harmer has spearheaded an "I Love the Escarpment Tour" and a group called PERL.
But even though she says she finds the natural environment endlessly fascinating, she avows she never sets out to have this theme or any other theme in her songs. "It's just what ends up. I start with something special or interesting, and it's kind of random what ends up on paper. So much is about what's in someone's life. The little moments."
Harmer spoke to The Tyee by phone. "I love Vancouver," she says of her pending performances at the Vancouver Folk Music Festival. "And it's at Jericho, which I have great memories of - I had an all-night bonfire there several years ago." She'll also be heading to Salt Spring Island and Tofino for concerts and for a little recreation after that.
Below, excerpted from our conversation, are her quotes.
On her origins - the church and the botanists
"I grew up on a farm just outside of Burlington, Ontario. It's where my parents still live.
"I also grew up singing in the church choir. That's where I learned to sing and harmonize. When I was eight and belting out classics like 'Will Your Anchor Hold,' I didn't feel all that spiritual about them then. And I don't practice any organized religion now, but I do think that's filtered in somehow.
"Then there's the fact that, genetically, my mom was a schoolteacher and she had six kids. She had aspirations to be a minister.
"I do think that music is part of the service industry. And spirituality is about being in service to other people and the natural world. I think it's apparent that I've become more spiritual in the last five or 10 years, but mostly it's just that I've grown up a little bit. And I've spent a lot of time outside.
"Which reminds me of something my friend told me: that nature and imagination are two of the world's oldest friends. They do go hand in hand.
"Lately, I've been hanging out with a lot of biologists and botanists to do some environmental monitoring, mostly behind my parent's land. And I've had some interesting conversations about reverence and some about straight-up science. But I really can't separate the two. So many things are fascinating in the natural world that there's a kind of inherent respect."
On PERL-ly thoughts
"It's hard to say exactly when I became involved in the Niagara Escarpment, and in PERL About 20 or 30 years ago, this society in Ontario decided that the Niagara Escarpment was an ancient and vital ecosystem. Because it's difficult terrain -- it's difficult and steep -- historically it was difficult to develop. Now, some of the remaining old-growth forest is still there, along with hundreds of creeks and tributaries. And the corridor is protected. But there's one loophole - for the aggregate industry. They're still allowed to operate.
"But if you have to prioritize between where to get gravel and where to protect species at risk, it's an obvious priority. So PERL came into being just to protect 200 acres of grasslands.
"It's got just about every button you could possibly push. We need to protect agricultural soil, habitat, old growth forest. Everything we're talking about worldwide is going on here.
"A few years ago, my mother and me and some neighbours made fliers and stuffed mailboxes. Then we had a meeting at the church, and about 100 people came out."
On singin' the 'Escarpment Blues'
"I guess I wrote 'Escarpment Blues' to tell the story. I just started kind of singing it in my backyard. I started it then I thought 'Oh, I guess that's a song,' then I kind of put it away. For me, usually the melody is a given. It just happens. It's just there. It's subconscious. I usually have to labour over the words.
"A few weeks later, I finished it, and recorded it. My record label generously manufactured it and gave all the profits to PERL. It's been awesome to put music to work.
"The Escarpment Tour wrapped up in June, but Andy Keen got the whole thing on video, so he's going to make it into a documentary. He shot our shows and the hiking and rock climbing. So he's cutting it. And I'm also going into the studio with an acoustic band to capture what we were doing on this tour and record an album Ideally, we'll have a simultaneous release. So we'll keep doing it."
Sarah Harmer is playing at the Vancouver Folk Music Festival on Saturday, July 15th at 5:30pm on stage four.
Vanessa Richmond is the culture editor for The Tyee.