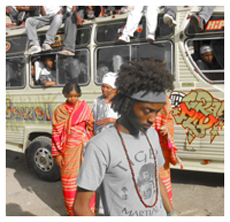 In the liner notes to his first album, The Dusty Philosopher, rapper K'naan recounts a story from when he was a nine year old in Mogadishu, Somalia. He and his friends found what appeared to be a rotten potato in the empty classroom they were cleaning after school. As they tossed it around, they quickly realized that it in fact wasn't a potato, and as it landed in K'naan's hands, the pin fell out. He tossed the grenade out the window, and blew up half the school.
"There were two kinds of violence in my neighborhood," says the 28 year-old hip hop artist, who will be performing at the Vancouver Folk Music Festival this weekend. "There was the kind where you get jumped 11 times a day walking to school and back. And then there's the other kind."
That "other kind" of violence was caused by the guns that hit Mogadishu's streets in the 1980s, then found their way into the hands of rival clans. Politically, Somalia is one of Africa's most unstable countries. It has had no official government for the last 15 years, and has for the most part been run by territorial warlords ever since.
Home traveler
It was Somalia's weaponized citizenry that K'naan, which means "traveler" in Somali, wanted to bring attention to through his performance in front of 35,000 people at the Live 8 concert in Barrie, Ontario.
"It was an amazing experience," says K'naan. "The message I wanted to make clear was that we should all take seriously the idea that we are fighting for justice. Looking for economic balance in the world is directly linked to justice. And it isn't a matter of charity. It's a right."
In 1991, K'naan and his family escaped from war-torn Somalia in what turned out to be the last chartered flight out of the country. They first lived briefly in New York, then, when K'naan was 14, moved to Toronto.
'Inspring ghettoes'
"It was very inspiring and impacting to live in the ghettoes of North America," says K'naan, "to deal with police brutality, to see how they treated my people. And to see the positive, too."
In 1998, when K'naan was traveling across North America, he hit on Washington DC and there discovered the city's groundbreaking spoken word scene. He quickly became a fixture and a popular draw to the slam poetry events, and it was there that he began to shape his vocal style.
Three years later, after pairing up with artist manager Sol Guy, the organizers of the UN's 50th anniversary concert in Geneva, asked him to perform. He brought the house down with a spoken word piece about the UN's failure in Somalia in the mid-1990s. The standing ovation lasted a full two minutes.
Singing to the warlords
From there, it was a natural transition into hip hop. His music on Dusty Philosopher is hardened world beat, influenced by both the East Africa and North American ghettoes K'naan has lived in. His first single, "Soobax," is politically charged, and speaks directly to the warlords of his hometown.
But the album is also perfect getting-ready-to-go-out music, or make a great soundtrack for a house party. The tracks are driven by beats partly engineered by the producing team of Track and Field, the duo that helped shape Nelly Fertado's sound. His lyrics are less about preaching to the masses, and more, as he puts it, "an invitation to honesty." For as many heavy moments on the album, there are bitingly funny ones as well.
'Dignified' reality
K'naan is now delving into film and television. He joined Sol Del in traveling to Kenya to shoot the first episode in documentary series, produced by Del's Direct Current Media, called 4Real. It's a project that "takes celebrity guests on adventures around the world to expose real stories of real heroes creating real change," according to the company's website.
"What the 4Real documentaries are able to do is show the third world in a way that does not have the historical view point that the West has of the third world," says K'naan. "It shows our world the way we see it. That's why these documentaries are very dignified."
K'naan could just as easily be talking about his own work.
You can catch K'naan at 11:45am on Saturday, July 15th and for an evening performance on Sunday, July 16th at the Vancouver Folk Music Festival.
Carrie-May Siggins is on staff at The Tyee.