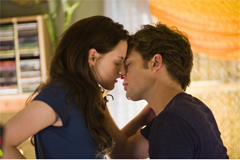 Millions of people have been bitten by the vampire recently. Twilight's gorging of the weekend box office (earning $70.6 million, the second highest ever for an indie film), and HBO's True Blood season finale are its metaphorical bloody bite marks.
For those of you who haven't partaken of Twilight's "grade-A film crack," the short of it is that Bella, a shy, intelligent beauty moves to rainy, mountainous Forks, Washington to live with her dad, and meets Edward Cullen, a 17-year-old, smoldering vampire whose dad is the town doctor. His family is vegetarian, which in vampire terms means they live off animal blood, unlike the other bad kind of vamps who still put humans on the menu. And Edward, of course, is the only one who understands Bella.
In True Blood, also based on a series of novels, vampires have just been granted equal rights as American citizens and some are "mainstreaming," partly by drinking Japanese synthetic blood and kicking the human habit. Sookie Stackhouse is the blond virgin in her Louisiana town who happens to be an outsider herself thanks to her ability to listen to people's thoughts, and who falls for Bill, the vampire, who, of course, is the only one who understands the gift and curse of supernatural abilities.
New monsters for a new century, these vampires seem to embody our current fears and fantasies surrounding gender, sex, modern isolation and the mysterious other.
Sinking fangs into women
These two shows are sucking in women, especially, and the specific appeals of Bill and Edward -- the vampires -- have been getting a lot of talk both online and in person. Tens of thousands of teenage girls have been showing up at malls around the U.S. to catch a glimpse of Robert Pattinson, the 22-year-old actor who plays Edward, for a start.
"In collective pitch, frequency and volume the sound would make a shuttle launching seem demure, a Jack White guitar solo retiring, a jackhammer somehow soothing. To reach into history, it may have approached Beatles-at-Shea-Stadium loud, replete with the weeping, swooning and self-hugging, and only the ambient flutter of cellphone cameras and furious texting by way of modern update," explains the New York Times. That's a real quote. Like from the New York Times. I'm not making this up.
Why the mania? Edward is Romeo, Heathcliff, James Dean, and Brad Pitt all rolled into one: a scruffy-gorgeous bloodsucker pin-up who is really an angelic protector. A bad boy with a good heart. "The perfect boyfriend who just happens to live on blood."
The New York Post ran a whole article on why women can't resist their bites of love: "The vampire represents the quintessential bad boy," says Joanne Detore-Nakamura, a professor who teaches a literary film and monsters class at Embry-Riddle Aeronautical University. "He's got a terrible reputation, he's gorgeous, he's dangerous and most importantly, he's vulnerable. He lives on the fringe of society."
Women also love the concept of succumbing to a vampire, says Kristin Romney, in the Post, an archeologist who's done a lot of research in Eastern Europe and is the science advisor for men's lifestyle site Asylum.com. "Vampires have become a replacement for sex," she says. "A vampire is such a powerful figure who sneaks into bed with a woman at night and, though he doesn't ravage her, promises her eternal life. Once a vampire bites you, you become immortal."
Um, as Salon's Kate Harding pointed out, in "Vhat Vomen Vant," that sounds a bit like the old rape fantasy nonsense. But at least it points to the fact that lustful monsters eliminate women's desire guilt. It's not your fault if he's supernatural.
Fangbangers, and not
Except, of course, in Twilight there's no sex, and it was actually written by a Mormon. Seems if century-old teen Edward gets too excited, he'll lose control of his wild instincts, and kill Bella by feeding on her blood (apparently she smells especially good to vamps). So it's all or nothing, and in this case, it's nothing, which makes it a romance for the hot-not-to-trot abstinence set.
In True Blood, all the women who have rough sex with vampires, the so-called "fangbangers" meet their ends at the hands of a serial killer who targets them out of disgust for what he considers immoral, interracial extra-curricular activities. But as in Twilight, there are two kinds of vampires: the bad kind who have rough sex and drink blood, and the good kind who have naughty and nice sex and drink the synthetic cocktail. Sookie, the virgin, eventually has sex with Bill because Bill, unlike the mortals who lust after Sookie, shows complete restraint and previous-century manners. Puritans sure can make it complicated.
Vampire history and modern isolation
"Vampires have always incorporated all the things human beings have subliminally desired" and our unexplainable fears, according to Dr. Michael E. Bell, who wrote Food for the Dead: On the trail of New England's Vampires and is working on his second book. He says they're like Superman, but Superman is a goody-goody and boring and has no dark side.
In the late 18th and 19th centuries in the northeastern U.S., people thought vampires were the cause of "consumption" or tuberculosis. Dead family members supposedly visited and infected innocent relatives in the night. The cure? Digging up the remains and either decapitating the corpse, or cutting out the decomposing heart and burning it to ashes. (In some cases, the person infected with consumption inhaled the fumes from the incineration. Mmm, yum.)
According to Bell, today's vamps reveal more than sexual phobias and hang-ups. The "sanitized vampires" in True Blood and Twilight "tend to be loners or at least unconnected. Lots of people today are texting and talking on cell phones, but young people aren't connected the way we used to be. If there's some kid in a room here playing a game with a kid in Japan, I just don't know how much connection there is." He says people identify with vampires because they're set apart, drifting through modern life disconnected.
They've also got more freedom. "If someone is getting close to you, vampires can disappear, evade capture. That's another modern fantasy." He adds that vampires represent the stuff of sexual fantasy today because sex with them doesn't lead to pregnancy or any STDs. They're consumer-friendly vamps for the general public.
Finally, the new vampires, who no longer depend on human blood for survival and who are "just like us," represent changing attitudes towards acceptance of groups previously deemed to be outsiders or "other." "First you had women's rights, then civil rights, then gay, lesbian and bisexual rights: why shouldn't vampires be part of this?"
As my sister pointed out, vamps "mainstreaming" is part of the a shift in the way North American society views others, even those who are part of cultures previously considered the enemy. After 9-11, there was so much talk about anyone from a Middle Eastern culture being a kind of potential terrorist. Now, like with vampires, everyone can see most are "just like us."
But more than anything, in this time of nebulous peril, it makes sense that fantastically frightful stories are flickering on our screens, inhabiting our collective dreams and nightmares. Watching a terrifying, sexy, and ultimately safe vamp flick is a much cleaner escape from reality than drinking or cheating.
Related Tyee stories: