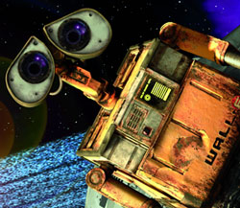 The other day I was sitting at the bus stop on 41st Avenue and Oak when a little old lady tottered up and sat down beside me. While I watched, she proceeded to empty both her pockets and her purse of all her accumulated garbage and throw it on the ground. At first, I simply stared, kind of stunned at the sheer baldness of purpose. Surely she intended to put her trash in the proper receptacle, which was all of two steps away. But as the bus pulled up and she stood up to get on, leaving her garbage behind her, I realized she had no such intention. Instead of screaming "Pick up your garbage, you old hag!" I did a very Canadian thing. I quickly scooped up every piece of trash she'd left, put it in the garbage can, and got on the bus behind her, glaring at the back of her head.
Garbage is everywhere lately. I've developed a bit of an obsession with it, counting the number of old bus transfers, dead candy bar wrappers, and empty coffee cups as I walk along any street in Vancouver, calculating the sheer amount of effort it would take to clean it all up.
A similar notion might well have gone through the heads of the Pixar boys when they came up with the idea for Wall-E. Although the film is set far in the future, it doesn't look that different from today. Written and directed by Andrew Stanton, Wall-E is the story of a little robot whose name is an acronym for Waste Allocation Load Lifter-Earth Class. In the early 2100s, humanity took to the skies, waiting for the robots to do their work, and tidy up the joint.
Climb every mountain
Seven hundred years later, the earth is still a mess.
It's Wall-E's job to clean away all the garbage that humans left behind, and it's a very big task. In the opening scene of the film, New York City is piled high with what looks to be enormous ant hills, but turns out to be vast teetering edifices of junk. These trash towers have been constructed one brick at a time by this industrious little robot, who is seemingly the only energetic thing left on the entire planet. Everything else is murky brown, dust-clotted, and perfectly still. It's a dead world, even the cockroaches, with the exception of one Twinkie-eating bug, have disappeared.
Every day Wall-E goes about his business, making garbage bricks, piling them up, and collecting curious artifacts from days gone by -- everything from Zippo lighters to hubcaps, to Rubik's Cubes. Every night he heads home, feeds his cockroach buddy and watches Hello, Dolly!. It's not apparent that he is slowly dying of loneliness until one day when a gleaming new creature named Eve arrives. As beautiful and sleek as a new iPhone, Eve is a robot with a mission. As she duly informs Wall-E, she doesn't have time for a relationship since she's all about her "Directive."
Screwy comedy
Despite this lack of romantic interest, the little trash can persists, and together in this fallen Eden, Wall-E and Eve begin a most unlikely courtship. Whenever he tries to hold her hand, she tries to blow him up. But slowly, through sheer dint of effort, Wall-E appears to win the wooing game. He may not be much to look at, but when he waggles his eyeballs, like generations of clowns before him, he manages to elicit a few electronic giggles. As every woman knows, a funny man or a funny robot can always win the female heart. Reflections of City Lights, one of Charlie Chaplin's greatest films, twinkle in the distance, but before any hand-holding can begin, all hell breaks loose.
When Wall-E shows Eve his latest acquisition, a trembling green frond, his love turns immobile and mute, emitting a green glowing beep. Before long, a spaceship arrives to spirit his girlfriend away, and like any love-struck idiot, Wall-E goes after her.
Recycled sci-fi
Once the film takes flight from Earth, things get a little more formulaic. Eve's mission involves returning any indicator that Earth can sustain life again to the humans floating in space. But after 700 years, humans aren't quite up the task of rebuilding the planet. On the Axiom, an enormous space/cruise ship run by a Wal-Mart stand-in called Buy N Large, people have evolved into globular creatures who suck their food out of giant slurpee cups and ride around in SUV chairs with their faces stuck in computer screens.
The humans, trusting in technology, have given away all their responsibility to the machines. Remember HAL? And while William Gibson may have written about the Megacorp nation states a long time ago, in Wall-E the idea gets another outing. Thanks in part to the beneficence of Buy N Large, humans have lost the capacity to do much of anything. (The Bilderberg Group would be proud.)
The film wads in as many sci-fi references as it possibly can, which is typical for animated movies lately. Such liberal imitation might be intended as a loving tip-of-the-hat to films like Alien, Blade Runner, The Terminator, Short Circuit, even Logan's Run, but it can easily be read as plain laziness. Ideas and images taken from other films, and repackaged with a soupçon of irony, can be thin gruel indeed.
After a while, one longs for a fresh idea, for something not seen before. It is also doubly painful, that Pixar, the company that launched a million marketing tie-ins, would purport to critique itself. Any real bite the film might have had gets quickly gummed up in the usual mush of self-determination and love. It's up to the robot lovers to save the day, while the humans loll around like gargantuan weeble-wobbles.
Junk culture
If Wall-E has anything original to say, it takes place in the first 30 minutes on a planet heaped high with junk. But the parallels between fiction and reality are almost too painful to contemplate. Truly, there is nothing worse than cleaning up someone else's garbage, but it's not even the trash that you can see that poses the most hazards. It's the stuff you can't see that's more dangerous.
When a documentary film crew went looking for the fabled Garbage Island, they didn't find an enormous floating mound, but millions of tiny plastic bits and shards intermingled with seaweed, and other organic matter, thick as soup. The integration of plastic into the food chain takes place on a molecular level and the effects are potentially catastrophic.
When I walked out of the theatre after watching Wall-E, the first thing I saw was a garbage can piled high. Plastic cups with Wall-E's face printed on the side were sitting on top of the heap.
Related Tyee stories: