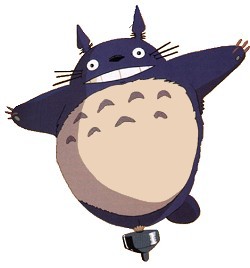 At various points in the day my son Louis will mutter to himself "Next stop, little sister!" and laugh away in his Lilliputian voice. Some of you may recognize this reference but many of you will not. Louis is barely three, but he's already a film connoisseur.
Finding films that you can watch with your children is sometimes an exercise in frustration. Anyone who has sat through the Olsen Twin's video agonies knows this in their bones. If you'd like to avoid films that mainly consist of small children finding inventive means of beating the crap out of adults (call it the "The Home Alone" school of film making represented by such examples as Matilda, or Spy Kids etc.), you may be in a for a painful time at the video store.
Add to this list anything with Eddie Murphy, Jim Carrey, dogs that play soccer and Disney's various creepy connotations and the pool of available films gets very small.
Movies actually playing in the theatre are even thinner. Besides the oppressive reign of princess films, there isn't much for either boys or girls. I have sat through many recent movies and watched little bodies gradually slump with boredom. The initial expectation fades and peels, leaving them kicking the back of your seat for entertainment. Painful for everyone involved.
Worse is seeing films that are obviously not made for small children (the Austin Powers series, Spiderman II) which, nonetheless, they are taken to in lieu of anything else. Worse still are things like Yu-Gi-Oh! which aren't really movies at all but extended advertisements. So, for those looking for films that you can watch without feeling like you're dying inside, here are a few alternatives that may please both children and adults.
School of Rock (2003)
This is the first film that Louis watched in its entirety. After sitting silently and focused through the whole thing, the moment it was over he burst into tears and howled, "AGAIN, AGAIN!!" clawing at my leg with bug eyed desperation. This film may seem an odd choice for small children but really there is nothing in it that is offensive (no swears!).
It's genuinely good hearted, and features child actors that look like real kids, all permeation of geeky, fat, skinny, sullen and silent in that way that only actual kids can be. Although it may have the unfortunate consequence of permanently introducing air guitar into your household, School of Rock offers some genuine lessons about the value of fighting authority and conformity and standing up for what you believe in. Directed by Richard Linklater (Dazed and Confused), penned by Mike White and starring Jack Black as perennial loser Dewey Finn (AKA Mr. Schneebly), it's sweet without being sappy and features a rocking soundtrack to boot. If there is anything more endearing than a little kid screeching Led Zep songs, I don't know what it is.
Spirited Away (2001) Sen to Chihiro no kamikakushi
The box office champion in Japan, this film is a genuine work of art. After visiting an abandoned amusement park with her parents, young Chihiro finds herself trapped in giant bathhouse, populated by dragons, big headed grannies and stink spirits. The level of detail will almost overwhelm you initially, but it never overshadows the story. The running of the bath house is fascinating, the everyday details of the workers, how they eat, sleep, and relax gives this world a verisimilitude that most live action films never manage to attain using real people and real locations. It is never less than absolutely convincing in a way that only the best stories can be. Like Narnia or Middle Earth, your kids may want to live there rather than here and really who can blame them?
Written and directed by Hayao Miyazaki, it is also a good film for girls. It is up to Chihiro to save her parents and herself, with only her wits and stout heart. Although the English dub features a strong cast of voice talent including Michael Chiklis, Lauren Holly, Suzanne Pleshette, and John Ratzenberger, the Japanese original is more interesting for adults. A little bit of trivia; Cosma Shiva Hagen and Nina Hagen provided their voice talents for the German dub of the film.
There is so much in this film that you will have to watch it numerous times simply to register all that it has to offer: adventure, pure love and a few subtle lessons about environmentalism, parenting and other assorted mysteries. The scene where Chihiro and her spirit friend No Face ride the train to the witch Zeniba's house never fails to make Louis burst into racking sobs. It is gently melancholic and seems to contain so many different worlds, past, future and present all passing by the windows, slipping away out of reach, infused with the soft fatigue and roaming dreaming mind that only a real train journey can evince.
The Black Stallion (1979)

In the first half of this film there are perhaps three or four bits of dialogue, which makes it suitable for children who weary of lengthy exposition. Don't we all weary of it? The scenes in which Alec Ramsay and the Black Stallion first come to know each other on the island are simply stunning. There is a strange dream like quality to this film, even in the latter half, with its extended build up to the big race. Special effects, explosions, or CGI: none of these come close to a horse in full flight for pure excitement. Directed by Carroll Ballard, based on the famous series by Walter Farley, and starring young Kelly Reno, a youngish Mickey Rooney, and a very young Teri Garr. After watching it numerous times, Louis told me with grave intensity that he needed a horse. We're working on that.
The Iron Giant (1999)
This is the film that introduced Vin Diesel to the world. World meet Vin. Vin destroy world. Based on the Ted Hughes story, it's a combination of CGI and traditional hand-drawn animation, that tells the tale of Hogarth Hughes and his friendship with a hundred foot tall giant robot. Directed by Brad Bird, it features Jennifer Aniston, Harry Connick Jr., Mr. Diesel, Cloris Leachman, Christopher McDonald and John Mahoney. As an anti-war film, it's damning and recalls an earlier era of Cold War terror with clever references sprinkled throughout -- from the film strip that Hogarth watches at school to the midnight movie he stays up late to catch. It doesn't try to hide its own cleverness, it's funny and pulls in references from all over the place, from Bambi to Frankenstein. This film made me bawl like a new born calf when I saw it for the first time. Maybe I'm a sap, but Vin Diesel will forever hold a warm spot in my heart, no matter how many terrible films he makes, just for the way he rumbles "Superman!"
My Neighbour Totoro or Tonari no Totoro (1988)
This is the all time champ in my house so far, being screened on average every few days. This is also a film, that like David Lynch's Mulholland Drive, affects you almost on a viral level. You may find yourself thinking about Mei and Satsuki and Totoro at odd times during the day for weeks, months, even years afterwards. Written and directed by Hayao Miyazaki (Spirited Away) it's newly released on DVD in the original Japanese (in Vancouver you can buy a copy at Videomatica. The latest Wired magazine, by the way, offers a good article on latest Japanese animation).
Totoro is a deceptively simple story. Sisters Mei and Satsuki move to the country with their father, and settle into the gentle rhythms of rural life. Their mother is in the hospital, and although it's never mentioned what she's actually suffering from, it looks like TB. Director Miyazaki's own mother suffered from spinal tuberculosis and was away from home for long periods of time. Despite this dark shadow, the sisters are remarkably joyful. They explore their new house, chase away the soot sprites that have infested it and soon run into their new neighbour, a giant furry creature who lives with some smaller pals in the huge camphor tree next door. This is Totoro, a word that is actually meant to be Tororu (troll in Japanese).
Who or what Totoro actually is is never explicitly stated. His purposes are his own and initially someone coming from a North American sensibility where all kid's stuff has to be super cuddly and nonthreatening, can be taken aback. Totoro is not particularly reassuring nor overly sweet. He just is. When he opens his mouth and roars, Mei simply roars back. Watching it with Louis I realized that I was more afraid than he was. It took me, watching him, watching the film, to realize how conditioned I'd become. And this is the important thing about this film: it takes you back to a time when children weren't afraid to go wandering around in the woods by themselves, a time before fear made everyone totter along two feet behind their kids every moment of the day.
It is as much a portrait of a time and place as it is the story of two sisters. Mei and Satsuki, like real kids, are sometimes infuriating, stubborn, and then in the next moment lovable. The animated details are beautiful. You can virtually feel the heat coming off the screen on the drowsy summer afternoon when Mei meets Totoro, or other tiny grace notes like Satsuki listing to one side as she carries a heavy bucket of water back up to the house, or the neighbour boy Kanta who makes a nervous little noise whenever he sees a girl. The genius is in the details and even kids understand this idea.
Canadian Animation (various)
Before you run away crying "I don't like it, it tastes like medicine," at least try some. Most of the above films are studio productions, but there is also an unbelievable wealth of animated shorts available from the National Film Board of Canada at your local library. Yes, they sometimes have a distinctly arty flavour, but there are also plenty of crowd pleasers. From the classics like Cordell Barker's The Cat Came Back, Richard Condie's The Big Snit, Janet Perlman's The Tender Tale of Cinderella Penguin, and Chris Hinton's Black Fly to The Tale Spinner's Collection from the NFB which is also aimed at younger viewers. The Man who Planted Trees by Canadian film maker Frédéric Back is cited by Hayao Miyazaki as one of his primary inspirations. Canadians are still some of the greatest independent animators in the world, with films that are regularly nominated for awards at Cannes and at the Oscars. So maybe we sucked at the Olympics, we still kick animated ass worldwide.
Everyone probably has their own list of great films for children. There are some obvious examples like Charlie and the Chocolate Factory or The Bad News Bears, a film that is never less than thrilling to me not only because of its ugly 70's kids, but its absolutely perfect ending. Both of these films are currently being remade, so prepare yourself. If all else fails you can always go back to the classics. Musicals like Westside Story or swashbucklers like Richard Lester's The Three Musketeers (1973) all work for kids.
But really, kid's movies should be for everyone, so beware films that are made and marketed exclusively towards children, they are selling something. Usually it's just a video game or a McDonald's crappy meal. But sometimes it's something even worse like a value system. What Stephanie Zacharek describes in a recent article on Salon "The big problem with the current spate of Cinderella movies - particularly A Cinderella Story and The Princess Diaries 2 - is not that they encourage unrealistically high romantic expectations in girls, but that they're barely romantic at all. Instead, even beneath their frothy, seemingly fun surfaces, there's something numbingly instructive about them."
Boys don't fare much better with excretory films like The Cat in the Hat or Agent Cody Banks but they're usually too busy learning how to kill in video games to pay much attention. Kid's movies are big big business, Shrek (1&2), Monster's Inc., Finding Nemo and the various Harry Potters are some of the biggest grossing films in the last few years. But they're also gross films, gross used in the larger, coarser sense of the word. Sometimes smaller really is better. After all children are small, but their hearts are often very big. The same is true of these films.
Dorothy Woodend reviews films for The Tyee.