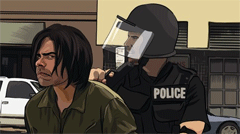 The war on drugs is a joke, but now it's also a cartoon. A Scanner Darkly (which opens in Canadian theatres next Friday, July 14th), Richard Linklater's new film version of Philip K. Dick's dystopian novel, is a southern California acid trip featuring a trio of slacker stooges, some mind altering substances and, God help us all, Winona Ryder. I think I need some drugs.
Keanu Reeves is Bob Arctor (a.k.a. Fred), a narc in the employ of the police who's given the assignment to spy on himself. The story is set in Orange County in the near future, where the war on drugs has become a bit more complicated with the advent of something called, "substance D" (street name: "death"). Sounds like something you'd want to take massive amounts of, which is exactly what agent Fred (or is he Bob Arctor?) has been doing. The resultant brain damage is making his job as an undercover agent a little more challenging.
Actors who have had well-known exploits with illegal substances round out the rest of the cast: Robert Downey Jr., Woody Harrelson and even little Winona Ryder, who likes to shoplift under the influence. So the parallels between reality, unreality and superreality all blur together, which is also, in part, homage to Dick's habit of including people he knew in his books. The film is largely comprised of scenes of Barris (Downey), Luckman (Harrelson) and Bob (Reeves) -- a fine trio of paranoid and delusional space cowboys -- eating, smoking up and talking, talking...talking. All the while, they're being surreptitiously taped by the police. But, who is watching whom, and who are you anyway? You think you know, but how much do you really know? How much do you really want to know? I don't know.
Are you on the bus?
At police headquarters, Fred is equipped with a special suit to disguise his identity: a shape-shifting blur of a million different faces and features on a ceaseless rotation, which is almost what is happening in his own mind. I'm certain Oliver Sacks would find this most interesting. But identity is only an illusion anyway, and if you meet the Buddha on the road, kill him. What? Hey, man, if you have to ask you're obviously not on the bus. Tune in, turn on, and turn yourself inside out.
The film is often like staring into a mirror until the person looking back becomes a stranger, or repeating a word over and over until it loses all meaning. You are only yourself by the thinnest of tethers. "The unconscious speaks, and thus it depends on language," according to French theorist Jacques Lacan. In Scanner, language is employed in typical So-Cal ways. (They do weird things to language in California.) Even before Moon Unit Zappa and surfer dude culture, Philip K. Dick was bending and twisting reality through the careful application of words.
Dick is a primogenitor of much of modern science fiction. Many of his stories have been turned into science fiction classics (Blade Runner being the most obvious example). It is hard to conceive of much of the cyber-punk of Richard Morgan or William Gibson without the pervasive vapours of his influence. Scanner was written in 1977, at the height of Dick's own battles with government, drugs, dreams, visions and five ex-wives. No wonder the man was paranoid; if I had five ex-wives, I'd dig myself a hole in the ground and never come up. The novel A Scanner Darkly was eerily prescient about a number of things including illegal police surveillance, so maybe Dick's dreams of a god-like entity named Valis and an alternate life in ancient Rome were more than drug-induced fantasies.
Suspended animation
The film is beautiful to look at, rotoscoped with heavy black lines surrounding graphic blocks of colour, but can you draw any conclusions about the content from the style? Well, maybe. Animation as an authorial medium is sort of like handwriting: there is an element of creative control that is somehow not quite the same in live action. Another level of direction perhaps, from a director who is himself being directed. This is reality, only slightly altered, covered in a veil that can be lifted.
The choice to make the film in a form of suspended animation also plays into Linklater's earlier experiments with reality and perception. His film Waking Life was one long strange trip, man, in which Wiley Wiggins ambled about encountering various weirdoes who wanted to expound their theories on life, the universe and everything. Drug trips also played a central role in Linklater's Dazed and Confused in which a group of 70s kids celebrate the end of the school year with a bush-bash smoke-up. The idea that perception creates reality might be Buddhist in its leanings but also has roots in much of modern thought, physics, string theory, or the Calabi-Yau Manifold (which I can't even begin to understand). Maybe drugs would help. How do you mess with perception except with mind-expanding substances? But if your mind gets too expanded it collapses in upon itself like a ruined soufflé.
An undercurrent of ennui and despair runs beneath the film's bright colours and slacker jokes like a dark river. It is present in Bob's decaying house, and in the uniform bleakness of the police station. Each place is steeped in oblivion, albeit of two different varieties: one in the blandness of middle class life, the other the dead stasis of drug addiction. Or maybe they're really the same place after all.
Back to the land
Scanner is also deeply concerned with language; even the title is a reference back to 1 Corinthians 13: "For now we see through a glass, darkly." In the beginning was the word. And perhaps in the end as well. And during the middle there is a whole lot of talking. These endless loops of conversation reminded me of the 70s back-to-the-landers. It was all groovy and cool, until people realized it was an insane amount of work to grow, cook and preserve your own food. There's a reason farmers are largely mean old coots; the sheer grinding labour of working the stubborn recalcitrant land for 40 years could drive the cheer out of anyone. But back on the farm is where Bob Arctor ends up at the end of the film. He too is on a loop going round and round: a painted carousel, full of mean ponies that buck and bite.
But if the revolution is coming, will the slackers be the ones to finally break the yoke of the corporate beast? Is slacking the ultimate form of passive resistance? Can social change really be affected by people who want to sit around and yammer at each other all day? Or is this just a pipe dream, a modern opium eater's fantasia?
The new biography of Timothy Leary from writer Robert Greenfield would seem to issue a resounding "no" to the question of whether stoners can do much of anything to help society. Is Scanner pro- or anti-drug? The binary stance of the war on drugs (yes or no) is of course, completely ridiculous. The hypocrisy of the "just say no" attitude isn't really even worth getting into, since everyone already knows the words to that particular tune and can sing along. But such silliness has extracted more suffering and grief than is possible to account for. The film ends with Dick's own testimony to the casualties suffered in the war on drugs (maybe it should be the war with drugs): the dead and the destroyed, the lost and the forgotten. But whether this is an indictment of drugs or the system that necessitates their use and abuse is difficult to say.
The "K" in Philip K. Dick stands for "kindred." That should tell you something. To paraphrase another K, Ursula K. Le Guin, "There are no are heroics but there are heroes" in Dick's stories. The ability of science fiction to call out the paradoxes and perversities of modern culture is nowhere more evident than in the work of great and marvellous Ursula K. Le Guin, who was a classmate of Dick. Her short story "The Ones who Walk Away from Omelas" is an almost perfect allegory for much of modern globalization. It is curious perhaps, that stories that begin in fantasy end up in reality, but maybe there was never much difference between the two to begin with.
Dorothy Woodend reviews films for The Tyee every Friday.
Related Tyee stories: Dorothy Woodend wades into sci-fi Serenity, wonders why Vancouver films so much sci-fi, and sighs about bad sci-fi.