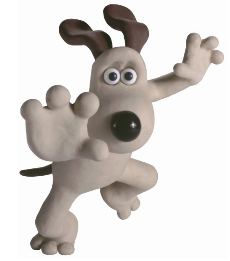 Director Nick Park is in the unenviable position of trying to top perfection. Having crafted an almost flawless film, (The Wrong Trousers), some 12 years ago, the fine Mr. Park finds himself having to recreate the wheel (of cheese) in the most recent full length outing of Wallace and Gromit (in The Curse of the Were-Rabbit).
The day that the film opened in top spot at the US box office is also the day that Aardman Studios burned to the ground. An odd coincidence or someone arsoning around as the pundits were quick to quip? I'm not implying that Nick Park burned down his own studios to escape a character from his student days, but then again, artists have done stranger things than that before.
Wallace and his clever canine chum came to life some 23 years ago as a sketch. From two-dimensional to three, they were molded in plasticine, with the artist's whorls of thumb print still visible in places, and became animation superstars. The one quality that sets this pair of chappies apart, aside from their innate squishiness, is the notion that they are more lifelike than many humans.
There is something old-school about Wallace and Gromit, a tactile, genuine and utterly convincing quality that makes them (and their world) seem a place you'd like to live in. A place of sweater vests, moles, horsey teeth, and other human imperfections. W & G's small island could be England anywhere from 1940s to present day with lumpy bumpy people, and their small pleasures, whether those pleasures be a spot of cheese (gorgonzola) or growing vegetables.
Quaint eco-warriors
In this particular installment, Wallace and Gromit have gone into the guarding garden business, protecting veg from all creatures great and small and fuzzy. But things, of course, never go exactly as planned and when the moon is full, all manner of beast prowls the darkened streets. Beware the were-rabbit!! Scenes from Jaws, The Hound of the Baskervilles, King Kong, Frankenstein, even The Omen pop up and the lines fly fast and fizzy, like ginger ale, bubbling, surprising and ever so deliciously silly.
Park has added a couple of utter class twits to the proceedings; eco-toff Lady Tottington voiced by Helena Bonham Carter and her paramour with a pompadour Lord Victor Quartermaine given sniveling life by Ralph Fiennes. Both are extremely lovely, horrible teeth and all. The usual level of chaos ensues with a few more naughty jokes thrown in for good measure. Even my son Louis laughed at the breasts/melon joke, I'm not quite sure why exactly he thinks breasts are so funny, but I shan't think on it too long.
There are precious few films you can take your children in which everyone, largish and smallish can feel entertained but not condescended to. One indication that a film is holding its own is that the level of interest in the surroundings, the accoutrement of film-going (the theatre, the popcorn, the fizzy drinks) do not commandeer said child's attention. Another is that children stay in their seats watching the screen instead of wandering about the theatre, or worse lying down in the middle of the aisle for entertainment, as Louis often chooses to do. The dialogue actually requires that you play close attention if you wish to get all of the jokes. When Quartermaine's epic hair piece is sucked up by the Bunvacc 5000, another of Wallace's wildly unpredictable inventions, the following exchange ensues:
Quartermaine: "I want my...(whispers sotto voce) toupee."
Wallace: "Oh, yes, of course. We take cheques or cash."
Quartermain: "No, you idiot. My hair is in there."
Wallace: "Oh, no, only rabbits in there. I think you'll find the hare is a much larger creature."
Not since the hay-day of Bugs Bunny have we been treated to many plays upon the words hare and hair.
Computer-generated future?
So, the news that the company that made Wallace & Gromit's (Aardman Animations) next film is a computer-generated creation starring Kate Winslet as a rat (Flushed Away) cannot come as something of a blaspheme for the plasticine set. Must computers do everything in the world or is there room for old-fashioned thumbprints? It's not that computers are inherently evil; it's simply that they often lack aesthetics and most importantly, they lack charm. Charm is a quality often underrated in films, but animation often lives and dies by the charm factor.
A more dramatic case you could not ask for than the pairing of Park's film and the animated short that precedes it featuring the penguins from Madagascar. One may be lumpy, bumpy and the other full of zip and zing. But they are different beasts; one has a heart, the other a circuit board. It is, perhaps, an unfair comparison, like apples and ball bearings.
Computer animation, although it has advanced by leaps and bounds in recent years, is still missing some vital human element. I don't care how well it is made, it often leaves me cold, cold as the Ice Age Part 1 or 2, or Cars, Polar Express (shudder), The Barnyard, Madagascar, Chicken Little, Over the Hedge, et al. Certainly these films are shining, gleaming creations. You could see every glistening quill feather on the Madagascar penguins, but it doesn't really matter how beautifully executed something is if it has no soul. The shininess factor is often only the glint of marketers standing behind the two-way mirror, watching to see what sells the most, what is most "toyetic". Computer animation has certainly evolved over the past ten years, out of the hands of technicians and into the hands of the artists, becoming more intuitive and indeed, more creative. The District! which picked up the best feature at the recent Ottawa International Animation Festival is a strong example of computers being used creatively not simply to make more robots, and bugs etc.
'Market-tested, pre-digested'
There are of course always exceptions, Brad Bird's The Incredibles used and abused the medium beautifully. So too, Richard Linklater's new science fiction exercise A Scanner Darkly has style to spare. A more animated version of Keanu Reeves, I have never seen before. That's a joke.
But since computer animation is mostly confined to kids' films, it has a lot to answer for, not the least of which is the cheapness of the story telling, the fast and easy jokes, the market-tested, pre-digested, pure commerce of the thing. David Mamet's recent Harper's essay Bambi v. Godzilla: Why Art Loses in Hollywood stated "The audience, to them, is composed of ignorant natives, who must be transformed, segment by segment, into docile proprietary consumers...The ne plus ultra of this conquest is the control of a group not only proprietary but addicted. The British opium trade, say, or, in its modern iteration, the "franchise" movie." Apply this statement to the idea of children's movies and it begins to take on an even more sinister cast. Since it is your parental responsibility to teach your children the difference between good and bad, the cinema is often where you must carefully exercise this decision-making.
I would argue that many computer-animated films will seem staler than a moldy rind of cheese a few years down the road. If there is no story, there is no film. It doesn't really matter if the principal characters are rough hewn or sleeker than quicksilver, you still need something that you can love. Which, more often than not, is often something you can squish between your fingers.
Dorothy Woodend reviews films for The Tyee every Friday.