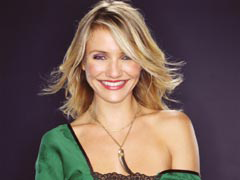 "What can you say about the Oscars?" I asked my sister this morning.
"They're kind of like the hog races at the PNE," she said.
"What?"
"Well, it looks like it's going to be really fun. It's in this little barn. Everyone gets there early and crowds around trying to get the best view. The metal gate comes up, the hogs run out, and then it's over. One hog wins and the rest of the hogs lose, and that's it."
The season of the stars begins with the Golden Globes, ends somewhere at the tail end of May in the coastal town of Cannes, but reaches its glorious groaning climax on Feb. 25 with the Academy Awards. Aside from the hog race analogy, however, there are very few original observations one can make about the Oscars. The nominations have already been parsed, dissected down the bone and analyzed by everyone from the bum in the street to the suits on Madison Avenue. Everyone has an opinion.
"Dreamgirls was shut out?"
"Get out!"
"Must be a black thing."
"Clint will win for sure with double-headed deluge of Letters from Iwo Jima and Flags of Fathers."
"It's Scorsese's time this year."
And so on. And so forth.
Silver-haired statues
You probably don't need to hear the various categories and the competitors in them, the same way you don't really need to know about all the hogs in the hog race, but there were a few interesting developments this year. For example: everyone loves an old dude or dame, be he or she Clinty or Marty or Judi. Message? If you stick around long enough, you'll probably win something before you die. The films are somewhat beside the point. Flags of Our Fathers had some engaging moments, but it was also more than a tad incoherent. Scorsese's The Departed was simply an American remake of a Hong Kong original. I'll take Infernal Affair's Andy Lau over Matt Damon any day of the week.
If you want to win an award this year, it also helps if you have shining silver hair. Look only to the platinum tresses of Meryl Streep and Helen Mirren, playing different queens. Silver meets gold. There are the British actresses versus the Americans, the entrance of international films and directors from Mexico (Alejandro Gonzalez Inarritu, and Alfonso Cuaron), etc. The media, of whatever incarnation, is clotted with information and opinion. Who was mailed what when? Which studio released its film just in time to make the nominations? The Oscars will be flogged and blogged, whined and opined, until you're sick to the teeth of the very notion.
But what if you're already tired of it? I'm sure Brad Pitt is a nice enough man, but I'm beginning to hate him. I'm sick of his face. He's everywhere these days. Him and his rat pack of celeb buddies, betties and babies haunt my days and disturb my dreams. I don't want to read about what a great person Angelina Jolie is, or how sweet and funny Cameron Diaz is. If I hear another starlet pronounce, in an effort to charm with her realness, "I'm just a dork!" I shall really puke. They just won't go away. Flaunting their shining skin, their preternaturally white teeth and their carefully honed bodies. I can't escape from them. Television, film, magazines, newspapers, the Internet -- it's difficult to not absorb information about them, even if you don't want to. The only way not to participate is to move to the jungles of Brazil, but even there Angelina might find you and try to adopt you.
Gawked and googled
Complaining about celebrities is like complaining about the poor: they have always been with us, but their omnipresence is becoming overbearing. Early exposure to Kenneth Anger's book Hollywood Babylon gave me a deep suspicion about Hollywood glamour that never went away. I cracked the book open at my grandmother's house when no one was looking, and saw Jayne Mansfield's dead body, the Black Dahlia, and various stars and starlets who died with their heads in the toilet or were eaten by their dachshunds. I'm sure it isn't an easy life being a star. You're apt to either burn out or fade away, but until then you'll be pestered to death by the gawkers and the googlers of this world. I wouldn't want to be one, but I'd like them to return the favour, and let me be.
In days of yore, when there were only a few crossed-eyed gap-toothed royal inbreds to exalt, things were simpler. If you didn't worship, you got your disloyal head lopped off. The Defamers and the Cintra Wilsons of the world can now spit invective at the famous until they dehydrate, with no fear of painful death. As the famous have gotten better looking over the ages, they've also proliferated. Now there is a ton of them, wanting attention and swag in equal measure. Thus, the impulse to denigrate celebrities is understandable, but still it provides them too much attention. It's simply another form of validation (e.g. there's no such thing as bad press).
The need to venerate famous people isn't as strange as the need to make them your own personal imaginary friend. One of the creepiest things I think I've ever read is the section in one of the tabloids roughly entitled, "See! They're Just Like Us!" in which various celebrities are depicted doing ordinary things like eating lunch, pulling their underpants out of their bums, or having screaming fights in the street with their ex-spouses.
'I didn't do it'
But is the celebrity cuckoo-puffs simply harmless diversion, or the old Roman circus effect? The old, "Look over there! It's Victoria Beckham!" No, don't look here, nothing to see. Just keep watching the pretty people. It's an easy explanation, maybe a little too easy, but it doesn't explain our fascination with them. Sure, they're pretty; sometimes they're even genuinely talented. But I suspect there is something else at work. Call it the thrall of modernity, the need to be part of the times, an active participant in the culture. It's probably similar to the siren call that lures people from the country to the bright lights of the cosmopolis.
Since celebrities are used most often to sell something -- a movie or a skin cream -- their value (and that of the product they're hawking) is contingent on the perpetuation of desirability. But something is only valuable if you think it is. It's the "think" part that's the tricky bit. Even diamonds weren't diamonds 'til some schmuck decided to sell some to another schmo. So you're being sold; we're all being sold. Quit your bellyaching. Whoever wins what and why, doesn't terribly matter. You still have to watch the damn things, even if you don't want to.
Norman Jewison told a funny story at the recent Whistler Film Festival about the time he produced the 1981 Oscar telecast. The day before the ceremony, President Reagan was shot. Jewison took the news backstage while Dolly Parton was rehearsing her song Nine To Five. When the singer came offstage, someone said to her, "Dolly, the president's been shot!"
"Well, don't look at me, I didn't do it," she quipped.
Despite being riddled with bullet holes, Reagan was determined to go on with the show, and insisted on taping the Oscar's opening address from his hospital bed. So if it's good enough for the Gipper, it's good enough for you.
See you at the races...
Related stories: